The Theatre of Fashion Blog
Fashion Blog, Ideas, thoughts, histories, filmstars, styles, and some of our most beautiful items.
1950s wedding - 50s style wedding dresses
Even casual lovers of fine fashion have undoubtedly worn or at least admired the classy elegant styles of fashion's golden age, the glamorous 1950's era. Some of the world's best loved designs and designers hailed from this time and are credited with introducing styles and fabrics that are popular even today. 1950s wedding dresses and ball gowns are all about volume and layered skirts and with slim and sexy silhouettes. Here are a few videos to give you an idea.
Below is footage from the wedding of Jacqueline & John F. Kennedy - 9/12/1953, and the marriage of Grace Kelly & Prince Rainier in Monaco - April 19, 1956. The third video is something a little bit more contemporary. Some beautiful Wedding dresses that have been heavily influenced by the 1950s.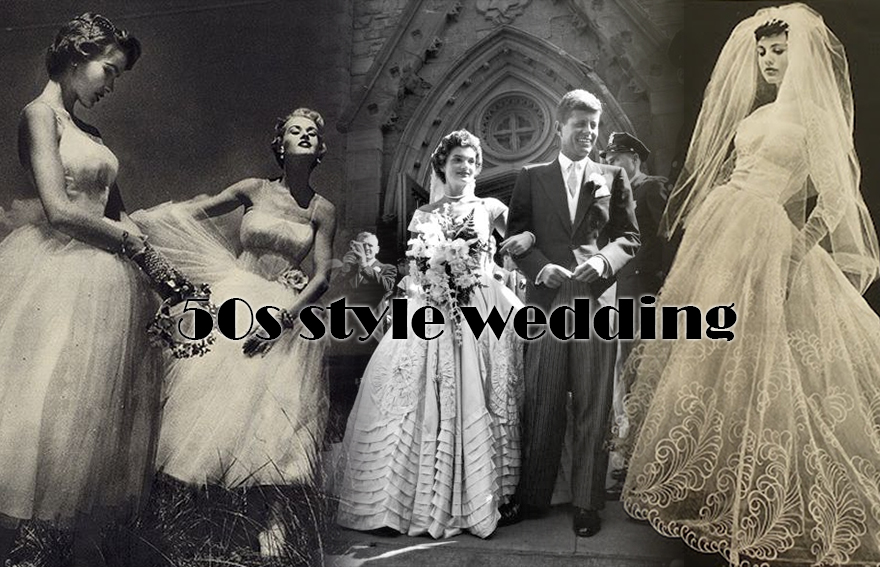 Jacqueline Lee Bouvier and John F. Kennedy were married on the morning of September 12, 1953, in the picturesque St. Mary's Roman Catholic Church in Newport, Rhode Island.
On the morning of September 12, 1953, more than 750 guests filled St. Mary's Church to watch as John Kennedy and Jacqueline Bouvier exchanged wedding vows in a ceremony presided over by Archbishop Richard Cushing. For the occasion, the church had been decorated with pink gladioli and white chrysanthemums. Boston tenor Luigi Vena sang "Ave Maria."
After two hours of greeting family and friends in a receiving line, the bridal couple joined the 1,200 invited guests for champagne and dancing to the music of Meyer Davis and his orchestra. For the first dance, the Kennedy's chose "I Married an Angel."
On April 19, 1956, stunning American Film Star, Grace Kelly marries His Serene Highness Prince Rainier III of Monaco, and becomes Her Serene Highness Grace, Princess of Monaco. This is just a small clip of the religious ceremony. The day before on April 18, 1956, the civil ceremony took place in the throne room of the palace.
Justin's 50s style wedding dresses and ball gowns are all about volume and layered skirts that echo 1950's couture. Slim and sexy silhouettes using fine Chantilly, Venice and Corded laces adorned with splash of beading. Distinctive necklines and exceptional design elements from fans to feathers makes this collection extraordinary.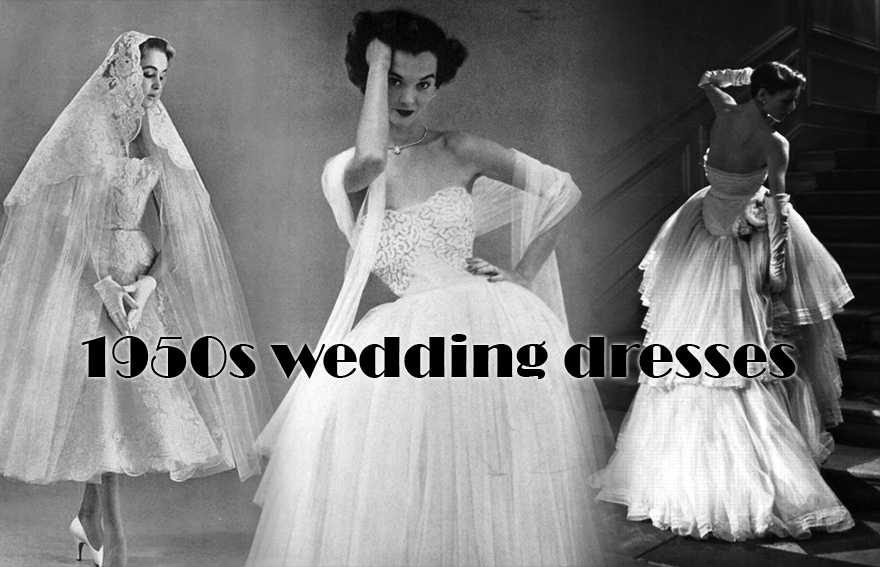 Click to see - our current collection of 50s dresses and 50 style dresses