20s Flapper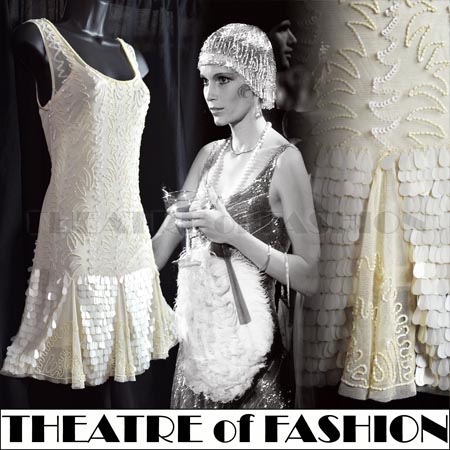 Bright Young Things & Noir Vamps
The Great Gatsby ~ 1920s ~ Flapper ~ Jazz Age ~ Charleston ~ 30s ~ Cocktail Parties ~ Art Deco ~ Roaring Twenties ~ Prohibition ~ Speakeasies ~ Bright Young Things ~ Weddings ~ Noir Vamp ~ Femme Fatale ~ Boardwalk Empire ~ Downton Abbey ~ Evening Soiree ~ Dancing All Night Long…
"The decade is remembered, perhaps romanticised, for being all about sex, alcohol and jazz…" ~ The Jazz Age
"I had no idea of originating an American flapper when I first began to write. I simply took girls whom I knew very well and, because they interested me as unique human beings, I used them for my heroines..." ~ F. Scott Fitzgerald : The Great Gatsby
There are key eras of the 20th Century whose fashion we look back on and romanticize, the roaring twenties is undeniably one of them ~ and thanks to the hit TV shows, Boardwalk Empire and Downton Abbey, and the new film version of The Great Gatsby, we have been engulfed in nostalgia and are now seeing a renewed interest in the fashion of the 1920s, and we couldn't be happier.
It was in the Twenties when women were induced with an injection of self-confidence. As the new emancipated woman was freeing herself from societal restriction and from the social mores which had defined her and limited her, she was also freeing herself from the constriction of the outdated crinoline and corsets ~ and with this, began adopting a new, carefree and often frivolous lifestyle, one in which she could smoke a cigarette in public and dance the night away to live jazz at the bar.
These social changes brought with it huge changes in women's fashion. For the first time women wore short bobbed-cut hairstyles which appalled their mothers; girdles were being left behind and looser, freer clothing became all the rage, allowing movement and agility once reserved only for men. Skirt lengths became shorter and shorter, something unheard of only a few years earlier; the loose, drop-waisted silhouette gained tremendous popularity, and a new name was born – the 'Flapper'...
The social changes of the 20s and 30s era brought about the emergence of this sexy, frivolous, radical flapper girl, who flouted all the rules and conventions which had previously limited her ~ and film noir,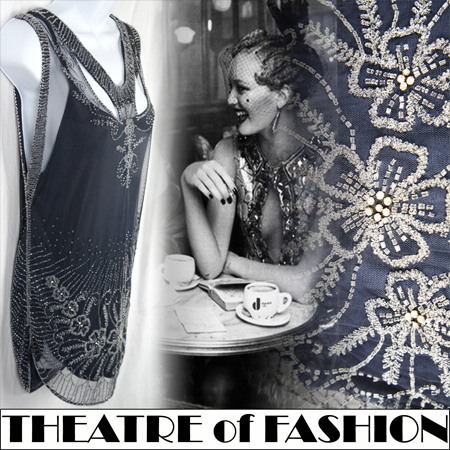 influenced greatly by the heavy shadows of the 20's German Expressionism movement, also had a dramatic influence on fashion.
Respectively, though often tending towards the flapper in its softer femininity, a darker, more mysterious character was born. She oozed sex appeal, but she left you with the unsettling, yet alluring feeling of not knowing whether to kiss her and touch her, or run from her. Against the glittering silvers, whites, pastels and nudes of the flapper tide, the Noir woman, known also as the 20s vamp, wore black, velvets, silks, edged in lace and beads, a perfect symphony of subtle sexiness & iron clad mystery.
The most immediate revival of the 1920s fashion craze sees the flapper dress as a defining dress, for day and especially evening wear ~ and most beautifully, as a wedding dress ~ offering up an essence of this statement style ~ loose-fitting, drop waisted and with beautiful embellishments, such as fringing and elaborate beading and sequins.
With so many styles to choose from ~ from the flirty fun-loving Bright Young Things who were the Flapper girls, to the darker, mysterious edge of the Noir Vamp or the intoxicating damsel of the Femme Fatale ~ the 20s Flapper and Noir Vamp are fashion styles gaining as much enthusiasm and momentum this season as those women of the roaring twenties notoriously lived their lives.
Links and information.
Shop - Our most beautiful 1920 dresses, on eBay
More information on 1920s style
{loadposition ARI_20s_flapper}