1920 Dresses
The 1920s

Style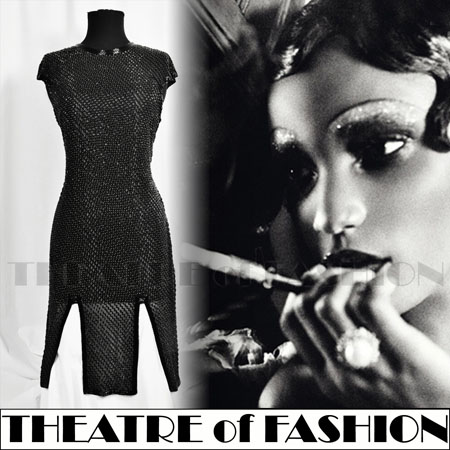 The 1920s are described by many social and cultural historians as a period of abundance and levity. Economic prosperity, new social freedoms for women, and advancements in the textiles industries all added up to create a period of rapid change for 1920 dresses and fashion in general.
"They were smart and sophisticated, with an air of independence about them, and so casual about their looks and clothes and manners…. I don't know if I realized as soon as I began seeing them that they represented the wave of the future, but I do know I was drawn to them. I shared their restlessness, understood their determination to free themselves of the Victorian shackles of the pre-World War I era and find out for themselves what life was all about." - Colleen Moore
During the Great War, women had started to work more ~ they were cutting their hair shorter, wearing looser-fitting clothes and abandoning restrictive corsets to enable them to move more freely. This tendency towards a freer way of dressing continued into the 1920s and is exhibited in the style of 1920 dresses. The 19th Amendment in America and the United Kingdom's Representation of the People Acts of 1918 and 1928 gave women the right to vote, and are thought by some to have influenced the way women dressed also.
During this period, it was much easier to get hold of different types and styles of clothing ~ and the advancements in the textile industry meant that new fashions were made available to the middle classes, not just the elite, and created the beginnings of the 'ready-to-wear' industry. Greater freedoms, female empowerment and more widespread availability of fashions resulted in a period of rapid change for 1920 dresses.
"Tomorrow we may die, so let's get drunk and make love." - Lois Long
Although flapper dresses are probably the most famous style to come from this period, most 1920 dresses tend to fall somewhere between the straight-cut chemise dresses and the more historical robe de style with its fuller, more romantic skirts.
The famous flapper girls and lifestyle were popularised by American writers such as F. Scott Fitzgerald - whose wife Zelda was famous for her flapper dresses - and Anita Loos, but the style had its origins in Europe, particularly in the fashions pioneered by French designer Coco Chanel. The image that we now most associate with flapper dresses - high hemlines, dropped waists, teamed with a short bob hair cut - didn't emerge fully until around 1926.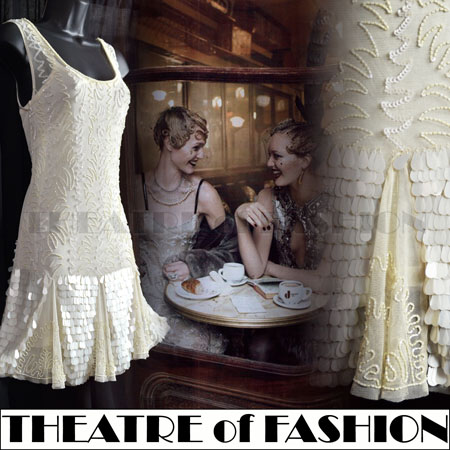 Flapper dresses were straight, essentially rectangular, and worn loose with the waist dropped to the hips and the arms left bare. Flapper dresses have a very distinctive silhouette. If you're a fan of the massively popular TV series Downton Abbey you'll have seen the flapper style emerging in the last series: Lady Mary's low-waisted wedding dress, the sisters' beaded evening gowns and Cora's mother's cropped hair and jewelled headdresses, bringing the latest New York fashions to England. No doubt we'll be seeing more flapper dresses in episodes to come, as the beginning of the latest series is set in 1922.
The image of flapper dresses and flapper girls in popular consciousness was that of liberty and immodesty: she smoked and drank openly, mixed with men freely, went to jazz clubs and danced all night long. In fact, flapper dresses were often designed to shimmer, sparkle and show off the legs during the new dance crazes of the 1920s - the famous line from the Chicago song All That Jazz epitomises the flapper girls' new-found provocativeness: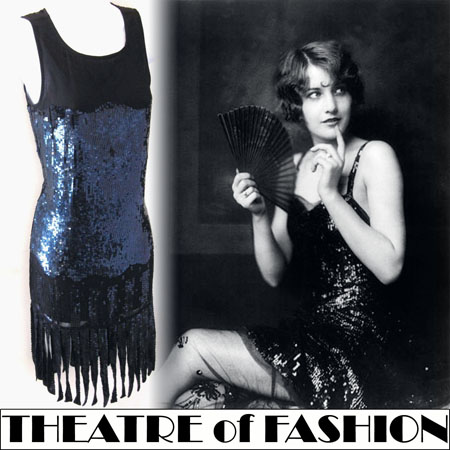 "I'm going to rouge my knees and roll my stockings down" - All That Jazz, Chicago
For all the flapper dresses' associations with scandalous and unlawful behaviour, and unusual appearance, the flapper style - in a toned-down form - became a key style of 1920 dresses and a fashionable look among older and more modest women too.
The long straight-cut 1920s style dresses were a direct counterpoint to the corseted fashions emphasised in previous decades. These dresses were loose-fitting with either very low waistlines or none at all; they emphasised a slender, elegant figure. The simple silhouettes of 1920 dresses – (the dressmaking patterns from this period show that many women were sewing their own clothing at home) - were counterbalanced by luxurious fabrics and exquisite detailing, particularly in the beautiful beaded flapper dresses.
Fashion designers such as Jean Patou helped women dress for casual, everyday occasions. Often considered the first real designer of women's sportswear, Patou was as famous and successful as Coco Chanel during this period ~ and he is credited with the invention of the knitted sweater and the swimsuit. Patou created clothing for active women - but he also created beautiful 1920s style dresses and couture gowns, and dressed Hollywood actresses such as Mary Pickford and Louise Brooks.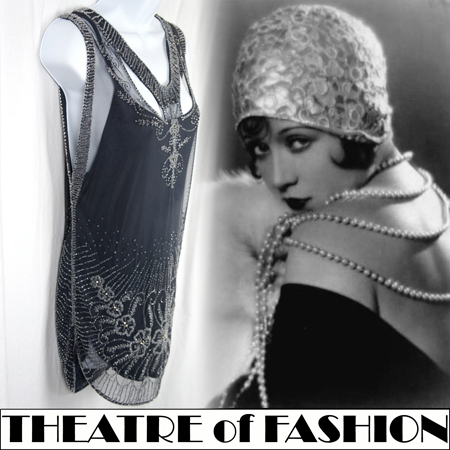 EDITH: The dress came this morning.
VIOLET: I was rather sad you decided against Patou. I would have paid…
CORA: Lucile was safer. We don't want her to look like a chorus girl. - Downton Abbey
As women's dresses became looser, hair became shorter ~ shoulders became more emphasised and waists disappeared. Waistlines dropped lower and lower as the decade went on. In the early part of the decade, 1920 dresses were loose but still with defined waistlines, dropping to the hips and then disappearing completely by the middle of the decade. Towards the end of the decade, 1920 dresses were worn with straight bodices.
The drop waisted style were often made more visually interested by the addition of geometric patterns and decoration. Day dresses were sometimes comprised of different coloured bodices and skirts, separated by a sash, to give the impression of wearing a top and skirt set. Evening dresses and flapper dresses were often highly embellished, covered in beads, sequins, lace, furs and feathers.
"Through this twilight universe Daisy began to move again with the season; suddenly she was again keeping half a dozen dates a day with half a dozen men, and drowsing asleep at dawn with the beads and chiffon of an evening dress tangled among dying orchids on the floor beside her bed." - F. Scott Fitzgerald, The Great Gatsby
During this period hemlines were fairly long, rising and dropping between ankle and mid-calf for most of the decade. Between 1920 and 1924 skirts stayed at calf-length. It was only during 1926-28 that flapper dresses' hemlines rose to show the knee. However, by 1929 handkerchief and asymmetric hems eased the transition back from flapper dresses into the longer skirts of 1920 dresses and paved the way for the glamorous styles of the coming decades ~ by 1930 hemlines were generally several inches below the knee again.
The robes de style were dramatically different to the loose-fitting, streamlined flapper dresses. Jeanne Lanvin was the fashion designer most associated with this style. She was known for her meticulous research of historical costume, and the robes de style were inspired by 18th century gowns. Far more forgiving than flapper dresses which favoured the slender and elegant, these were noticeable for their romantic full skirts, which sometimes needed the support of side hoops worn over the hips.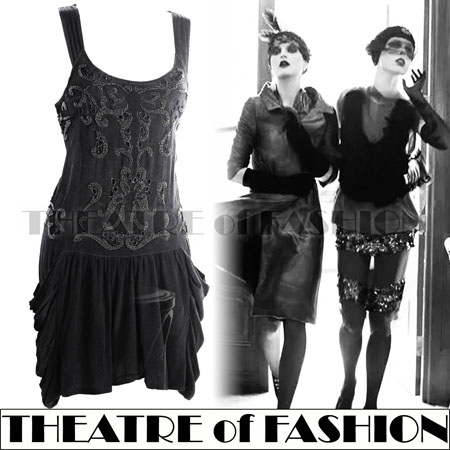 The Italian designer Elsa Schiaparelli made her 1920 dresses stand out by using bright, shocking pinks and other bold colours. She also embraced the artistic movements of the time, utilising art deco and cubist patterns and embellishments on her 1920 dresses.
Coco Chanel is the best-known designer of this period. She is said to have democratised fashion by helping to bring high fashion to the ordinary woman. Chanel popularised bobbed hairstyles and tanned skin, the use of jersey knit fabric and costume jewellery, and, of course, the iconic little black dress.
"Fashion is not something that exists in dresses only. Fashion is in the sky, in the street, fashion has to do with ideas, the way we live, what is happening." - Coco Chanel
Links and information.
Shop - Our most beautiful 1920 dresses, on eBay
The Flapper style, Bright Young Things & Noir Vamps, Read more
More information on 1920s style