Flapper Style Dresses
FLAPPER STYLE DRESSES: FASHION & FLAPPERS
The Great Gatsby ~ Noir Vamp ~ Cocktails ~ Art Deco ~ Charleston ~ Jazz Age ~ Louise Brooks ~ Clara Bow ~ Josephine Baker ~ Roaring Twenties ~ Bright Young Things ~ Prohibition ~ The Artist ~ Downton Abbey ~ Boardwalk Empire ~ Weddings ~ Absolutely Divine...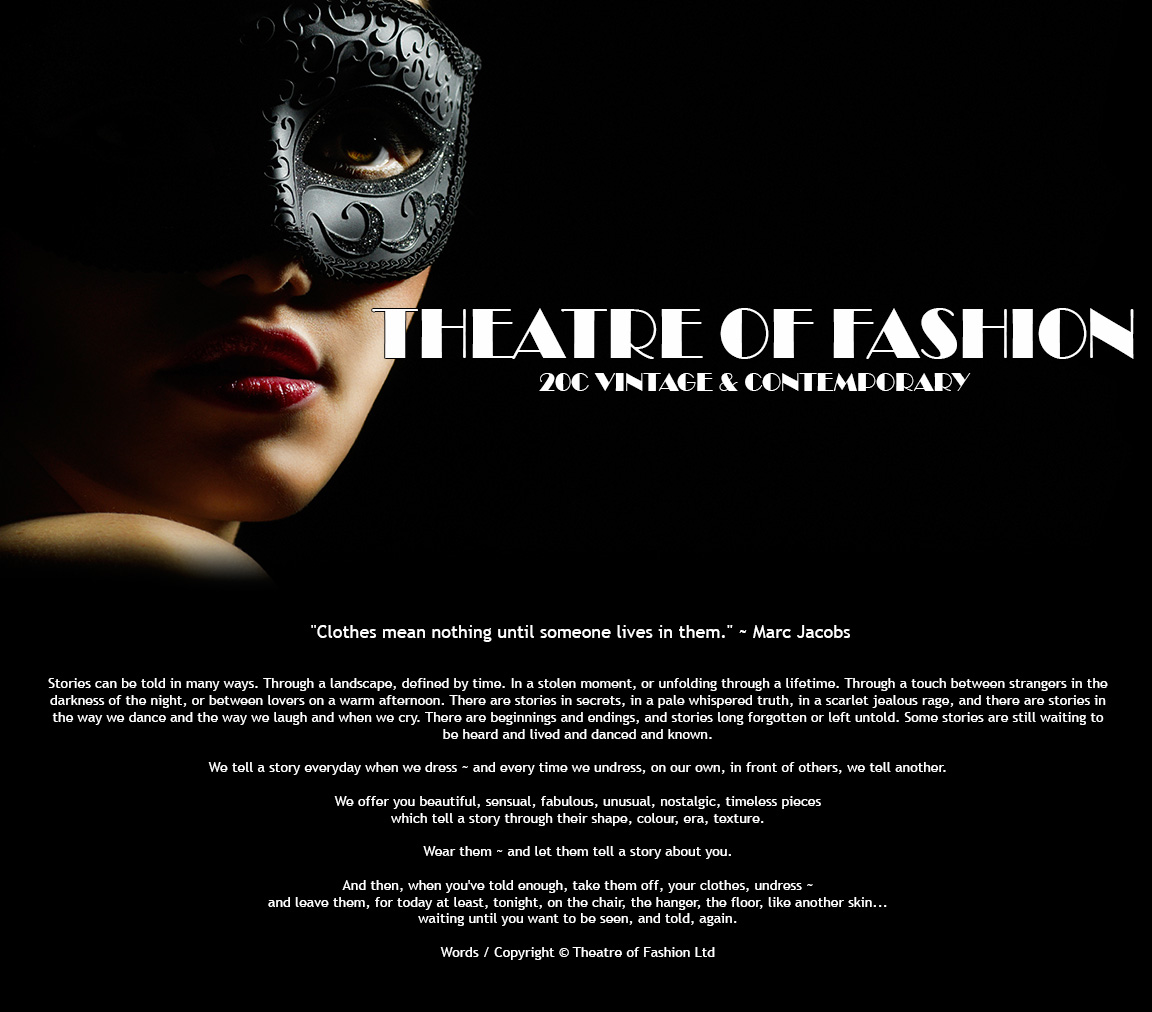 "...'Flapper' ~ the notorious character type who bobbed her hair, smoked cigarettes, drank gin, sported short skirts, and passed her evenings in steamy jazz clubs, where she danced in a shockingly immodest fashion with a revolving cast of male suitors..." ~

Flapper: A Madcap Story of Sex, Style, Celebrity, and the Women Who Made America Modern ~ Joshua Zeitz
"I had no idea of originating an American flapper when I first began to write. I simply took girls whom I knew very well and, because they interested me as unique human beings, I used them for my heroines..." ~ The Great Gatsby ~ F. Scott Fitzgerald
~ 1920s FASHION REVIVAL ~ Noir vamps, Flapper girls and Flapper style dresses ~

There are key eras of the 20th Century whose fashion we look back on and romanticize ~ the roaring twenties is undeniably one of them, especially the flapper style dresses ~ and thanks to the hit TV shows, Boardwalk Empire and Downton Abbey, and the re-make of The Great Gatsby, fashion of the 20s and 30s is having a huge revival, and we couldn't be any happier.
The social changes of the 20s era brought about the emergence of the sexy, frivolous, radical flapper girl, who flouted all the rules and conventions which had previously limited her ~ and film noir, influenced greatly by the heavy shadows of the 20's German Expressionism movement, also had a dramatic influence on fashion.
Respectively, though often tending towards the flapper in its softer femininity, a darker, more mysterious character was born. She oozed sex appeal, but she left you with the unsettling, yet alluring feeling of not knowing whether to kiss her and touch her, or run from her. Against the glittering silvers, whites, pastels and nudes of the flapper tide, the noir woman, known also as the 20s Noir Vamp, wore black, velvets, silks, beautifully beaded, edged in lace, a perfect symphony of subtle sexiness & iron clad mystery...
With so many styles to choose from ~ from the flirty fun-loving 'Bright Young Things' who were the flapper girls, to the darker, mysterious edge of the noir vamp or the intoxicating damsel of the femme fatale ~ the 20s flapper is a fashion style gaining as much enthusiasm and momentum this season as those women of the roaring twenties notoriously lived their lives.
"...The decade is remembered, perhaps romanticised, for being all about sex, alcohol and jazz…" ~ The Jazz Age
Theatre of Fashion : Flapper Style Dresses
Here is a taste of some of the true vintage 1920s dresses and the contemporary flapper style dresses which we offer.
Some might have already sold ~ however, although any true vintage item is a one off, we do find other equally beautiful true vintage flapper dresses whenever we can and you'll find any we have to offer you in our shop ~ so please have an amble through our 1920s collection.
If any contemporary flapper style dresses ~ which we carefully choose to offer you because they are, each in their own way, beautifully reminiscent of the era ~ are now sold, please have a look to see if we have any others, because although it is often very hard to find these flapper style dresses, we do try and search them out wherever we can. We just love them because we feel they tell a nostalgic story of the era ~ flapper style dresses with that jazz age look and feel: careless, carefree, irreverent, playful, and always perfect for dancing the night away...
FLAPPER STYLE DRESSES : BEAUTIFUL, TRUE VINTAGE 1920s, BLACK BEADED FLAPPER DRESS
Sexy, sleek and sophisticated, true vintage, iconic 1920s 'Old Hollywood', little black beaded flapper dress with stunning split vented hem and very heavily beaded all over.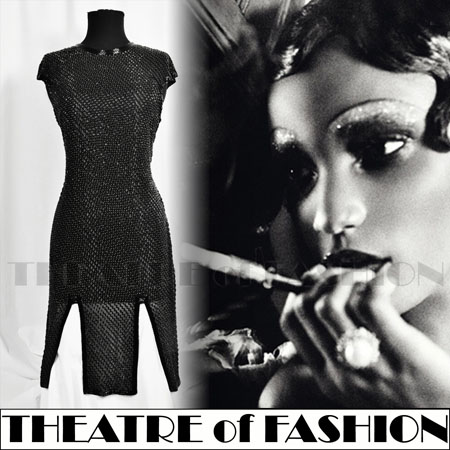 A VERY rare to find, true vintage / antique, original 1920s, and really stunning, black very heavily beaded drop waisted, 'flapper' dress. Made of a jet black, sheer silk chiffon fabric, strong and dark, this dress is beaded everywhere and the sheerness of the dress next to the weight of the beads creates an exceptionally sleek and beautiful piece.
This dress is one in a million, oozing original 20s Art Deco sleek sophistication and sexy elegance. A very flattering cut and shape, which suits all body shapes, and covered in thousands of black beads all over the dress, completely ~ and in addition the hems, armholes and neckline are edged in more beads, to finish and accentuate.
The shape of the dress is quintessentially 20s 'flapper', with a sleek heavily beaded body, which hangs beautifully due to the weight of the beads, and then down to the drop waisted hips ~ when you get to the bottom of the dress, the simplicity and elegance of the dress explodes into, quite frankly, the most amazing absolutely 'flapper' hemline!!! You couldn't get a more 'flapper' hem line if you tried! The hem is split, quite high, into a number of panels, again heavily beaded ~ and every edge and seam is finished in a heavy border of black beading, which not only creates more movement and weight, but accentuates the very special hemline which adds such a 'jazzy' touch to this already beautifully iconically Charleston / Great Gatsby delight!
Everything about this dress is beautiful. Even holding it in your hands is lovely ~ the weight is amazing ~ and when worn, this means it hangs beautifully and moves so well when you move, dance, walk. You really do feel like a movie star wearing this dress ~ just think of Louise Brooks, or Clara Bow, or Josephine Baker...or more recently, think of the film The Artist, and of course, the beautiful Great Gatsby... You could wear long black evening gloves to add to the glamour!
Would be so lovely for early evening cocktails through to dancing the night away at a wedding party extravaganza ~ champagne picnics on the lawn, a special dinner date, theatre, opera...this dress is so versatile, and so BEAUTIFUL!
Bring out your inner diva!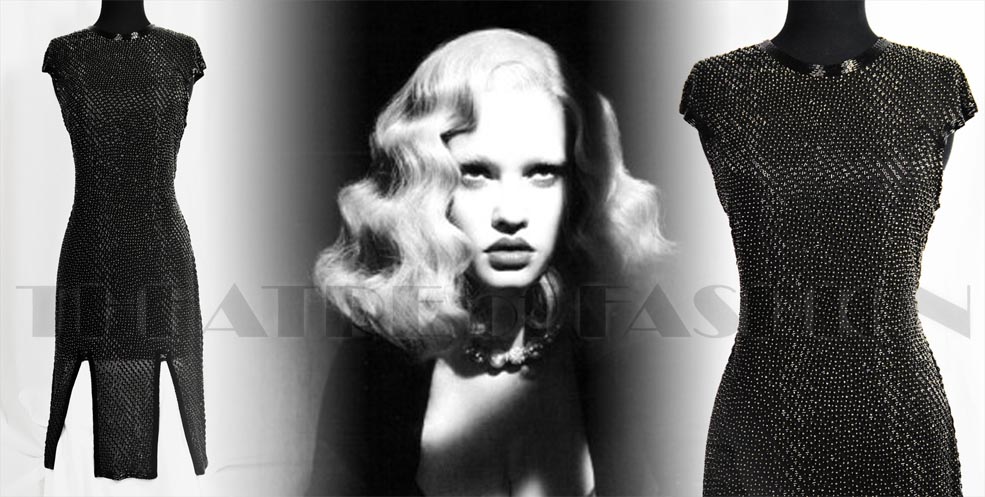 "...The New Woman of the 1920s boldly asserted her right to dance, drink, smoke, and date ~ to work, to own property, to live free of the strictures that governed her mother's generation...She flouted Victorian-era conventions and scandalized her parents. In many ways, she controlled her own destiny." ~ Flapper: A Madcap Story of Sex, Style, Celebrity, and the Women Who Made America Modern ~ Joshua Zeitz
FLAPPER STYLE DRESSES : AN EXCEPTIONAL AND BREATHTAKINGLY BEAUTIFUL, TRUE VINTAGE, 1920s, CREAM & WHITE, HEAVILY BEADED FLAPPER DRESS
A stunningly beautiful, true vintage, iconic 1920s, wedding dress. This dress says 20s 'Old Hollywood' movie star in every way ~ In lovely cream chiffon with exceptional and extensive beading in white. Very heavy intricate beading, in a floral and foliage pattern, adorns this tunic cut dress with its traditional drop waisted ' flapper' style ~ and the dress has the added beauty of extra skirt panels which move beautifully, flying out, as you move and dance.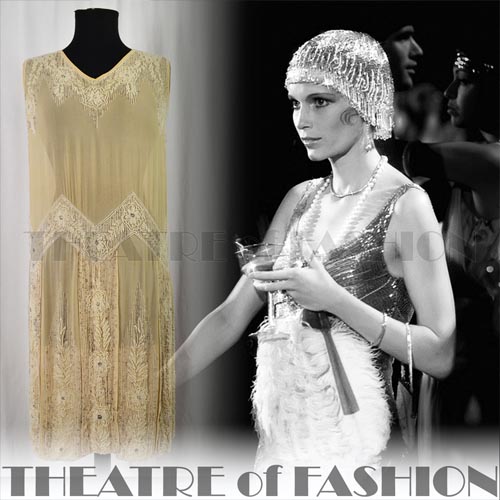 True vintage / antique original and very rare to find, a stunning 1920s cream and white heavily beaded 'flapper' dress ~ so beautiful, this would make an ideal wedding dress for a 1920s Gatsby themed wedding.
Stunning to look at, and even more lovely to wear, this dress is so sophisticated and elegant and yet also has that exciting jazz age air of 'bright young things' dancing the night away in smoke filled bars and speakeasies, smoking, laughing, flirting. This is a dress from that iconic era of the 'flapper' girl with her new found independence, no longer shackled by the restraints of her mother's and grandmother's restrictive Victorian upbringing.
It was in the Twenties when women were induced with an injection of self-confidence. As the new emancipated woman was freeing herself from societal restriction and from the social mores which had defined her and limited her, she was also freeing herself from the constriction of the outdated crinoline and corsets ~ and with this, began adopting a new, carefree and often frivolous lifestyle, one in which she could smoke a cigarette in public, dance the night away to live jazz at the bar, and party with men unescorted ~ things almost unheard of in times before.
These social changes brought with it huge changes in women's fashion. For the first time women wore short bobbed-cut hairstyles which appalled their mothers; girdles were being left behind and looser, freer clothing became all the rage, allowing movement and agility once reserved only for men. Skirt lengths became shorter and shorter, something unheard of only a few years earlier ~ and the loose, drop-waisted silhouette gained tremendous popularity.
The revival of the 1920s fashion sees the flapper dress as a defining dress for special occasions, weddings and red carpet affairs ~ a bold statement style, loose-fitting, drop waisted and with beautiful embellishments, such as fringing and elaborate beading.
This beautiful dress, with its muted shades of white and cream and intricate hand beading, strongly epitomises this 1920s Art Deco high society 'flapper' style ~ opulent, extravagant and luxurious. The very slightly diaphanous silk chiffon fabric is embellished with hundreds of small white beads, creating a lovely weight to the dress, and forming a floral pattern which is very beautiful. In addition, the beading accentuates the 'flapper style' drop waist with a very Art Deco zigzag band at hip level which is stunning and adds form to the very elegant 20s tunic shaped dress. Sleeveless with bare arms was all the rage in the 20s ~ many 'flappers' added long elbow length gloves for special occasions. But what is truly spectacular about this dress, and exceptionally beautiful, is the long and wide rectangular strips which are attached at hip level all the way around, and which flare out when you twirl creating such lovely movement. These additional strips are fully beaded and the weight of them as they flip out, as you turn and dance, is fabulous.
This is the dress for that very special occasion ~ and it will take you from the most sophisticated black tie dinner ~ through to that wedding party banquet and wedding dance as you Charleston past midnight and in the early hours...
Just add long white gloves ~ and bubbling champagne, of course!!!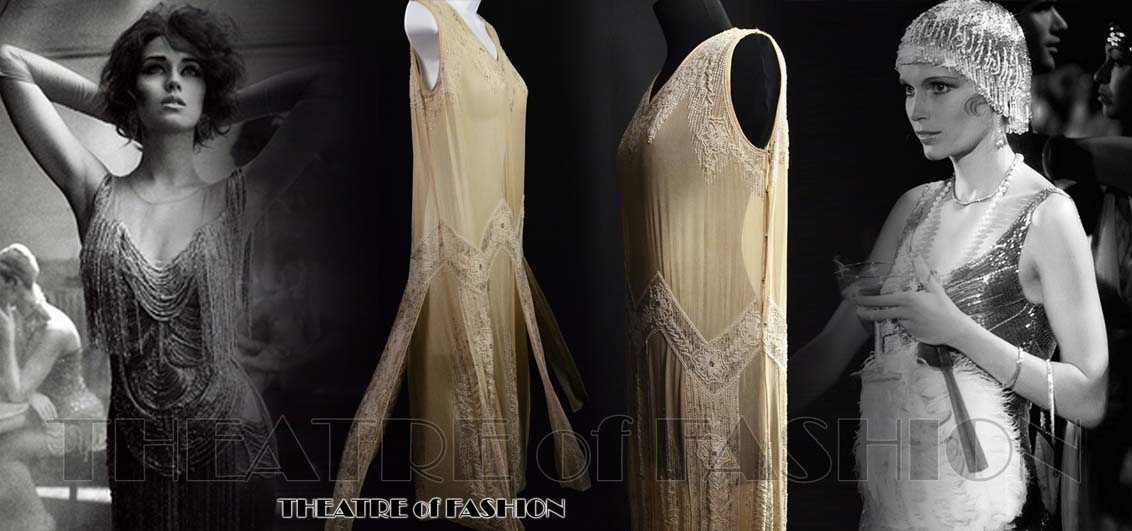 "In the 1920s, a new woman was born. She smoked, drank, danced, and voted. She cut her hair, wore make-up, and went to parties. She was giddy and took risks. She was a flapper." ~ The Younger Generation
FLAPPER STYLE DRESSES : VERY SOUGHT AFTER, CONTEMPORARY FLAPPER SYLE BLACK BEADED DRESS WITH ADORABLE CHIFFON SKIRT, DESIGNED BY KATE MOSS FOR HER NOW ENDED, AND HIGHLY RESPECTED AND ADORED, COLLABORATION WITH TOPSHOP.
Oozing 1920s flapper style and 'Old Hollywood' glamour ~ a vintage inspired little black beaded flapper dress.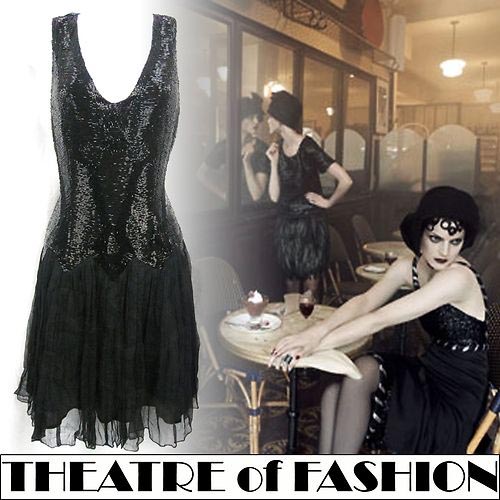 A really STUNNING, vintage style, black heavily beaded bodice dress with beautiful silky, chiffon skirt and amazing styling from the Kate Moss Collection for Topshop ~ one of Kate Moss's most rare and sought after designs.
Featuring a very heavily beaded bodice, with rectangular jet black shiny beads arranged in a subtle art deco pattern, which gives that 1920s sexy jazz age shimmer, and adds quite a bit of weight to this gorgeous dress. Carefully designed with much attention to detail, the dress has an unusual, triangular patterned waist line as the beaded bodice changes into the tightly pleated, floaty, loose, silky skirt ~ all in all creating a very beautiful dress indeed. One of our buyers bought one of these to wear to the 1920s dinner extravaganza on board their railway trip on the Orient Express to Venice ~ and totally looked the part of the 20s society beauty!
This dress is absolutely breathtaking! So reminiscent of the 1920s flapper style dresses of that era, with a particularly strong Noir vibe in the jet black beading and that whisper of chiffon which is the delightful little skirt.
We sell these dresses so quickly whenever we can find them ~ which is getting harder and harder to do ~ and our buyers adore them saying that they are not only beautiful and sexy to wear, but sophisticated and elegant and extremely versatile taking them from early evening cocktails and supper parties to late night dancing and wedding banquets which last all night long!!! ~ Classy, sexy, nostalgic, modern ~ what more can you ask from a little black dress?!!!

"Darling, when things go wrong in life, this is what you do. You lift your chin, put on a ravishing smile, mix yourself a little cocktail ~ and out you go!" ~ Twenties Girl ~ Sophie Kinsella,
FLAPPER STYLE DRESSES : ONE OF OUR MOST POPULAR VINTAGE INSPIRED, BEADED FLAPPER STYLE DRESSES EVER ~ TOPSHOP PREMIUM LIMITED EDITION RANGE, AND SOLD OUT AS SOON AS IT HIT THE STORES A NUMBER OF YEARS AGO NOW!
Elaborate and very intricate beading with additional stunning diamonte, on a grey/blue soft mesh background ~ short, sexy, and extremely sought after ~ oozing 1920s flapper style and 'Old Hollywood' glamour ~ such a beautiful vintage inspired little flapper dress. Very hard to find ~ so easy to wear!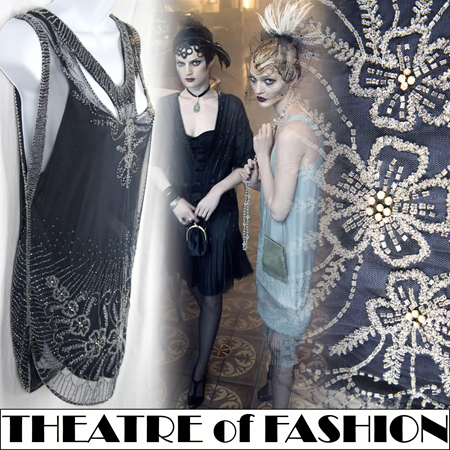 A really STUNNING, so rare to find, vintage inspired, grey/blue, heavily bead and diamonte embellished short mini 'flapper' style dress from Topshop ~ featuring a sheer grey/blue very fine soft mesh outer dress with the neckline framed in delicate rows of clear beading, which continue around the arm holes, the sides & bottom hem of the dress ~ with leaf shaped cut out detailing beneath the neckline, all detailed in clear beading, and all of which catches the light beautifully. Between the cut-out detail, the beads are intricately clustered into a very art deco floral pattern with diamante detailing in the centre ~ this floral beaded pattern is repeated around the bottom of the dress with art deco beaded rays stretching up to the waist. The hem is beautifully and elegantly curved and rises up at the sides for ease of movement.
This dress is absolutely beautiful! The relaxed, 20s style tunic shape is very flattering and the intricate art deco inspired beading is so nostalgically reminiscent of the 1920s flapper style dresses which we know and love, and which we so covet when we see them in films such as The Great Gatsby, or The Artist! With the sheer fine netted fabric revealing just the right amount of skin, this dress is perfect for all kinds of special occasions or just to add a touch of 1920s glamour to your evenings out on the town!
One of our best selling 20s style flapper dresses ~ contemporary yet with everything you could want to create that 1920s vintage style for a special occasion. One of our buyers wore this dress as a bridesmaid's dress for a 1920s vintage themed wedding ~ and she not only looked the part, but also looked absolutely stunning!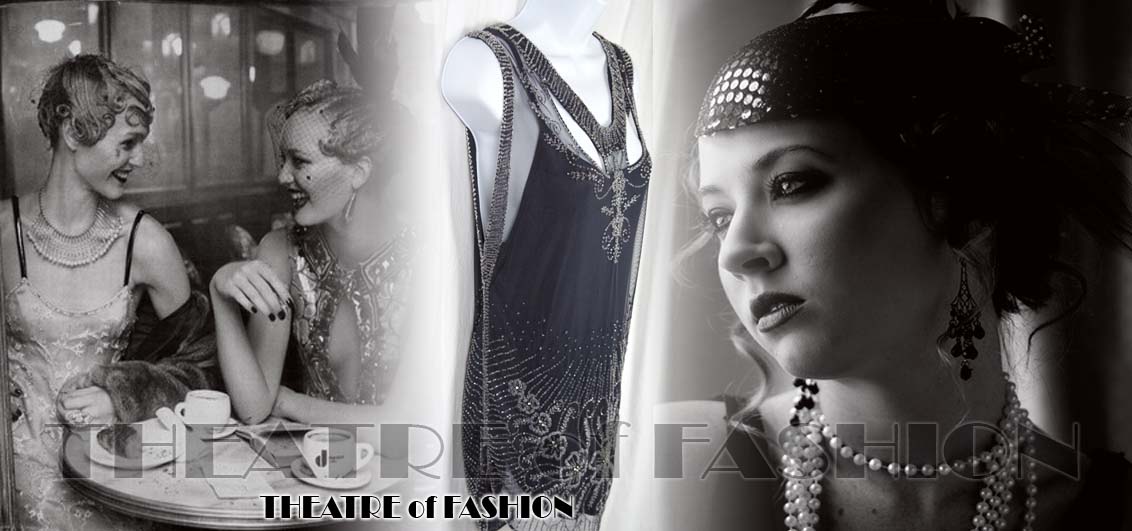 "I had fun. That's what I believe in. Fun, flings, the sizzle. It starts as a shiver, when you see a man for the first time. And then he meets your eye and the shiver runs down your back and becomes a sizzle in your stomach and you think 'I want to dance with that man.' You dance, you have a cocktail or two, you flirt..." ~ Twenties Girl ~ Sophie Kinsella
FLAPPER STYLE DRESSES : A VERY MODERN TAKE ON A VINTAGE FRINGED FLAPPER DRESS ~ SILKY FRINGING AND MATT GOLD STUDDING ~ VINTAGE INSPIRED DIVA!
Loosely based on vintage flapper dresses, this very pretty and delightful dress is completely contemporary with very vintage inspired touches ~ one of our most popular vintage style flapper dresses ~ and sold out as soon as it hit the stores! Rare to find now ~ when we can find them, they sell as soon as we offer them in our shop.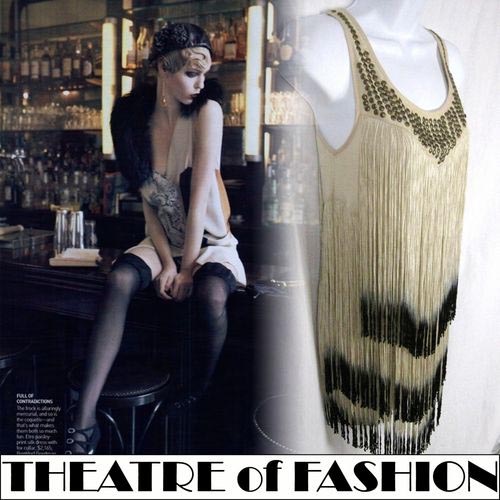 A very modern adaptation of the 20s flapper dress, this dress by Topshop from a number of seasons ago, proved exceptionally popular and sold out instantly in store. To wear it is to know why: Three tiers of silky fringing, both back and front, which spin out as you move, walk, shimmy, and dance ~ it really is fabulous and presses all the buttons you could wish for a night out on the town dancing until the early hours. Expect compliments galore!
A fringed and tasselled vintage inspired flapper dress which comes in two colour ways ~ a sexy, soft nude shade with long silky fringing with black tie dyed ends, and a delightful pale baby pink with tassels edged in grey tie dye. In addition, the top of the bodice is embellished with matt gold sequin-like studding. This dress, although harder and harder to find now, has proved exceptionally popular with our buyers who love it for the flattering fit, easy to wear style, and especially because it looks so glamorous on a night out.
A dress to shimmy and shake in!!!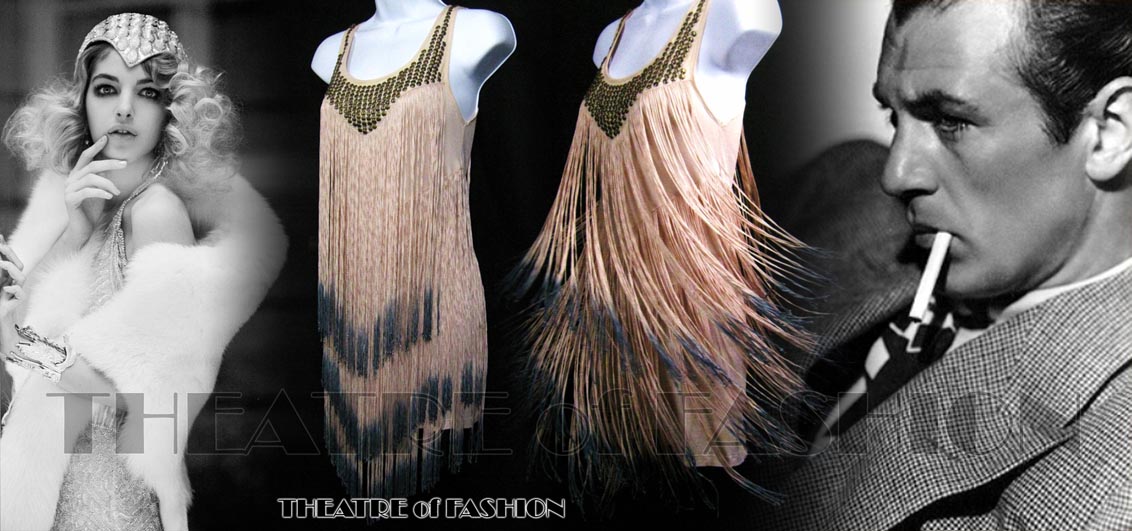 "...Men and girls came and went like moths among the whisperings and the champagne and the stars..." ~ The Great Gatsby ~ F Scott Fitzgerald
FLAPPER STYLE DRESSES : THE MOST BEAUTIFUL DRESS DESIGNED BY KATE MOSS ~ VERY SOUGHT AFTER, CONTEMPORARY FLAPPER SYLE, VERY HEAVILY BEADED DRESS WHICH IS ABOUT AS CLOSE AS YOU CAN GET TO THE VINTAGE STYLE BEADED FLAPPER DRESSES WITHOUT BEING ORIGINAL 1920s. THIS DRESS IS SUPERB ~ A WORK OF FASHION ART!
1920s 'Old Hollywood' glamour ~ A dress fit for a 20s movie star ~ just think Clara Bow, or Louise Brooks, think of the Great Gatsby...This dress is an opulent, sumptuously beaded, delight!
This dress is breathtaking ~ and will one day be a collector's item! Wear it and feel like a 1920's Goddess!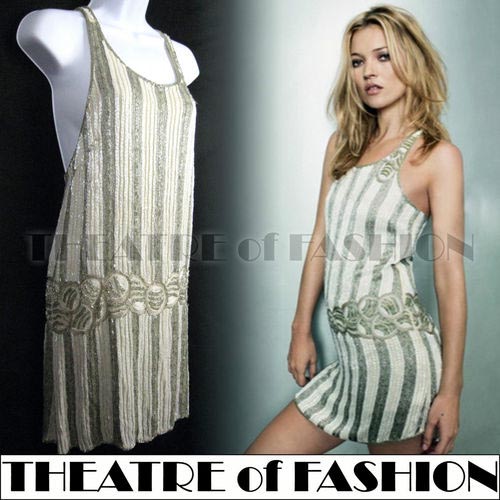 Kate Moss surpassed herself when she designed this one ~ based on a number of original 1920s beaded flapper dresses which Kate Moss owns and loves to wear herself, this dress is the epitome of fashion made for a flapper girl.
Created in nude, cream and pale gold beading ~ hundreds and hundreds of tiny beads ~ this dress is delightfully and satisfyingly heavy. Covered in beading from top to hem, the dress is simply beautiful. The drop waist is defined by an intricate and very elaborate row of art deco inspired, heavily beaded & embroidered, interlocking circles which add another stunning touch. The back of the dress is as gorgeous as the front ~ with an exaggerated racer style back, which is very sexy, and which adds a modern touch to a very vintage inspired dress. Completely and utterly Art Deco in its influence, this dress reeks glamour ~ in its colouring, its patterning, and in its opulence and extravagance.
Kate Moss' collections from the past few years will become ~ in fact, have become ~ an important part of contemporary fashion history with many of her more famous and limited edition pieces becoming very rare, collectable and very sought after. In time, Kate's designs will become more and more collectable ~ and one day we will look back and regard her pieces as we now look back at Biba, for example, or other similar vintage brands, as part of fashion's evolving history. This dress is one of those sought after pieces which will become highly sought after ~ it is, even now, becoming collectable and rarer and rarer to find. If you are looking for a stunning beaded flapper dress, and would rather go for vintage style over true vintage, then this dress is one of the most beautiful and authentic you could hope to find.
Fabulous in the extreme. Beyond perfect for weddings ~ as a wedding guest, a bridesmaid or maid of honour, even wear it as a wedding dress for a 1920s Gatsby themed wedding. Absolutely stunning!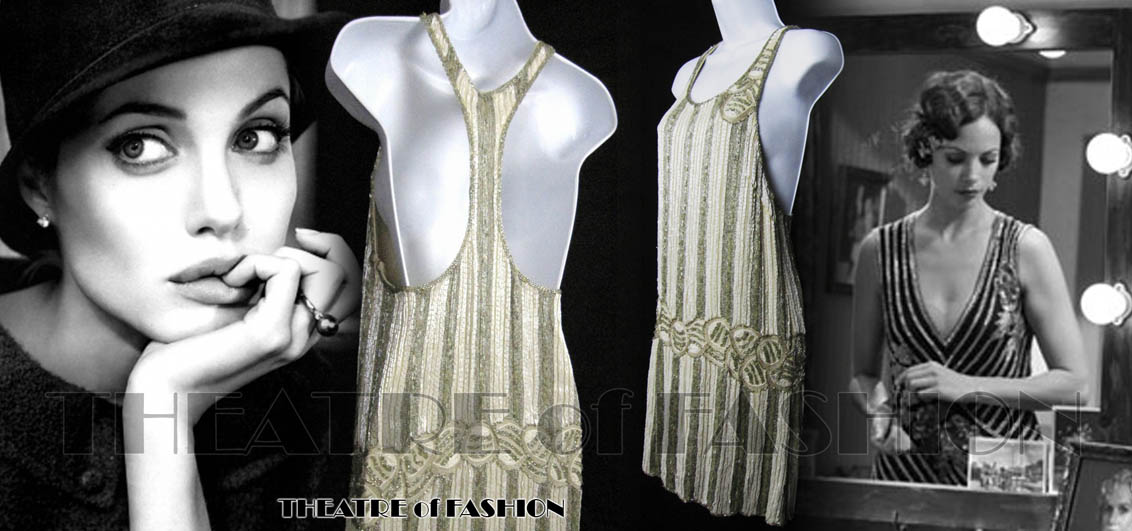 "Women took up smoking in the twenties with the same suddenness they cut their hair and raised their skirts. They smoked in restaurants, in speakeasies, in the country clubs where they went to play golf and bridge, and in private homes during that new invention, the cocktail hour. For the younger generation, smoking was another example of 'freedom' and women's right to enjoy the same pleasures as men..." ~ 1920s America's Women, 400 years of Dolls, Drudges, Helpmates and Heroines ~ Gail Collins
FLAPPER STYLE DRESSES : ABSOLUTELY ADORABLE CONTEMPORARY FLAPPER SYLE BLACK CHIFFON DRESS WITH EXCEPTIONAL DIAMONTE BEADWORK DESIGNED BY KATE MOSS ~ BEAUTIFUL NOIR VAMP!
A vintage inspired little black dress in such a flapper girl style with stunning sparkling diamonte beadwork and fabulous scalloped edged hemline ~ this dress is a delight! Very 'Jazz Age' jazz club, very 1920s Noir Vamp, delightfully decadent, beautiful in black!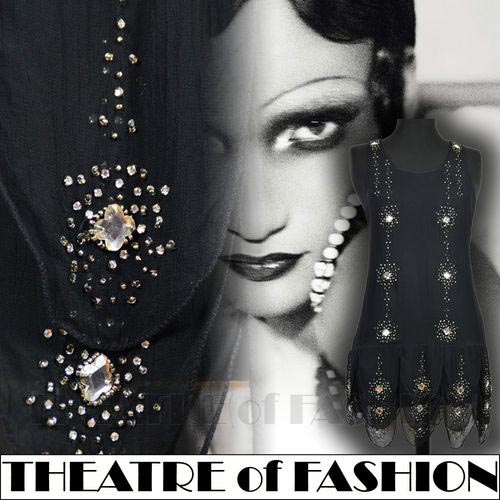 Wonderful Art Deco inspired bead, crystal & diamante embellishments adorn this distinctive and exceptionally pretty dress. Lovely design and styling with a fine mesh, black chiffon fabric and very art deco diamante detailing, which runs from the shoulders down the front of the dress, past the drop waist to the hemline. The hem, all the way around, has an unusual and gorgeous touch ~ layered with chiffon on chiffon creating a very beautiful scalloped edge which flips out when you dance ~ and, of course, with the bead & diamante detailing. Divine!!!
Another beautiful and very sought after Kate Moss designed dress which is ideal for all kinds of occasion ~ weddings, parties, christenings, red carpet events, cocktails, dinner dates, dancing...very versatile, sophisticated, elegant ~ and always GORGEOUS!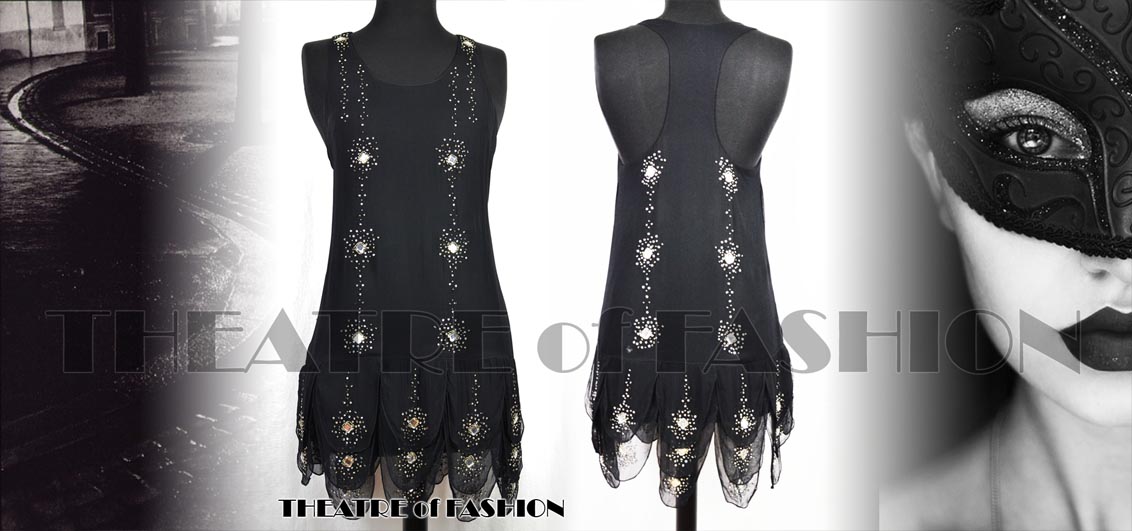 "...The image of flappers were young women who went by night to jazz clubs where they danced provocatively, smoked cigarettes through long holders, and dated freely, perhaps indiscriminately. They rode bicycles, drove cars, and openly drank alcohol, it was all such a defiant act..." ~ Women Gain Rights, Fashion, and Flappers
FASHION & FLAPPERS
THEATRE OF FASHION WELCOMES YOU TO EXPLORE OUR 1920s COLLECTION : TRUE VINTAGE& VINTAGE INSPIRED FLAPPER STYLE DRESSES