The Theatre of Fashion Blog
Fashion Blog, Ideas, thoughts, histories, filmstars, styles, and some of our most beautiful items.
40s Fashion Vintage Hollywood - 1940 fashion

40s Fashion - Hollywood Style
Hollywood ~ a word that conjures up the modern day film industry while forever evoking memories of a bygone era: the Golden Age of the Silver Screen, decorated by the eternal movie stars who epitomised glamour, style and sophistication and who defined 40s fashion.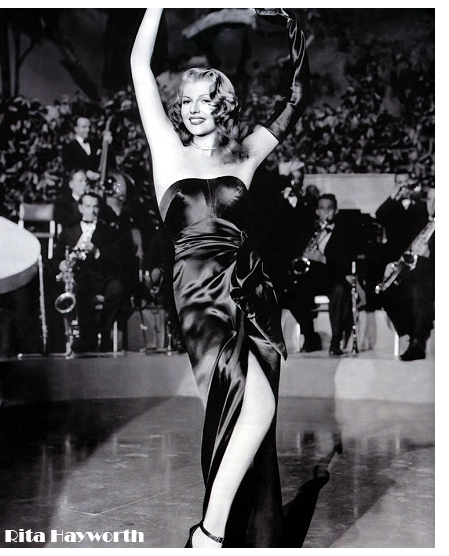 The end of silent film in the late 1920s had seen the dawn of Hollywood's Golden Age which took hold in the 30s, ushering in an era of prolific film making which continued to sashay its way through the 40s with sustained style and creativity, carried aloft by the screen goddesses, the vamps and the sultry sirens. These iconic movie stars mesmerised with their performances and epitomised 1940s fashion with their memorable looks and screen personalities: Dorothy Lamour, Katharine Hepburn, Lauren Bacall, Betty Grable, Veronica Lake, Ginger Rogers, Ingrid Bergman, Lana Turner, Rita Hayworth, Vivien Leigh, Ava Gardner, Hedy Lamarr...what a fabulous rollcall. In 1940 fashion would be defined by these film stars, and in the following years, until the 50s, their iconic wardrobes would influence a generation of women recovering from war torn austerity.
Despite the hardships of World War II and the utilitarian chic generally espoused by the West, Hollywood stars dazzled in 40s fashion which set the template for so many classic shapes and styles that have become timeless and continue to influence today's designers and culture. In 1940 fashion, movie star's hairstyles and make-up, and even their shoes and handbags, were copied by women everywhere.
The 40s fashion silhouette accentuated the female form ~ skirts were raised from ankle to knee-length while broad padded shoulders, nipped-in waists and slim lines became typical with square jackets usually worn over blouses or shirts. Later, Dior's groundbreaking 'New Look' collection (1947) would feature more waist-cinching and gorgeously full skirts.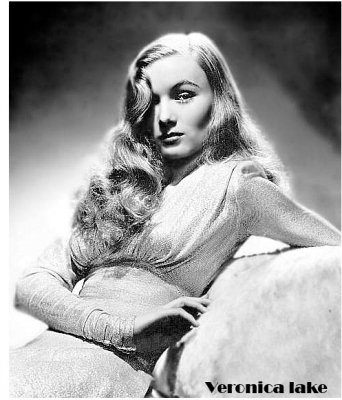 Hollywood embraced this and more ~ elegance, glamour and sophistication meant dreamy cocktail dresses and fabulous evening gowns (full or tight), emphasising a sensual silhouette with, often, a dramatic open back. Stoles or cover ups were the order of the day (and night), accessorised with elegant, long gloves in satin, silk, lace or velvet ~ and, of course, diamonds (the bigger the better!). Waves, side partings and 'peekaboo' hairstyles ~ à la Veronica Lake ~ were widely imitated.
40s film stars epitomised glamour, elegance and allure, often with a seductive dark side. The wardrobe of the 'femme fatale' always had an evening edge, while those who populated the era's beloved 'film noir' dressed to kill ~ courtesy of designers who understood the needs of actresses and their characters.
Designer Edith Head understood Barbara Stanwyck's 'femme fatale' in Double Indemnity (1944) and dressed her to impress in expensive jewellery and clothes, classily cut (as if to conceal her amoral intentions) ~ and in a silk jumpsuit, 30 years before it would be interpreted and restyled by Halston.
Irene Letz became MGM's head of costume design in 1943 and turned the antagonist/protagonist colour code on its head by dressing Lana Turner in (almost) all white for her turn as the sultry seductress in The Postman Always Rings Twice (1946). Her stunning wardrobe and iconic outfits were all about the form, with clothes that framed Lana's face and figure to perfection. Her appearance in a turban, high waisted shorts and heels became one of the best known movie entrances ever.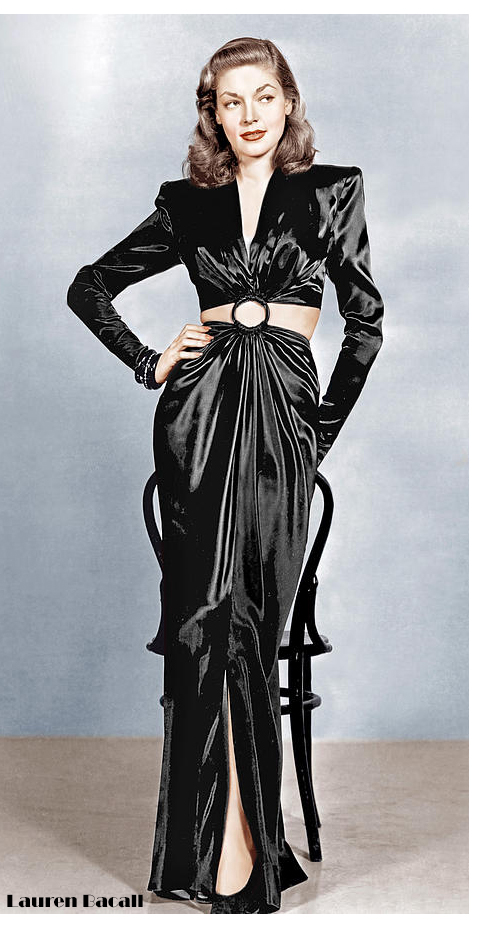 Lauren Bacall, one of the defining style icons of the age, epitomised ice-cool chic and effortless elegance in whatever she wore. In To Have and Have Not (1944), she blended elegant separates with fashion-forward menswear-inspired tailoring that led the way in androgynous dressing, while the evening dress she wore was overtly glamorous ~ slinky floor length black satin, split to the thigh, with defined shoulders to create a structured silhouette and a subtly exposed midriff. Just exquisite.

Another breathtakingly beautiful gown was worn by Loretta Young in He Stayed for Breakfast (1940) ~ a vision of a floorsweeper in black lace that could effortlessly convert to modern day style as a wonderfully wearable and glamorous vampish creation.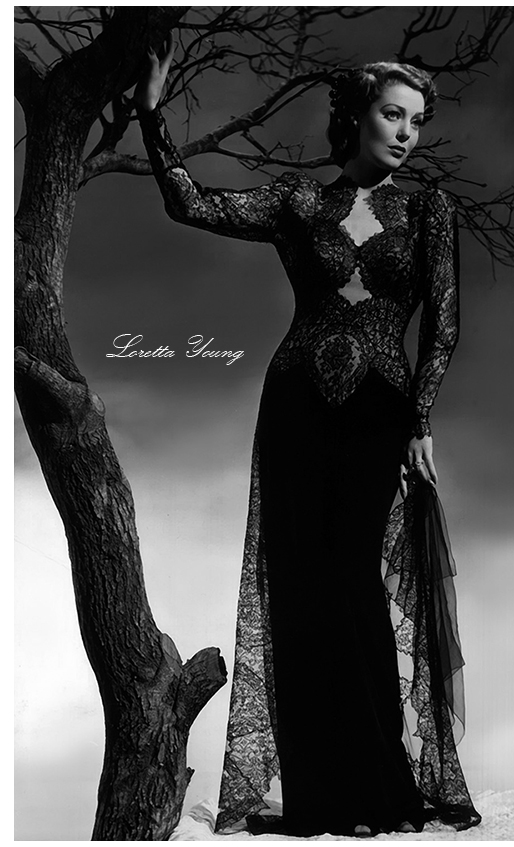 Perhaps one of the most iconic garments from 1940s fashion and Hollywood is that dress worn by Rita Hayworth in Gilda (1946); designed by Jean Louis, the strapless long black satin sheath with side split ~ paired with long, elegant evening gloves ~ has helped to consolidate and define the image of the 'femme fatale' while remaining a universal reference for classic fashion in cinema.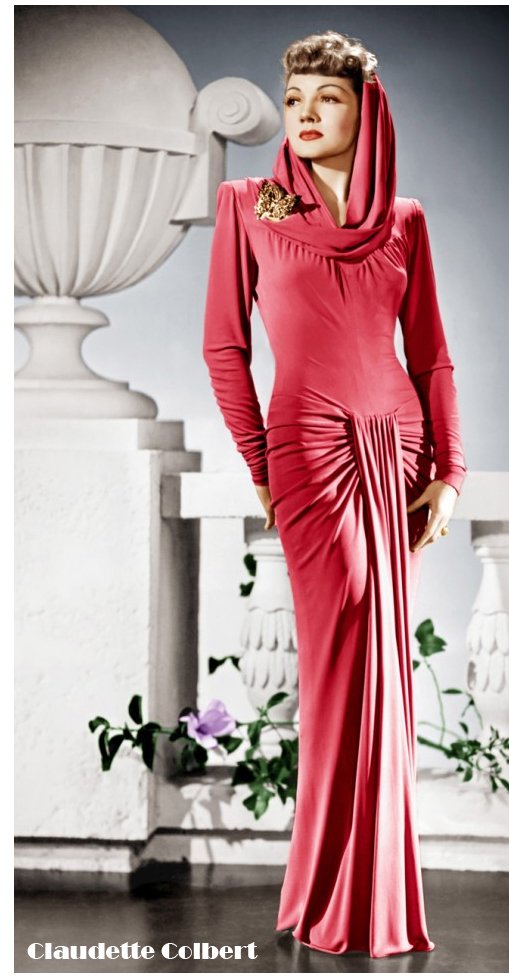 Indeed, so much of what we recognise in today's trends and styling has come directly from 40s fashion and Hollywood:
Androgynous (Katharine Hepburn opted to wear trousers rather than skirts, a statement that ultimately changed the perception of how women should dress ~ and was echoed in the movies to such stylish effect by other luminous stars such as Lauren Bacall)
Belted waists
Crop tops (a very big look in early 1940 fashion)
Decadent jewels, huge cocktail rings (real and imitation)
Floral prints and tea dresses
Huge floral corsages (from Carrie Bradshaw via Hedy Lamarr)
Metallics, midi length skirts and monochrome (the latter, worked so well by Ingrid Bergman in Casablanca, became a staple of 40s fashion)
Nautical
Pastels
Pleats, zips, ruching
Preppy chic and Peter Pan collars
Shoulder pads (power dressing's been around for some time!)
Statement headwear
Tailored swimwear
Wedges and wide legged trousers
... and Claudette Colbert looked fabulously decadent in a floor-length hooded pink gown while filming The Palm Beach Story in 1942 ~ a look that has since been given a contemporary spin by, amongst others, Kylie Minogue and Cheryl Cole.
Like a fine wine, original 40s fashion is a superb vintage which is as desirable today as ever ~ thanks in no small part to the Hollywood icons who lit up the screen and whose timeless beauty and style continues to influence today's collections and be justifiably referenced in modern trends.

LINKS
40s Hollywood, The magic of Humphrey Bogart & Lauren Bacall