The Theatre of Fashion Blog
Fashion Blog, Ideas, thoughts, histories, filmstars, styles, and some of our most beautiful items.
Beyond beautiful vintage 1960s Irish linen lace crochet dress ~ perfect wedding dress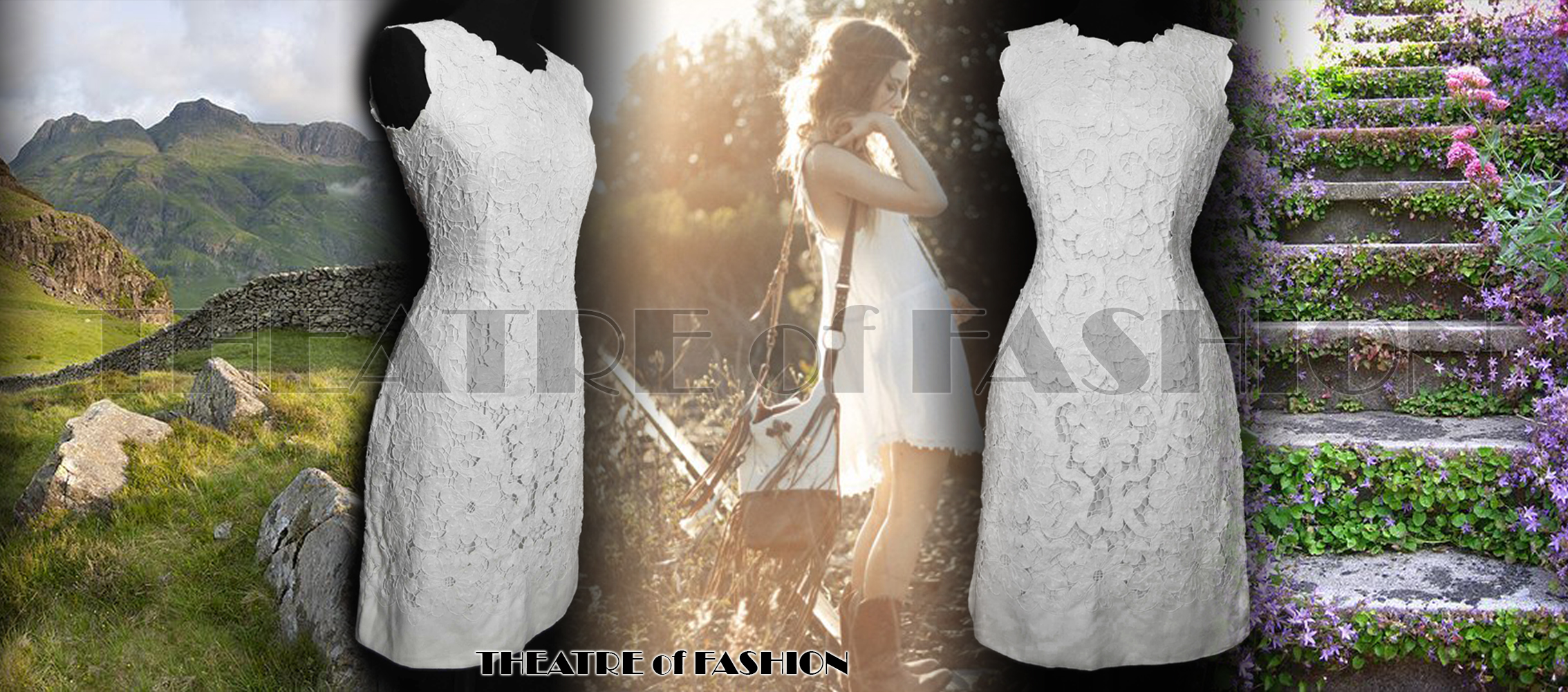 Essences: Vintage ~ Bohemian ~ Irish Boho ~ Wedding ~ Honeymoon ~ Bride ~ Bridesmaid ~ Ethereal Goddess ~ 60s vintage ~ Forever Timeless ~ Beatnik ~ Jackie Onassis ~ Twiggy ~ Jean Shrimpton ~ Sophia Loren ~ Supermodel ~ Debutante ~ Sophisticated ~ Elegant ~ 60s ~ Free Love ~ Hippy-Luxe ~ Gypsy ~ Indian Summer ~ Flower Power ~ Summer of Love ~ Barefoot on the Beach ~ Midnight Bonfires ~ Bohemian ~ Paris ~ Beatnik ~ Left Bank ~ Beyond Beautiful ~ Angelic ~ Movie Star ~ Red Carpet ~ Cocktails ~ Divine ~ Vamp ~ Diva ~ Sexy ~ Serene ~ Stunning ~ Siren...
In a white haze of daisies, clouds and feathers she stands, clover underfoot, listening to the melody of the stream as it flows steadily across moss covered rocks. The pure white of her vintage 1960s crochet lace dress reflects in the water, like a thousand tiny swans alight. Fitting her natural shape beautifully her knee-length dress brings from the 1960s an understated hourglass elegance and glamour, while the exquisite heavy linen fabric is alive with ornate floral cut out lace, curling up to the high, curved neckline, the genteel edges of lace petals resting on her collarbone.
The scent of Juniper drifts sweetly in the air as she turns to watch two doves circle the sky. She is a vision of Celt-Boho, an ethereal beauty. The naturally ornate lace patterning gently fades into a feminine, delicately edged straight hem, a concealed back zip from neck to waist, a flawless vintage piece, a second skin, a plumage as unique as she herself is. Faces and cameras have turned to her again and again, spellbound, - a bride, a supermodel, film star, or that angelic enchantress who deftly weaves her delight as she picks wildflowers in the meadow.
To see this and similar items click the link