The Theatre of Fashion Blog
Fashion Blog, Ideas, thoughts, histories, filmstars, styles, and some of our most beautiful items.
Dark purple dress ~ Light purple dress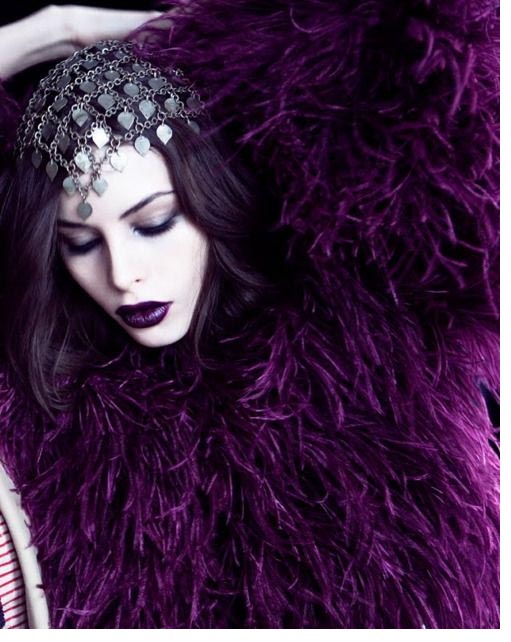 Purple ~ Royalty, Bohemia, Profanity and Biba
"Be eccentric now. Don't wait for old age to wear purple..." ~ Regina Brett
A colour that combines the calm stability of blue and the fierce energy of red, purple is traditionally and most notably the opulent colour of royalty: 'It is the colour of luxury and passion, of princely robes and papal vestments, dazzling gems and florid prose...' (Vogue 2012-13). Purple was one of the first colours used in prehistoric art ~ and down through the ages, it has come to symbolize power, nobility, luxury, and ambition. Purple conveys wealth and extravagance. It is associated with wisdom, dignity, independence, creativity ~ and not forgetting, amidst its rich hues, mystery and magic.
Throughout history, purple robes were worn by royalty, aristocracy and people of authority or high rank. Many believe this to be because of the rare occurrence of purple in nature and this rarity made it, not only have sacred meaning, but also one of the most expensive colour dyes to create. Through the ages, purple has been the colour worn by Roman Emperors and magistrates, and later by Roman Catholic bishops. In Thailand, it is the colour of Saturday. And according to surveys, almost 75 percent of pre-adolescent children prefer purple to all other colours.
Historically, purple was only worn by the elite few. A quick glance through images of medieval nobility and royalty and one is instantly met with images of beautiful queens and princesses in long purple cloaks over a dark purple dress. Think of maid Marion, or Guinevere, or a medieval handmaiden to the Queen's Court, or a high-born woman of the Tudor aristocracy, and the sumptuous velvets of their long dresses come to mind...maybe a light purple dress with ornate gold embroidered borders, draping in soft folds as they move through the corridors of power and influence. This is the origin of purple in fashion ~ it has breeding, wealth and luxury interwoven into all its many shades: violet, plum, lavender, lilac, thistle, mauve, magenta, amethyst, wine, mulberry...all the myriad purples.
Since those early cave paintings, purple has been essential to artists. At the turn of the century, purple was a favourite colour of the German painter Gustave Klimt, who flooded his pictures with sensual purples and violets amidst luxurious golds. The pre-Raphaelites also favoured rich dark colours, purple being one of the most evocative. John William Waterhouse, an English pre-Raphaelite painter, most famous for his paintings of female characters from mythology and literature, used the dark rich colour in his famous 'Boreas' which shows a young woman in a windswept landscape with her thin wind-blown draperies of dark purples with blues.
Jane Morris (1839 - 1914), who was a model and muse to the pre-Raphaelite artists William Morris, whom she married, and Dante Gabriel Rossetti, epitomised, probably more than any of the women associated with the pre-Raphaelites, an unrestricted, flowing style of dress which, while very unconventional at the time, would be highly influential at certain periods during the 20th century. And the dark hues of the thin drapes and diaphanous fabrics so often seen in Pre-Raphaelite paintings remind us so much of the later (roughly 120 years later!), 1960s and early 1970s, Indian gauze cotton dresses, (flowing, floaty, just like those worn by Jane Morris), which were made by Indian dress makers such as Phool and Adini, and again very often in lilacs, purples, mulberries ~ and combined with that touch of gold, as with Klimt, except here the gold is Indian gold ink, block printed over the dark floral or paisley fabrics. These semi sheer, floaty, and very sensual, care free, bohemian 70s Indian pieces ~ a light purple dress, a dark purple dress, their rich purples mixed with maroons and blues and touches of gold ~ are now very sought after vintage pieces, evocative, as they are, of a bohemian hippie idyll and a free gypsy spirit which so many people hanker after as an expression of their true, and unconventional, selves.
So purple has connections to royalty, the church, and also to 70s hippies...all using purples in their clothing to express something of themselves in their own ways. Interestingly, although traditionally very strongly linked to the papal and royal establishment, the colour purple also has links with alternative thinking, the unconventional and social change. We noted earlier the connection of purple to hippie clothing ~ perhaps a reflection of the fact that purple has over the years become increasingly associated with a new age spirituality. However, even before this, in the early 20th century, it was linked to societal change when purple, along with green and white, were the chosen colours of the Women's Suffrage movement, which fought to win voting rights for women...and again was later associated with the Feminism of the 70s, and the psychedelic drug culture of the 1960s. During the 60s and early 70s it was also associated with counterculture and musicians like Jimi Hendrix with his 1967 song Purple Haze, and the English rock band Deep Purple which formed in 1968. And again, a far cry from the purple velvet robes which signified the historical and traditional power and piety of royalty and bishops, the colour purple is also used to describe profanity and bad language as in the expression "purple speech".
Purple's association with the unconventional and with bohemian living creates many tapestries, interwoven throughout the years. In modern usage, the term 'Bohemian' is applied to people who live unconventional, usually artistic, lives. It is a description of freedom and free living outside of the boundaries of convention which has been applied to many artists and groups and was used to describe the 'Bloomsbury Group' of the early 20th century, of which Vanessa Bell and Virginia Woolf were an integral part, among other artists, writers and thinkers. Before them, during the 1860s the term was associated in particular with the Pre-Raphaelite movement, that group of artists and aesthetes of which Dante Gabriel Rossetti was the most prominent ~ and Jane Morris his muse, painted in her free flowing robes of purples and magenta and amethyst...
The connections, and colours, continue to entwine as we move through the years...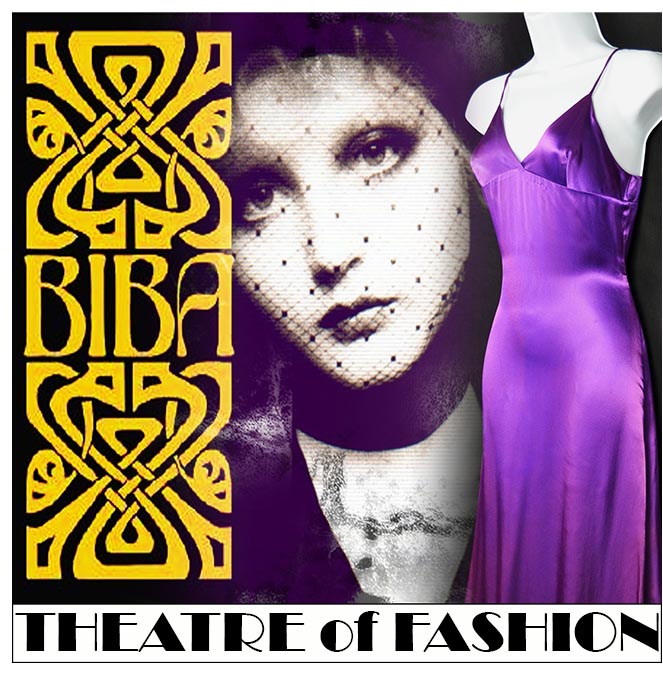 Fiona MacCarthy, a biographer of the pre-Raphaelite Edward Burne-Jones (1833 - 1898), noted that, in 1964, when the influential Biba store was opened in London by Barbara Hulanicki, the "long drooping structureless clothes", though sexier than the dresses portrayed in Burne-Jones paintings, such as The Golden Stairs or The Sirens, nevertheless greatly resembled them. Biba clothing was not only often very similar in style and shape, but Hulanicki also used the same dark rich colours the pre-Raphaelites loved and used...the dark purples, browns, blues...So here again we see fashion connections linking different artists and designers, often with years and years between them.
Barbara Hulanicki says of herself and her work that she was always "living in the past and redesigning into the present". She has always acknowledged that when she created Biba, the clothing and the store, that she was greatly influenced by the pre-Raphaelites, just as Fiona MacCarthy noted. She says that the face of Biba, the famous pale face and dark lips in browns or dark purples, which was a new vision and radical concept at the time and became known as the 'Biba look' or the 'Biba girl', was very strongly influenced by the pre-Raphaelite painters especially Rossetti's 'The day dream' (1880), a painting of Jane Morris, who at the time was married to William Morris and having an illicit affair with Rossetti. The interior of the Biba store itself has been described as having an atmosphere that "reeked of sex" ~ an old-fashioned, Edwardian style of forbidden sex with its feather boas, potted palms, bentwood coat racks and dark lighting. It has been quoted as being designed to look like a bordello with its purple, scarlet, black and gold plush fitments. Purple here again, defining the famous store, and again the exotic colour chosen by Hulanicki for so many of her Biba dresses, and the colour painted dark and seductive on the mouths of the Biba girls, as if they had been eating crushed purple berries with their fingers and the colour had spilled, and stayed, staining their lips. Barbara Hulanicki, describing the impact of the Biba look in her book, 'From A to Biba', said of the 'Biba girls': 'Wherever the girls went there was silence. Elly was completely blue: blue make-up, blue clothes, blue cap and blue curls. Eva was all green, Del all violet. Some girls were all in black... in their full regalia looking as if they had just left a Fellini set.'
So Del wore all violet, and probably a light purple dress to match her eye-shadow, or a dark purple dress and soft suede purple knee high boots...and Biba was beautifully fabulous, with its roots firmly planted in the pre-Raphaelite's history of unconventional lives and sensual colours...and both a long way from the princely purple robes and vestments of the traditional church and conventional court.
Purple has many meanings, many meanings as it has meandered through the ages and eras ~ and like Lavender, orchid, lilac, and violet flowers which are considered delicate and precious plants, purple is a special and exotic colour in the palette of our fashion history and our lives, and has been for hundreds and hundreds of years. To paraphrase Barbara Hulanicki: purple has lived in the past and has redesigned itself again and again into the present.
"I was a punk before it got its name. I had that hairstyle and purple lipstick." ~ Vivienne Westwood
"The sky is already purple; the first few stars have appeared, suddenly, as if someone had thrown a handful of silver across the edge of the world." ~ Alice Hoffman, Here on Earth
Follow Theatre Of Fashion's board Light purple dress Dark purple dress on Pinterest.
LINKS
The colour Red ~ Fashion and Colour ~ Blue ~ Light blue dresses