50s Style Dresses & 1950s fashion

Fashion in the years following WWII is characterized by the resurgence of haute couture after the austerity of the war years. Square shoulders and shorter skirts were replaced by the softer look of Christian Dior's "New Look" hour-glass silhouette, with its 50s style dresses with sweeping longer skirts, very fitted waist, and rounded shoulders. This, in turn, as fashion evolved through the era, gave way to an unfitted, more structural look in the later 1950s.
After the turmoil of the war torn 1940s, a decade which was characterised by the 'make do and mend' ethic, women in the 1950s were craving glamour and opulence more than ever. In 1947, the Paris fashion houses reopened, and once again Paris resumed its position as the arbiter of high fashion. The natural and organic cycle of fashion changes had been disrupted by the war, and a new direction was long overdue. A succession of style trends led by Christian Dior and Cristóbal Balenciaga defined the changing silhouette of women's clothes through the 1950s ~ and television joined fashion magazines and films in disseminating new and emerging clothing styles.
On 12 February 1947, Christian Dior, the most influential fashion designer of the late 1940s and 1950s, launched his first fashion collection for Spring/Summer 1947. The new collection went down in fashion history as the "New Look" after the editor-in-chief of Harper's Bazaar, Carmel Snow, exclaimed: "It's such a New Look!"

The silhouette was characterised by a small, nipped-in waist and full skirt falling below mid-calf length, and which emphasised the hour-glass figure. At a time of post-war fabric restrictions, Dior used up to twenty yards of extravagant fabrics for his creations.
The New Look became extremely popular, and its full-skirted silhouette became a template for 50s style dresses throughout the era, and this style would highly influence fashion and other couture designers well into the 1950s. Dior gained a number of prominent high-profile clients from Hollywood and the European aristocracy as a result of the popularity of his 50s style dresses. Paris, which had fallen from its position as the capital of the fashion world after WWII, regained its esteemed position due in part to the attention it gained from Dior's New Look. At first, the style was not well received by Americans in general ~ however, that quickly changed as the trend dominated fashion magazines and films. This new fashion shape was welcomed in Western Europe as a refreshing antidote to the austerity of wartime, and was enthusiastically embraced by stylish women throughout the UK.
However haute-couture was not the only way new and emerging fashion style was defined and created in the 1950s. Social changes went hand-in-hand with new economic realities, and one result was that many young people whowould have become wage-earners early in their teens before the war, now remained at school and lived at home dependent upon their parents through their teenage years and often beyond, establishing the notion of the teenage years as a defined and separate stage of life from either childhood or adulthood. Teenagers, with their growing self identity, began adopting their own distinct style of clothing, which evolved from the post war years through the 50s to the 60s ~ and the American fashion industry especially began to target USA teenagers as a specialised market segment in the 1940s/50s.
In the UK, the Teddy boys and Teddy girls of the post-war period created what has been called: 'the first truly independent fashions for young people.' Teddy Boys were a British subculture typified by working and aspirational young men who took pride in their working class culture. They wore, and adapted, clothes which were partly inspired by the styles worn by the dandies in the Edwardian period, styles which Saville Row tailors had attempted to re-introduce in Britain after World War II. By the mid 1950s, second-hand Edwardian suits were readily available on sale in markets for the Teddy boys to reclaim and rework.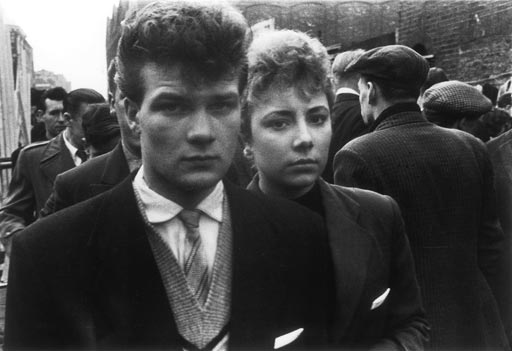 This subculture started in London in the 1950s, and rapidly spread across the UK, soon becoming strongly associated with American rock and roll music and film stars of the time. Originally known as Cosh Boys, the name Teddy Boy was coined when a 1953 Daily Express newspaper headline shortened Edwardian to Teddy. In North America, teenage 'Greasers' emerged as a group. Again, like the Teddy boys and Teddy Girls, the 'Greasers' were defined by their clothes and hairstyles which set them aside. The name 'Greaser' came from their greased-back hairstyle, which involved combing their hair back with wax, gel, creams, tonics or pomade. Previously, teenagers dressed similarly to their parents, but now a rebellious and different youth style, both in the UK and America, was being developed.
Teddy boys favoured an exaggerated version of the earlier Edwardian fashion with skinny ties and narrow, tight trousers which were short enough to deliberately show the socks, and brocade waistcoats worn under long jackets with distinctive velvet trim and pocket flaps which came to be called 'drape coats'.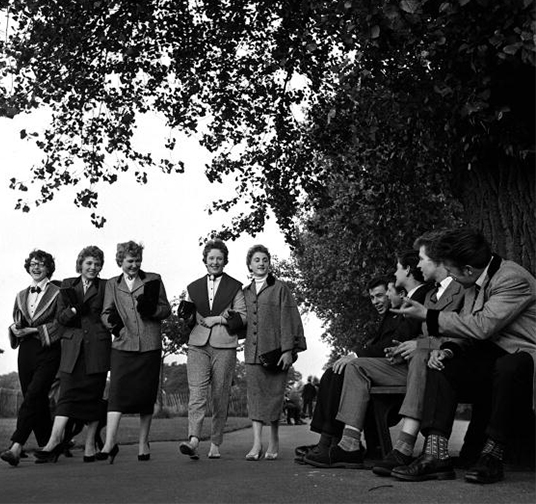 Favoured footwear included highly polished Oxfords, chunky brogues, and crepe-soled shoes, often suede (known as brothel creepers). Preferred hairstyles included long, strongly-moulded greased-up hair with a quiff at the front and the side combed back to form a 'duck's arse' at the rear. Another style was the "Boston", in which the hair was greased straight back and cut square across at the nape.
Despite their overall gentlemanly style of dress (certainly compared to today), the Teddys were a teenage youth culture which shocked their parents' generation, and quickly became associated with trouble by the media.
The Teddy boys are a well known and distinct part of our fashion knowledge, but due to an often sexist portrayal of history, an important element of this sub-subculture, the female element, has remained almost invisible from historical records.
Before becoming absorbed into the more mainstream homogenized 50s fashion culture, with the very overtly feminised shape and styles, Teddy girls initially wore drape jackets similar in style to Teddy boys ~ rolled-up jeans, and pencil skirts, flat shoes, tailored jackets with velvet collars ~ and they too often had shorter hair and 'quiffed' it. They would ride bikes, smoke, go to the cinema in groups and attend dances and concerts with the boys, collect rock'n' roll records and magazines. At odds with their parents who couldn't understand the pursuit and importance of leisure time, the girls wanted to break free from post war austerity and did so through fashion and music.
Teddy girls were the first British female youth group and they had a distinct and empowered style that was as non-conformist as it was subversive given the demands of society on young women to comply with accepted views on 'femininity'. There were no 50s style dresses for these Teddy girls, no baby pink colours, or heels they couldn't walk or dance in. However, the initial Teddy girl style of fashion, bold and equal as it was to the men's, was slowly absorbed into, and eclipsed by, an emerging and more mainstream 'feminised' fashion which reflected society's need to limit women and bring them back into the home, and into the family, after years of them working so successfully for the war effort as men's equals, as welders and ambulance drivers and land girls. Slowly, the original Teddy girl styles would become practically extinct and they would adopt the American fashions of voluminous circle skirts, 50s style dresses, capri pants, 'peddle pushers', and 'winkle pickers' which were shoes with heels and exaggeratedly pointed toes ~ and with their hair in ponytails. And, given that so little history remains, or was ever collated, about original Teddy girl fashion, this later look has erroneously now become what we historically understand to be 1950s Teddy girl style.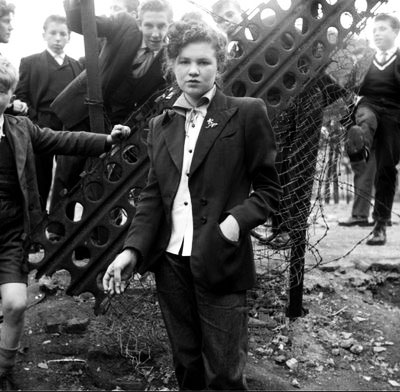 Either way, Teddy girl's choice of clothes wasn't only for aesthetic effect ~ these girls were collectively rejecting post-war austerity. They were teenagers or young working women, with a strong working class identity ~ very often leaving school at the age of 14 or 15, they worked in factories or offices which gave them the income they needed to buy the new fashions. Fashion played a large part in these young women's lives and Teddy Girls spent much of their free time buying or making their trademark clothes, whether that be their original Edwardian inspired garb, or the later American influenced fashions of the Hollywood movie stars and Rock and Roll singers. The latter was a head-turning style, which was strongly fed down from the couture fashion houses. Of course it wasn't just young people who were influenced by the popular culture of the time. Parisian fashions strongly inspired Hollywood costume designers ~ think of Marilyn Monroe's and Grace Kelly's tiny waistlines, full skirts or 50s style dresses ~ which in turn, with the ever increasing popularity of cinema and film star adoration, inspired ordinary woman to emulate the styles.
Putting the more specific and unique Teddy girls style aside, teenage and young women's fashion evolved and established over the era and included the very wide circular 'circle skirts', or pleated skirts, and the hour-glass 50s style dresses ~ which were all very often worn with layers of petticoats to give lift and volume. Skirt lengths of the era were always to mid calf ~ never shorter, but often longer for eveningwear. Petticoats were made with several layers of net and generally starched for extra stiffness ~ or made of frothy chiffon for eveningwear ~ and in vibrant colours of green, pink and yellow. Another distinctly iconic 50s fashion item was the narrow, close fitting straight 'pencil' skirt which was also very popular. A pencil skirt was often paired with a shirt or sweater and worn with flats shoes. Again the skirt length was important ~ always calf length, no shorter. Pencil dresses were also very popular for all ages, being a very sophisticated look for women, and worn with heels, a swing coat and plenty of accessories.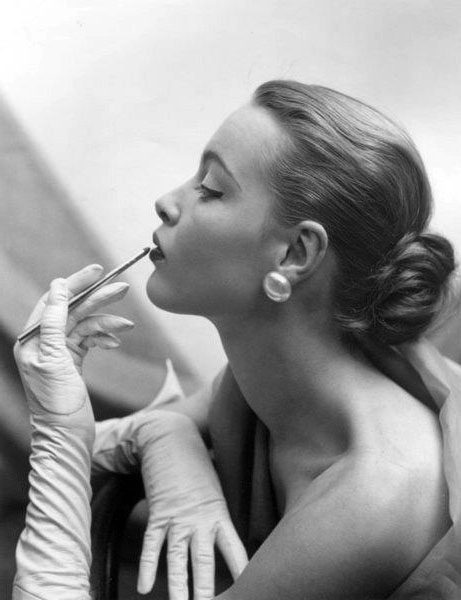 Another style which became very popular for all ages during the 1950s was a smarter more tailored, sophisticated look worn often with gloves and pearls: a tailored suit with fitted jacket with a peplum hem, and a pencil skirt. Day dresses had fitted bodices and full skirts, often with lower cut necklines or Peter Pan collars, which were very favoured in the 50s and were often seen on 50s style dresses particularly. Shirt-dresses and halter-top sundresses were also popular. Short shrugs and bolero jackets were often made to match dresses and worn as a two piece set.
Other styles did emerge alongside the main stream. America's infamous and renowned writer Jack Kerouac introduced the phrase "Beat Generation" in 1948, generalising from his social circle to characterise the underground, anti-conformist youth gathering in New York at that time. The term "beatnik" was coined by Herb Caen of the San Francisco Chronicle in 1958, and the stereotypical "beat" look of sunglasses, berets, black turtlenecks, and unadorned dark clothing provided another fashion alternative for the 50s youths of both sexes.
Although Christian Dior's 'New Look' style was adopted so strongly throughout most of women's fashion in this decade, there were other, more relaxed and casual styles shapes, introduced by other equally famous couture designers, which began to emerge ~ and these gained more and more prominence as the era moved into the 60s. Towards the end of the 50s, fashion, ever evolving, was changing considerably.
Not a fan of the 'New Look', Coco Chanel returned on the fashion scene in the 1950s, following the closure of her salons during the turbulent war years. At over 70 years of age, Chanel showed she was still relevant with a stunning comeback collection in 1954. It was a line that could not be further removed from the hourglass silhouette favoured by other designers. It featured the now infamous Boxy Suit, elegant silk blouses to match suit linings, tailored tweeds and the iconic quilted bag. Jerseys, tweeds, brocades; her famous lace evening dresses ~ all were stamped with elegant nonchalance.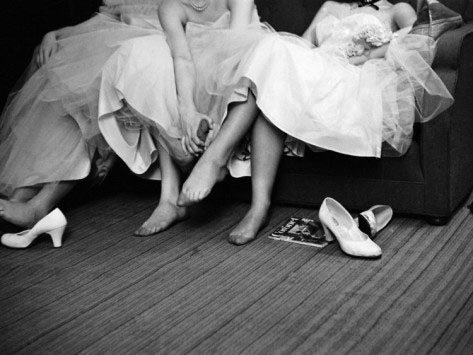 With this new, more relaxed, less body defined shape emerging, the Spanish designer, Chistobal Balenciaga, who made his fashion debut in the 1930s, hit the big time in the 1950s. While many of his fellow designers were embracing the 'New Look' shape, Balenciaga created his own silhouette, by removing the waist definition and broadening the shoulders. In the mid-fifties he wowed fashionistas everywhere with the creation of the tunic dress, which is credited with influencing the creation of Chanel's iconic 'Chemise' which came a short while later and burst onto the fashion scene changing the shape of women's fashion forever and taking it into the new era of the 1960s.
This was one of the biggest changes to the fashion styles we associate with the 1950s ~ in 1957, Paris, strongly led by Christian Dior, ushered in the shift dress. A dress that bypassed the waist completely, it was actually the climax to a long-evolving relaxed look which was gaining favour among a number of designers. Often considered Chanel's greatest achievement of the decade, the Chemise dress, which was a simple tunic or smock dress, was so easy to wear and it became incredibly popular with women all over the world ~ and was a template for endless new designers in the 1960s. This new shape caused huge publicity unequaled since 1947 when Dior introduced his "New Look."
These new shapes and styles heralded in the slow decline in popularity of those tightly waisted 50s style dresses, with their overtly hour glass look, which had once been the most sought after shape worn by fashion conscious women everywhere. With the beginning of the 1960s, women were starting to wear the new tunic type shapes and looser designs as they left behind the 1950s and entered a new era, the swinging sixties, with new fashions, new designers, and a new generation which saw radical changes everywhere, and reflected in fashion.
The 50s were over ~ and the 1960s, which brought us the infamous mini skirt and long maxi coats and Biba, and Mary Quant, and Ossie Clark and so many influential and renowned designers, and new and creative fashions unthinkable in the 50s, was just beginning.