The Theatre of Fashion Blog
Fashion Blog, Ideas, thoughts, histories, filmstars, styles, and some of our most beautiful items.
30s wedding gowns and Kate Moss's 30s inspired wedding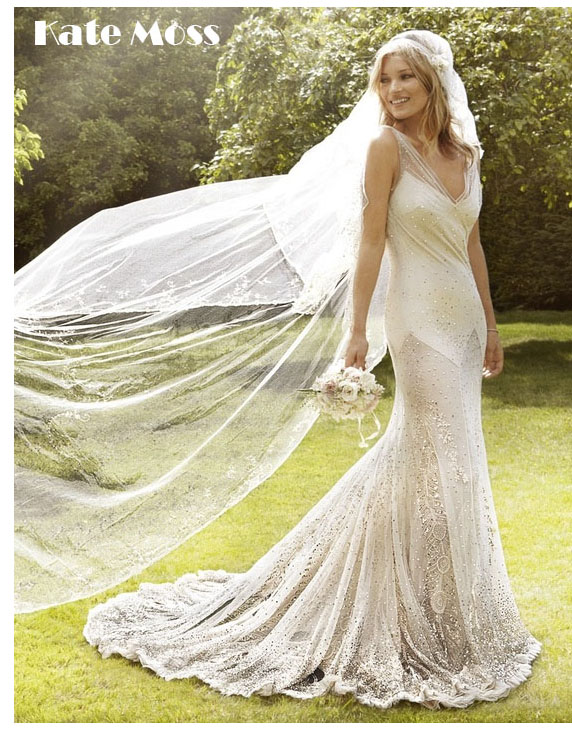 The 1930s influence on modern day fashion.
When Kate Moss, the fashion icon and supermodel, got married, she took inspiration from the 1930s and The Great Gatsby to create a wedding so glamorous, elegant and romantic it has influenced thousands of brides to turn to the roaring twenties and thirties for inspiration...
The model showed off her 30s inspired theme in a Galliano gown, with a sheer slip dress, bias cut in silk, with a bodice detailed with a sheer overlay embroidered with gold sequins ~ while the skirt was an intricate web of beading, embroidery and rhinestones. Kate perfected the look with a 1920s inspired lace cap veil, embroidered with flowers, thirteen beautiful bridesmaids dressed in flowing white gowns and of course her husband Jamie Hince, dressed in a pale blue suit. Brides to be and the fashion world alike, waited in baited breath for this glamorous union, and it certainly didn't disappoint ~ and ever since, Kate's 30s inspired nuptials have sparked a vintage wedding frenzy for 20s/30s Great Gatsby inspired vintage weddings and vintage wedding dresses...
Think of Pippa Middleton in THAT beautiful sheath of a dress...Think of Jean Harlow in all her sleek glamour...Think of Marilyn Monroe, the platinum blonde in platinum silk...