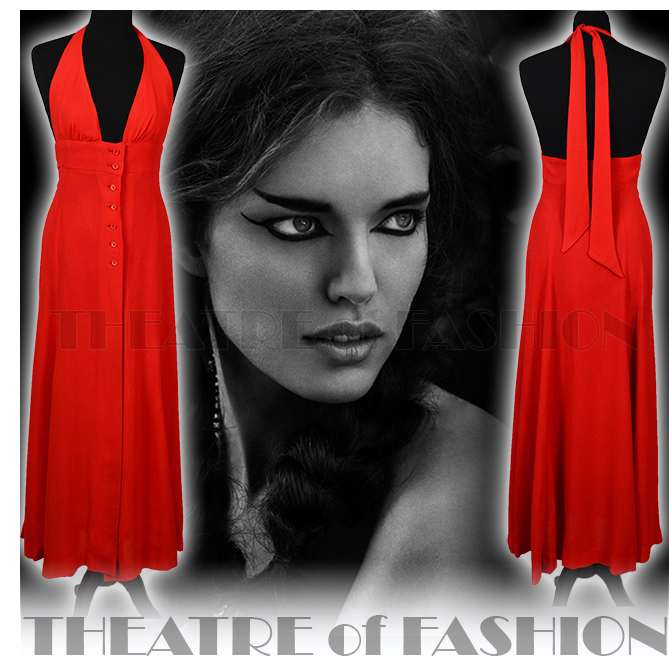 High on the list of designers past and present who had, and continue to have, a major impact on fashion, especially on the 1960s and 1970s fashion scene, is Ossie Clark ~ arguably the most gifted British designer of his generation and renowned for his vintage 60s and 70s clothing by present-day designers all over the world.
As a major figure on the 1960s and 1970s fashion scene and an absolute innovator of those decades' style, he flew the flag for designs which were smart, beautiful and desirable, producing the most fabulous designs in collaboration with print designer Celia Birtwell. The partnership with Birtwell would last for almost all of Clark's fashion career and in addition to being his undoubted muse (and later, his wife), it was her designs that he used to create his.
When Alice Pollock's exclusive boutique Quorum featured his designs in 1966, Ossie Clark quickly got noticed. Quorum was part of the new London boutique culture. This new and radical retail concept of the 'boutique' had a huge impact on the way 1970s fashion was sold ~ and these boutiques, such as Quorum, produced unique and innovative clothing which was often romantic and dreamy while endorsing an identity of individuality, freedom and rebellion which reflected the tastes of the owners and designers alike.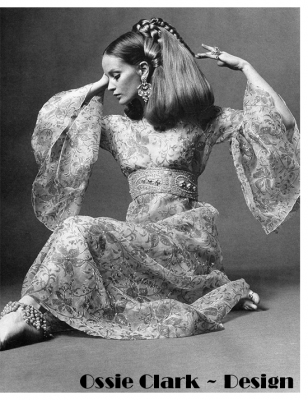 Clark's design style in the mid 60s was heavily influenced by pop-art, Bridget Riley's Op-art, David Hockney (whose iconic portrait 'Mr and Mrs Clark and Percy' hangs in London's Tate Gallery) and Hollywood glamour ~ and he's undoubtedly renowned for his vintage 70s clothing: exquisite, flowing maxi dresses in fabulous colours and bold flower prints, smocks in chiffon, and sleek halter-neck dresses, bold and pain or in stunning patterns. His love of blissful, muted colours and moss crepe fabric was also well known ~ and adored ~ as was his fondness for Fortuny-style pleats on dresses and coats. (Fortuny was an early 20th century Italian designer, experimental and innovative, who hand-crafted pleats of fine silk which held their shape and flowed on the body. No one has been able to recreate pleating as fine, or dresses that have held their shape so perfectly, for many years. Indeed, Fortuny's dresses are now seen as skilled works of art ~ as are Clark's designs ~ and many survive, still pleated, in museums and personal collections all over the world.).
In the late 60s and especially in the early 70s, Ossie Clark hit a rich vein with his flamboyant 60s and 70s clothing. Dubbed "The King Of King's Road", his clients were beautiful and famous and adored his exquisitely tailored and sensual pieces, and Ossie's list of clients featured such iconic peers as Julie Christie, Twiggy, Penelope Tree, Marianne Faithfull, Talitha Getty, Mick and Bianca Jagger, Jean Shrimpton, The Beatles, Elizabeth Taylor, Liza Minnelli, Marc Bolan and Jimi Hendrix ~ to name but a few. He dressed, in the most beautiful and flamboyant 70s clothing, the rich and famous who inhabited the 'beau monde' of late 1960s and early 1970s London, while his popularity also extended to New York cool and Paris chic.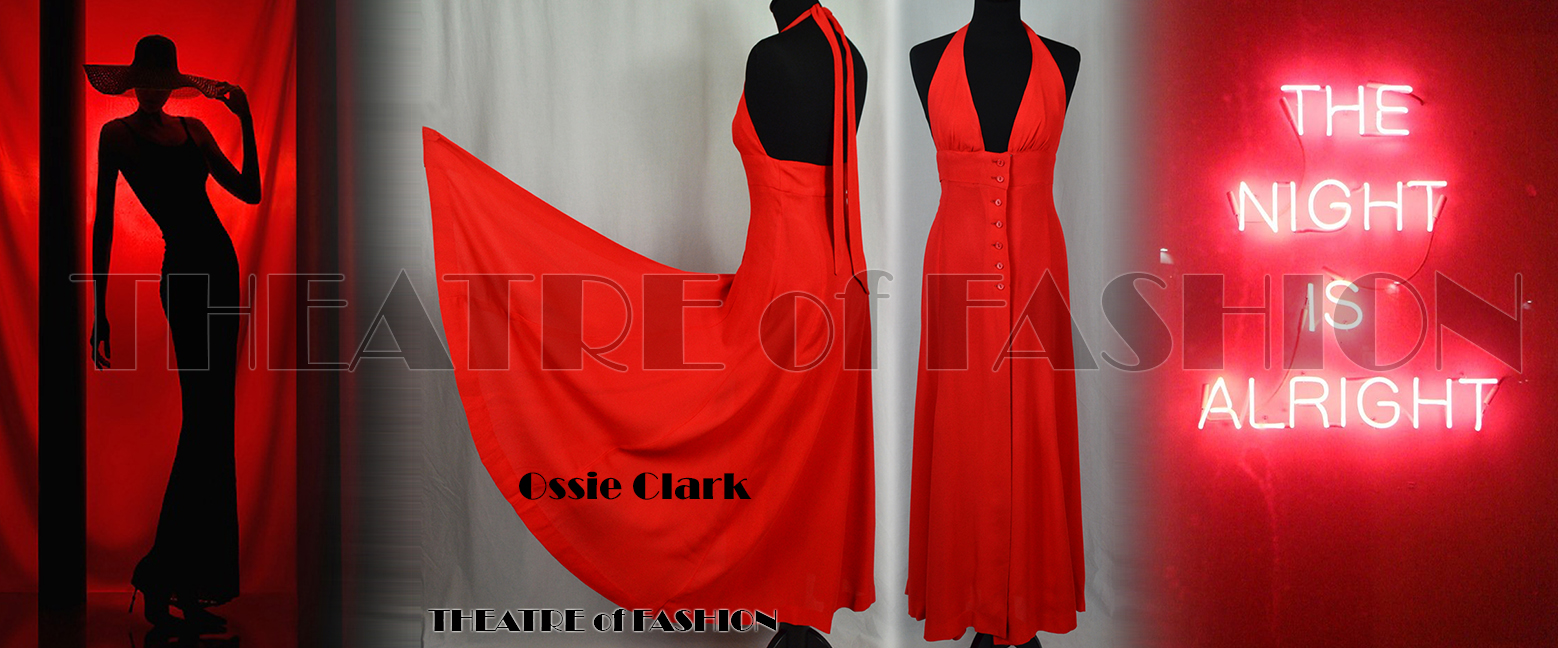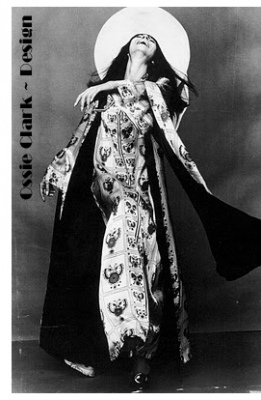 In 1967, Clark presented his first fashion show under the patronage of Radley, a seminal turning point in the history of fashion shows ~ his initial London collection was the first British fashion show to feature black models. In1968 he designed the first of many diffusion lines for Radley. The label 'Ossie Clark for Radley' would make his coveted late 60s and early 70s clothing available to a high street clientele and here he found another very appreciative audience who again adored his 70s outfits with as much desire as his couture clientele.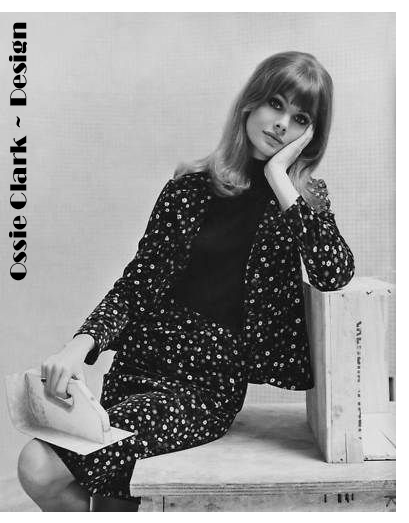 Aside from the obvious attraction and desirability of his sought after creations, his genuine appreciation of the female form ~ and an inherent understanding of how women wanted to look and feel ~ gave an enviable yet admired credence to his work and played a huge role in the popularity of his 70s outfits, from his sensual maxi dresses to his languid trouser suits. His great idol was the famous dancer Nijinsky, and his love of dance inspired his clothes to be free moving and unrestrictive to the female form, a style that became very popular in 1970s fashion thanks largely to the esteem and influence of Clark's clothing.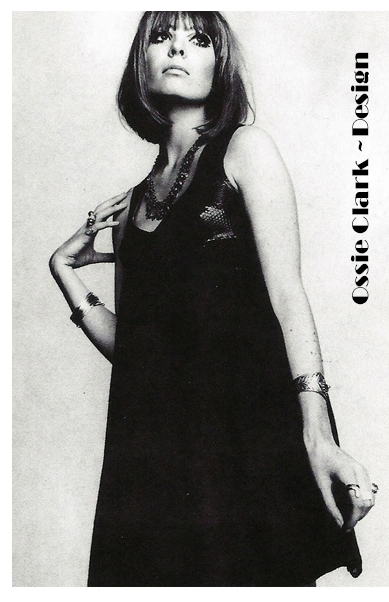 The sense of idealism, optimism, innovation, experimentation and revolution, in all spheres of society, and which permeated the 60s and 70s, was enhanced by an explosion of creativity and brilliance, and never more so than in fashion. Changing attitudes gave rise to a new-found sense of freedom as society discovered colour, flamboyance and style which liberated a multitude of groundbreaking fashion trends ~ and which translated into innovative 70s outfits which an eager audience of women craved, wanting something different which reflected their desire for new freedoms. Ossie Clark was among the shining lights of 1960s and 1970s fashion designers who left their mark and their legacy with a glorious imprint of definitive dressing that continues to inspire, excite, innovate and endure. His influence can be seen in collections by Marc Jacobs, Prada, Gucci, Anna Sui, Tom Ford and Manolo Blahnik, to name but a few, and his original and collaborative collections remain highly regarded and desired, while the label and its caché continues to thrive. Clark's glorious fashions fit the contemporary mould while still evoking a particular style idyll reminiscent of revolutionary fashion shapes that typified the all-conquering 'swinging London' scene and, as such, are now more favoured and sought after than ever. Kate Moss and Naomi Campbell, among other red carpet celebrities, are among those often seen in his exemplary designs, especially wearing his vintage 70s outfits and vintage evening dresses which are snapped up whenever they are offered for sale, not only to women who want to wear them and feel beautiful, but by collectors as well.
In 2003/04, London's V&A museum showcased the extraordinary brilliance of Ossie Clark, a designer's designer who not only dressed the beautiful people beautifully, but whose enduring influence simply can't be overstated. To quote Judith Watt ~ writer and fashion historian: "He was not just a man of his time...his work stands with the greats".
LINKS