The Theatre of Fashion Blog
Fashion Blog, Ideas, thoughts, histories, filmstars, styles, and some of our most beautiful items.
1970s fashion ~ 70s shoes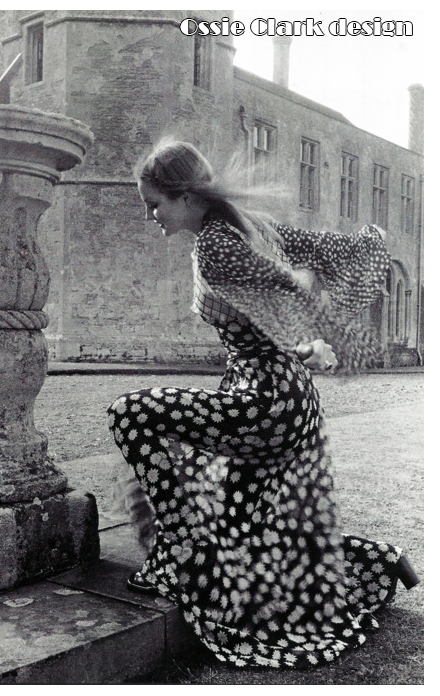 1970s Fashion Designers – Timeless, Innovative, Inspiring...
Much of the colourful, casual fashions of the 1970s counterculture was about the relaxed and unstructured styles which embodied the hippie, folk and roots movements and designers such as Thea Porter, Bob Gibb and Missoni contributed to this look. Porter translated her experiences of travelling and multicultural influences into stylish pieces that defined the bohemian essence ~ while Gibb mixed prints, textures, and embellishments with ethnic, medieval and romantic influences to create iconic 1970s fashion with a hippie vibe (the influence of artist and textile designer Kaffe Fassett also inspired the wild use of colour and pattern in Gibb's designs). Missoni was best known for its unusual knitwear and psychedelic, bold and bright space-dyed weave patterns ~ and although it reached the peak of its fashion influence in the 70s, it continues to be a top designer brand and its iconic zig-zag pattern remains instantly recognisable.
However, it was also a time when other amazing fashion designers came into their own to effect another style revolution ~ more elegant, sexy, sophisticated and cutting edge, but no less central to iconic clothing, 70s shoes, and its embodiment of outstanding fashion design.
The advent of the boutique culture had established the likes of Barbara Hulanicki and Biba ~ stunning, sophisticated designs resulting in fabulous clothing which, in keeping with the times, was romantic, dreamy and inspired by history. Her original designs are now increasingly coveted by fashion collectors and are still, to this day, infinitely wearable and Hulanicki remains synonymous with evocative design, while continuing to collaborate on collections for the high street.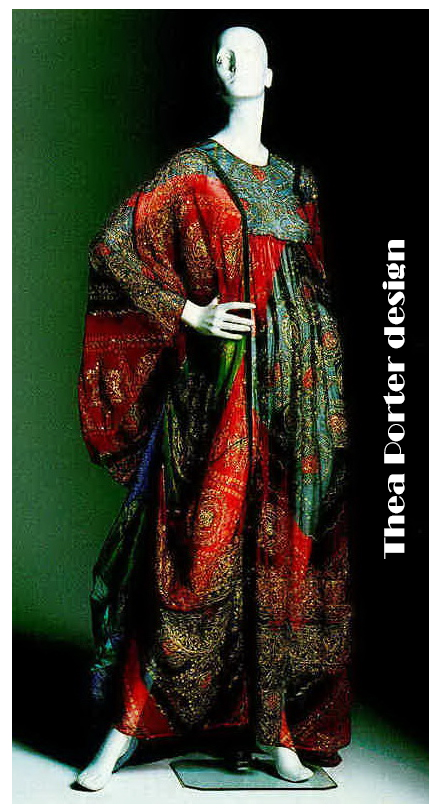 Ossie Clark was another very major figure on the scene and an innovator of 1970s fashion who collaborated with print designer Celia Birtwell to produce the most desirable dresses. His design style was influenced by Hollywood glamour ~ exquisite, flowing maxi dresses in fabulous colours and bold flower prints, smocks in light chiffon and halter-neck and tea dresses in stunning patterns. Ghost's diaphanous gowns are certainly reminiscent of Clark's pieces and his influence on a raft of modern designers endures, while his vintage designs and collaborative collections remain highly regarded and sought after.
The multi-award winning Oscar de la Renta was already an internationally renowned couturier and having worked for Balenciaga and Lanvin, his success continued throughout the 70s as his elegant red carpet gowns and evening wear became his trademark. His clothing has always been opulent, romantic, extravagant and ornate while his simpler daywear is defined in the detail. One of fashion's designer heavyweights, his eponymous fashion house continues to dress the great and the good, film stars and royalty.
The sophistication and elegance of 1970s fashion can also be attributed to another list of luminaries whose pioneering styles and contribution to 70s fashion prevails.
Diane von Furstenburg became an icon in 1972 with the creation of her signature jersey wrap dress, a design that launched her career and labelled her 'the most marketable woman since Coco Chanel'. The elegant yet understated shape flattered all body types and sizes and was suited to daywear as well as becoming a staple of evening and club wear. This landmark in design influenced all dress design by establishing a standard for ease and comfort in women's clothing and became so popular that in 1997, von Furstenburg relaunched the wrap and it continues to be a classic, elegant yet infinitely wearable 'must have'.
The eponymous Yves Saint Laurent made trousers an acceptable form of clothing for women ~ for daywear and as glamorous evening wear ~ and the trend became an important and enduring feature within 1970s fashion. Thanks to his revolutionary long and lean look, suits, trousers and the 'Annie Hall' style became accepted as part of the female dress code and his shamelessly chic and sexy clothes dovetailed perfectly with feminism's new wave. His suits, slinky tuxedos and straight line dresses still look as modern and as desirable today as they did on their debuts.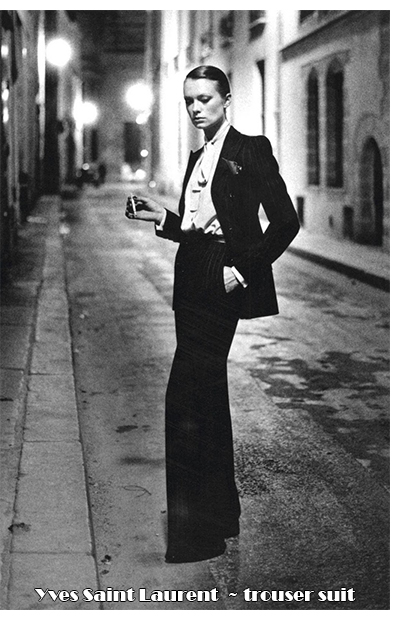 Yves Saint Laurent was also responsible for mainstreaming the idea of wearing and reworking the shapes and silhouettes from the 1920s, 30s and 40s, and is credited with beginning to democratise the fashion world by shifting focus from the rarefied and generally unattainable world of haute couture to the relatively more accessible prêt-à-porter (ready-to-wear) lines.
While other 70s designers created fashion works of art, Bill Blass focused on clean, modern and simply elegant designs which influenced a myriad of other collections and formed the blueprint for classic clothes that are still indisputably fashionable. Influenced by Hollywood inspired-fashions, he concentrated on ease and comfort for the wearer while creating the most chic and beautifully tailored pieces.
Roy Halston Frowick became a definitive designer of the 1970s, with his draped jersey dresses, lean trouser suits and the use of ultra-suede fabric. He was also famous for his evening wear, and the maxi dresses that draped and shimmered in sensuous swathes became synonymous with 1970s fashion almost exclusively because of Halston's designs.
Music styles such as disco had a huge influence not only on the club scene, but on 70s clothing styles more generally. Halston's designs were perfect for dancing because of their draped and free-moving construction and his most replicated halter-neck and one shoulder styles were the dresses to be seen in as you shimmied across the dancefloor.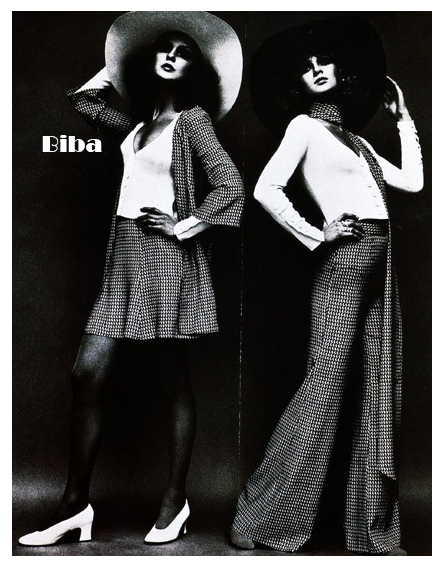 The explosion of disco saw a drastic difference in mainstream fashion and created a change which hadn't been seen since the 1920s. The jumpsuit was popular with both sexes, and clothing inspired by modern dance such as wrap skirts and dresses of rayon and jersey ~ form clinging and sexy yet unrestrictive ~ became de rigueur on the ubiquitous, illuminated dance floors which we all remember from films such as Saturday Night Fever in 1977. Silk neck scarves were a popular accessory while skin tight trousers, tube tops, slit skirts (often worn with leotards), spaghetti straps, silk blouses and shirt-waist dresses helped to work the disco look. Such shapes and styles, created in and defined by the 70s and a scene that epitomised a defining mood and movement, have since become classic and timeless items which have evolved to work as separate pieces to form the foundations of so many designs and effortlessly wearable pieces in the eras which followed.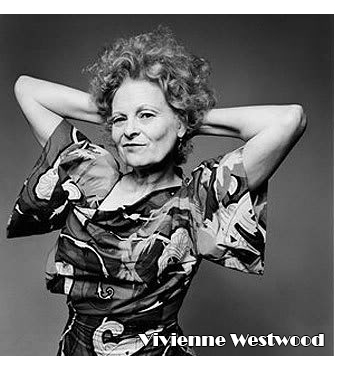 The glamour and sparkle of 70s elegant evening wear and the sexiness of its sophisticated styling was mirrored in footwear that evoked the 1940s. 70s shoes and boots were influenced by all the best attributes of the 1940s, especially its signature shoe: the platform. This towering triumph of the shoe world featured metallic finishes, stripes, two-tone and cut-out and tooled designs in leather, suede and vintage-inspired velvets.
Towards the end of the decade, footwear fit for the dancefloor also began to echo the 1940s shape of high-heeled, lower-platform mules and stilettos. Indeed, platforms were already making way for ankle-strapped shoes, wedges, clogs, loafers, Oxfords and Mary Janes ~ an assortment of 70s shoes in a fiesta of fabrics, colours and models by innovative designers such as Beth Levine. Levine's greatest influence is considered to be the re-introduction of boots to women's fashion and the popularisation of mules. New York based shoe designer Fred Braun's 70s shoes were beautifully made and came in speciality sizes ~ and now have a cult following. And no mention of 70s shoes would be complete without reference to Manolo Blahnik ~ established in the 70s and having designed his first collections for Ossie Clark in the early part of the decade, his London boutique Zapata opened in 1973.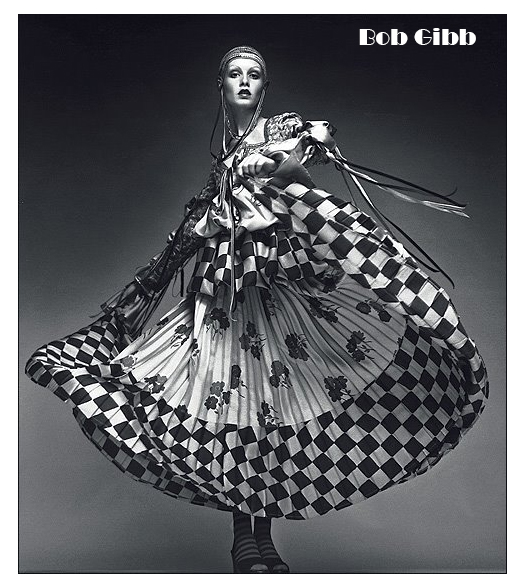 A pillar of 1970s fashion royalty, Blahnik has become world famous. His beautiful shoes exude a level of craftsmanship rare in today's age of mass production. His designs have a wonderful sense of line and silhouette and can transform any outfit into a spectacular fashion statement. His talent ensures he shares the mantle worn by other brilliant shoe designers of the 20th century: Yanturni, Vionnet, Perugia, Ferragamo, and the one Blahnik most admires, Roger Vivier.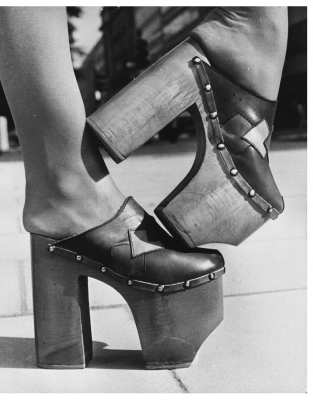 The flared 'disco' look was gradually replaced by straight, cigarette-legged jeans steered by the influence of punk on fashion, while 70s shoes shaped by the new musical influences included Beatle shoes and the now eponymous and legendary Dr Marten boots.
Vivienne Westwood, who continues to be a major force in design with creations that are outlandish and outré yet breathtakingly beautiful, began her career in the early seventies by making 50s influenced Teddy Boy clothes. By 1972 the designer's interests had turned to biker clothing, zips, leather and provocative clothing, rebranding her shop 'Sex' for the third time in 1974 ~ a shop 'unlike anything else going on in England at the time'. In 1976, the shop reopened yet again, as Seditionaires, transforming the straps and zips of fetishism into fashion and inspiring
a D.I.Y. aesthetic. Her relationship with Malcolm McLaren created 'a symbiotic relationship between music and fashion that effectively set the tone of popular culture for decades to come' and her career continues to flourish with desirable designs that evoke period drama and renaissance while retaining the rebellious spirit that has permeated her always colourful and sometimes controversial career

The 1970s was a nostalgic era that looked to the past for fashion stimulation and drew inspiration from previous eras such as Edwardian, 30s and 40s, while the younger 'mod' look was replaced by the glamour and gorgeousness that resembled the red carpet styles of Hollywood movie stars. It's a decade that still remains relevant to fashion today, with touches of the 70s in nearly every contemporary runway collection.
The shining lights of 70s design left their mark and their legacy with a glorious and beautiful imprint of 1970s fashion and a stampede of 70s shoes that continues to inspire, excite, innovate and endure. In a century of so many changes, innovations and defining moments, the style, sophistication and sexiness of this evocative era will never go out of fashion.
Follow Theatre Of Fashion's board 70s shoes 1970s designers 1970s fashion on Pinterest.
Links
Click to buy 1970s fashion ~ 70s colour on Pinterest ~ wiki ~ 70s outfits ~ 70s clothing