The Theatre of Fashion Blog
Fashion Blog, Ideas, thoughts, histories, filmstars, styles, and some of our most beautiful items.
Designer leather jackets ~ Michael Hoban ~ North Beach Leather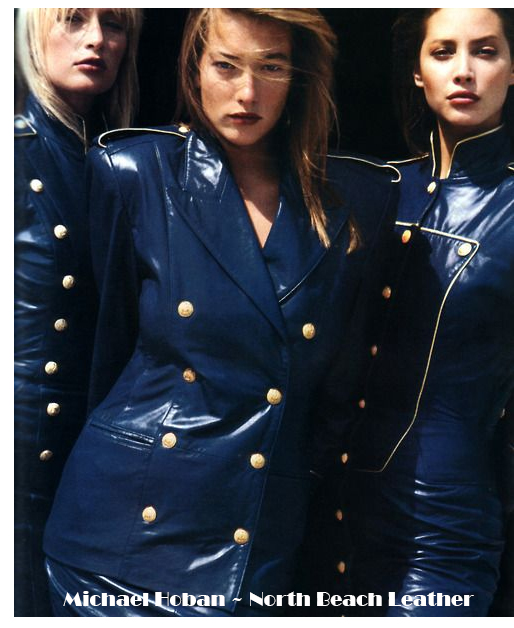 Michael Hoban ~ North Beach Leather
Click to buy beautiful vintage leather
"What everybody else calls fashion, I've been in forever..." ~ Michael Hoban
Michael Hoban, the founder and designer of North Beach Leather, was one of the first designers in the 1960s to introduce counterculture leather clothing and designer leather jackets to Hollywood's celebrities.
Having grown up in 1950s Boston as leader of the Warriors, a teenage street gang, he would later use the gang's clothing of the time as inspiration for many of his designs ~ (his nickname of 'Hobo' found its way into the designs or labels of much of his first sportswear clothing line and some of his designer leather jackets).
Having failed to find any leather bellbottoms in the early 60s, Hoban made his own pattern ~ prompting him to start working with leather ~ and further production of custom-only leather garments led Frank Morgan, his later business partner, to persuade Hoban to open a shop. Soon Hoban was creating entire leather outfits which he sold at his boutique in Los Angeles. In 1967 the small shop moved to San Francisco's North Beach district, from which they took the company name. Another shop then opened in Berkeley, California and as a centre for counterculture in the 1960s, Berkeley provided the perfect atmosphere for Hoban's designs.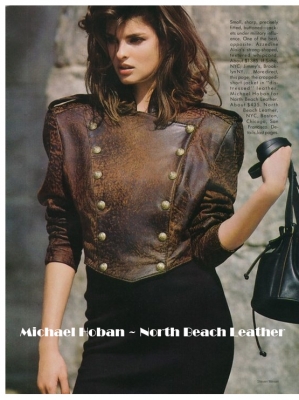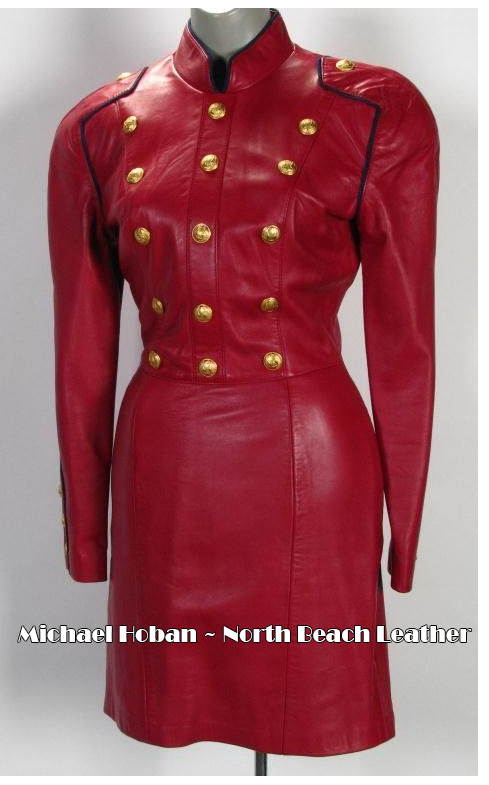 As his custom business began to expand, so did his clientele ~ early devotees of his work included luminaries such as Sammy Davis Jr, Frank Sinatra and Jackie Kennedy-Onassis, while Elvis Presley once spent $38,000 on an order of leather capes, trousers and designer leather jackets in one visit. Hoban also made clothes for the Black Panthers and he counted Hell's Angels among his most prized customers.
He was soon designing custom leather ensembles for the likes of The Rolling Stones, The Beatles, Diana Ross, Elton John, Cher, Paul McCartney and Tina Turner and indeed, it seemed that half the celebrities in the pop and rock world sought the artful biker leather chic he pioneered. As no self respecting rocker's wardrobe was complete without an obligatory and sexy, leather collection, Hoban's fabulous designs were ideal for the celebrities of the music and fashion scene of the 60s and 70s. He remained popular with the changing decades and into the 1980s, and his pieces were perfect for the ubiquitous 80s look of big hair and big shoulders and were espoused by celebrity glam rockers and the underground club scene.
The iconic supermodels of the day ~ including Cindy Crawford, Paulina Porizkova, Linda Evangelista, Christy Turlington, Karen Mulder and Tatjana Patitz ~ graced the covers of North Beach Leather advertisement campaigns, and Hoban worked with top photographers from Skrebneski and Herb Ritts to Philip Dixon and Bensimmon, who assisted in creating edgy, targeted and memorable campaigns ~ all of which reflected North Beach London's position as the largest privately owned leather company in the US.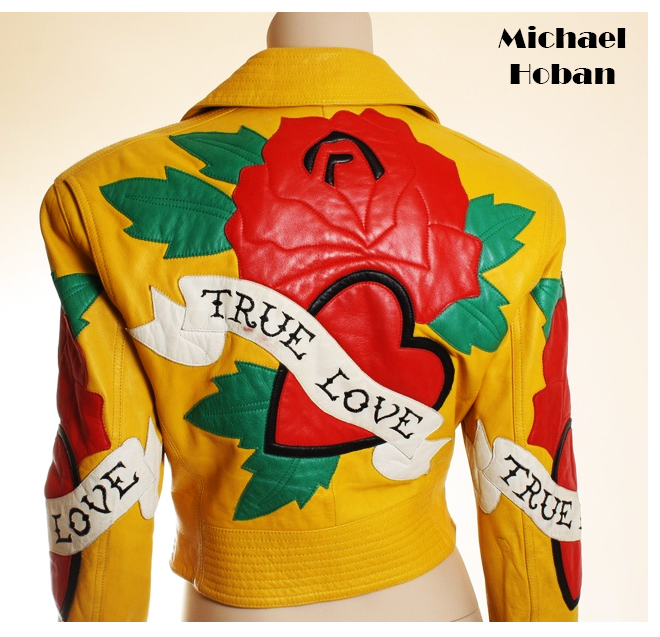 North Beach Leather's designer leather jackets are bright, bold, beautifully crafted and justifiably expensive, often displaying graphic images in intricate patterns and detailed designs that incorporate such techniques as patchwork, insertions and appliqué. The leather used is always of the highest quality, soft and supple, and the pieces are brilliantly designed and beautifully tailored. This visionary designer not only changed the course of fashion history by inventing elaborate concepts to shape into leather, he also promoted the American leather industry and was significant in encouraging improved methods of manufacture to produce better quality leather in a broad range of colours ~ while continuing to search for ecologically sound ways of refining the raw material to make leather a mainstream fabric within the garment industry.
In the ever-changing world of fashion, Hoban's style has transcended trends and vintage North Beach styles remain a huge hit with the fashion elite. The vintage military and tuxedo dresses, the biker jackets and the bold and striking bustiers are particularly sought after, while his designs continue to inspire the collections of Michael Kors, Luella et al.
Hoban's vintage pieces have now become very rare to find and are extremely sought after, and just like they were when they were first created, they are still worn and adored by celebrities, rock stars and supermodels to this day...
Follow Theatre Of Fashion's board Michael Hoban on Pinterest.
LINKS
Vintage leather jacket ~ Bikers and leather jackets ~ Best Winter Jackets