The Theatre of Fashion Blog
Fashion Blog, Ideas, thoughts, histories, filmstars, styles, and some of our most beautiful items.
Indian Designer Dresses
Iconic Creators of Indian Designer Dresses ~ Click here to see a beautiful selection of Indian dresses
"Fashion is not something that exists in dresses only. Fashion is in the sky, in the street, fashion has to do with the ideas, the way we live, what is happening." -- Coco Chanel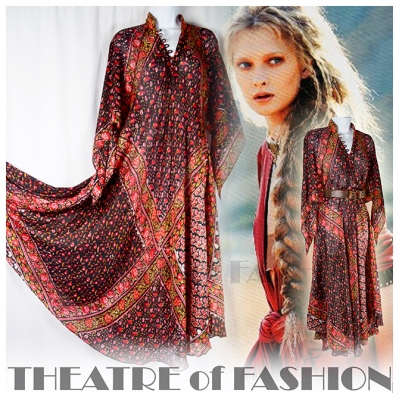 It takes a skilled eye to see beauty in the mundane and recognize commonplace happenings as a source of beauty. Designers that possess the rare innate ability to draw inspiration from the world around them create fashion that is unmatched in style and charm. Coco Chanel is an example of a designer that understood that inspiration for fashion and beauty can be found in a multitude of untraditional places, resulting in a one-of-a-kind brand that is known for its sophistication. This defining attribute separates Coco Chanel and other brilliant designers from the masses, distinguishing them as original and unique visionaries. Great designers keep their eyes open in every circumstance, searching for the perfect quality of nature or humanity to inspire the newest trends and styles. Past trends may also serve as inspiration for modern pieces. Iconic designers such as Gucci, Missoni, Lanvin, Givenchy, and Pucci have chosen to draw from Indian block prints, a design that originated around 200 A.D., to create glamorous indian designer dresses.
Indian designer dresses are seen in these top designers' collections repeatedly, but made their biggest debut in the 70s. During the 1970s, fashion was about cultivating a bohemian chic, relaxed style that promoted hippie bliss. Paisley patterns painted simple dresses with vibrant hues and stand-out shapes, creating pieces that highlighted the woman's femininity and vibrant personality. The result is the famous, psychedelic vibe that has continued to have an influence on fashion. Paisley is the most popular Indian block print, and is still used frequently in modern fashion.
Emilio Pucci fashion was made famous for these bold prints and set the standard for creative style. In 1947, Pucci began his designing career, creating skiwear that was photographed by a female friend that worked for Harper's Bazaar. In the 1960s, Pucci found greater success when Marilyn Monroe became an enthusiastic fan of his designs. Monroe was photographed and even buried in one of Pucci's dresses. His pieces were made from fabrics covered in swirling floral prints. These indian designer dresses soon became iconic of the Pucci fashion line and modern stars still seek to sport Pucci's paisley prints.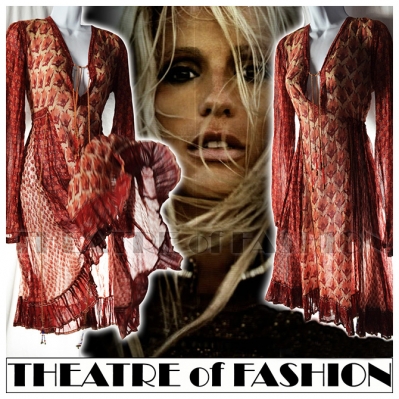 Other designers such as Gucci, Missoni, Lanvin and Givenchy took note of Pucci's success with prints and decided to incorporate the vibrant Indian patterns into their own fashion lines. The style of the 70s quickly transformed into something bold and undeniably unique. Prints became prevalent, appearing on scarves, dress, and swimwear. Still to this day, indian designer dresses are noted as 70s style gems. Loud prints from Gucci are viewed with awe at formal events, and paisley day dresses by Givenchy are adamantly admired. Both designers used the print on a variety of dress styles, from A-line skirts to drop waist pieces, creating standout dresses.

Lanvin has recently created a modern take on indian designer dresses, employing the bold print in a block pattern. Solid side panels highlight the historic print, adding an interesting twist on a classic look. The result is a dress that maintains a sophisticated level of drama that all fashionistas crave. Missoni employs Indian block prints in similar ways. Missoni describes their approach to fashion as "a well-orchestrated mix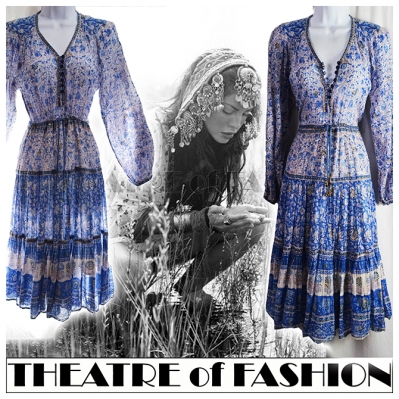 of references, suggestions and experiences. A contemporary interpretation of fashion heritage." This quote beautifully summarizes their use of Indian block prints. Missoni has drawn on this fashion heritage from 200 A.D., and interpreted it in a modern way to create a flawless reference to the 70s. The result is fantastic, leaving no room to question their celebrated status when it comes to indian designer dresses.

All of these phenomenal designers have created glamorous indian designer dresses, proving that these prints are a timeless addition to any woman's wardrobe. While fashion has continuously evolved throughout the years, indian designer dresses have remained a large part of the fashion industry, proving their ability to remain relevant. The unmistakable print adds a fun pop of color to any dress design, which is why these iconic designers will continue to incorporate Indian block prints into their elegant collections. Gucci, Missoni, Lanvin, Givenchy, Pucci and many other designers will continue to create wearable works of art that celebrate the past of indian designer dresses and press forward into the future of fashion and design.
Click here to see a beautiful selection of Indian dresses