The Theatre of Fashion Blog
Fashion Blog, Ideas, thoughts, histories, filmstars, styles, and some of our most beautiful items.
Leather jacket women
Leather Jacket Women: A Expression of Biker Culture
"Every day I'd say I look different. Sometimes I look really formal, sometimes I love the classic Stella McCartney, Chloe Sevigny and Gwyneth Paltrow thing. Other days I like being 'rock star' and wearing leather jackets and studs. I love wearing Burberry ~ it's the perfect combination of formal and punky." ~ Ellie Goulding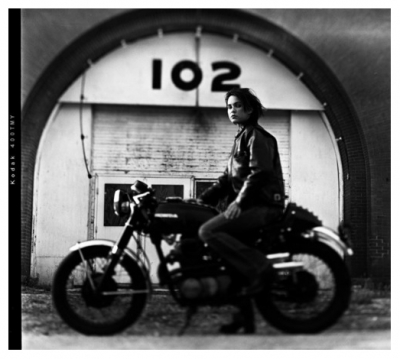 Couture designers love leather. Rock star and biker leather street wear storms the catwalks season after season, embodying vintage biker fashion and giving it a chic update. Vintage style leather and biker jackets, in varying different designs, compliment both casual day wear and beautiful evening wear ~ from jeans to silk dresses. Biker style's increasing popularity in the fashion industry is due to the lifestyle that iconic leather jackets represent. Leather jacket women, throughout the eras, and especially biker women, have always worn timeless and iconically sexy and empowering clothing which appeals to each new generation of women. If you identify with leather jacket women and love to look and feel strong and sophisticated, then you are sure to love the trends that promote the evolution of biker style.
Biker style is inspired by biker culture and incorporates several trends that can be seen in traditional motorcycle wear. Stud detailing, intricate leather designs, heavy zips, and rough and ready low heel boots have all played an influential role in the creation of the fashion industry's version of biker style. A quick look at the collections of high-profile designers, such as Burberry, reveal the extensive use of quality materials, including, among others, suede and shearling, to create an edgy vibe that parallels biker style. All Saints is another upmarket outlet where the designers create a new and different take on biker jackets each season ~ distressed leather, sheepskin, unusual tailoring and antiqued metal-wear all play a part in each season's eagerly awaited, and endlessly reinterpreted, biker style jackets. Leather jacket women love this new trend, as it compliments their fashion style, shining the spotlight on the biker chic look which they have been sporting for years. Motorcycle style is taking the fashion industry in full force, and we could not be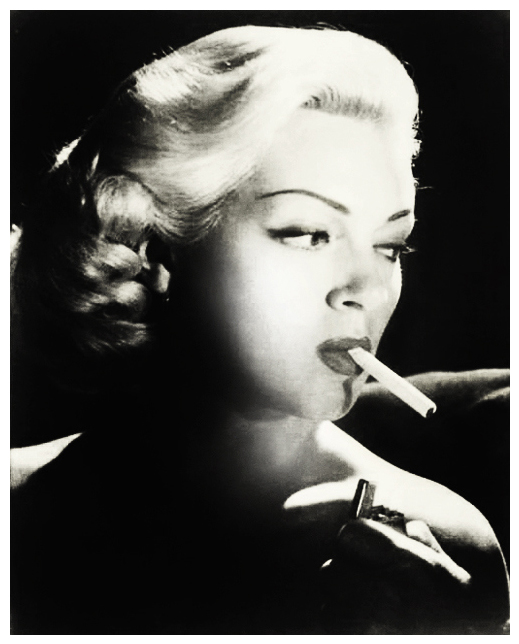 Biker inspired fashion is more than clothing. It represents a lifestyle of daring ambition, free spirit and independence. Leather biker jackets exude a sense of this empowerment. Leather jacket women are not afraid of being themselves ~ of standing their ground, speaking their mind, of being adventurous and, not least, daring to be unconfined by society's limiting expectations of what a women should be and look like. There is a real and lasting beauty in the leather biker look, for this very reason ~ because it speaks to the rebellious essence in all women, to be whoever they are, whoever that might be. If you are a leather jacket woman, then you are proudly saying, in your style, in your relationship to the world, that you possess the power within you which enables you to be true to yourself. Biker jackets say this ~ and have done so for generations. Although biker jackets were made famous, iconic and sought after by famous male film stars such as Marlon Brando and James Dean, for example ~ there have been, over the years, hundreds of women, who, although they have not famously starred in movies or modeled for glossy magazines, have nevertheless taken the essence of the iconic biker jacket into their everyday lives and worn them with conviction, and as a statement of their strength and almost political-like assertion that they will remain outside of society's definition of what women are supposed to be. However leather jacket women choose to wear their leathers, biker style, sleek, rugged, vintage, cutting edge ~ there is always a real beauty in this strength of conviction and assertion of self. It is a look which women have always admired and craved, partly because of this subliminal message which leather jackets always carry ~ strength, selfhood and societal rejection of conformity.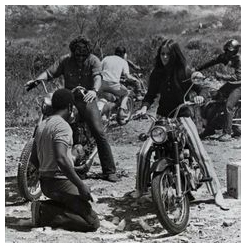 Adding a vintage biker or leather jacket to your wardrobe will open up thousands of outfit possibilities. Vintage leather jackets which incorporate detailing such as belts, studs, patchwork, suede, shearling, zips are the perfect addition to your wardrobe, adding a commentary on the evolution of biker style. If you prefer a modern cutting edge design, then look to designers such as Michael Kors, All Saints, Burberry and Balmain whose designs often encompass the culture of biker style with a new and inspiring angle each season, creating different looks and unique styles.

Have a look at the leather and faux leather jackets on offer in vintage stores, in markets, in online stores, on eBay, in high street stores, in couture salons ~ have a look and you'll find a myriad different styles to choose from…and you will fall in love with the one that most deeply reflects to you who you are and who you want to be. Remember that a leather jacket is an investment which will last you for years to come ~ so buy what you love. Find it, love it, wear it…and join the leather jacket women who have discovered the unique elements that leather can bring to their sense of self, and start to recognise the new potential that biker-inspired pieces can bring not only to all your outfits, but to the way you relate to the world. Fashion is sometimes more than just items of clothing. Sometimes, fashion says something about us, and leather jackets, biker jackets especially, say something rather beautifully strong and empowered about us ~ which, regardless of what society might say, is actually the truth of women everywhere.

Links
Biker soul. Bikers and leather jackets