The Theatre of Fashion Blog
Fashion Blog, Ideas, thoughts, histories, filmstars, styles, and some of our most beautiful items.
Best Winter Jackets - Riding jackets
Best Winter Jackets - Click for a beautiful range of vintage and vintage inspired jackets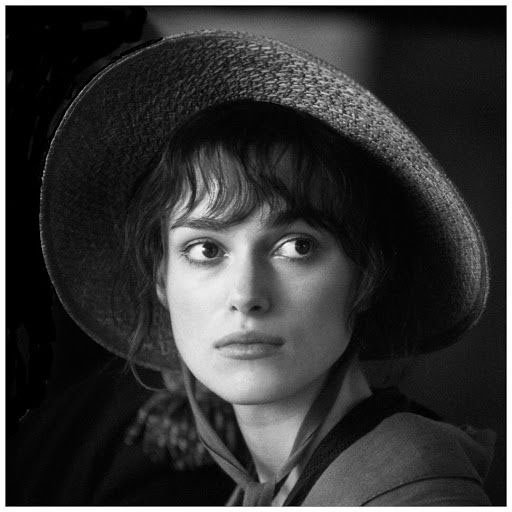 "…Blue kid gloves and half-boots, a high-standing collar trimmed with lace, a muslin cravat, narrow lace ruffles at the wrists, and a tall-crowned hat, with a peak over the eyes, and a plume of curled ostrich feathers completed her dashing toilette…"
~ The Grand Sophy, Georgette Heyer
Jane Austen's pride and prejudice, set during the turn of the nineteenth century, is filled with sharp observation, romance and regency charm. The characters call to the reader, beckoning us to enter a world of fascinating and interwoven relationships with each turn of the page. The fashion of the nineteenth century also holds much nostalgic fascination for us. The lavish evening ball gowns, the empire line day dresses in soft muslins, and of course the winter jackets, capes and long duster style coats have us longing for an era of vintage style that epitomises a simple and refined sophistication. You can just envision the Bennet sisters strolling through the rolling hills of the English countryside in their muslins and silks, with their cropped jackets, or shawls, looking elegant and beautiful together against the endless green and verdant landscape.
During this era, women's clothing, was generally very thin, especially as thin muslin dresses were so popular during this period, and so outerwear and winter jackets and coats were very important to any fashionable heroine's wardrobe. A short cape called the mantelet was often favoured, as was the redingote which was a long coat with an elegantly cutaway front. The Indian shawl was popular also, for day and evening wear, both outdoors and indoors as English town houses and the typical English country house were generally very draughty. Shawls were made of soft cashmere or silk, or even muslin for summer ~ and paisley patterns were extremely popular at the time. Short, high-waisted, crop-style jackets which fastened down to the empire line covering the bust were worn often, and added elegance, and some warmth, to autumn or winter ensembles. The cropped style jacket is still, today, a very popular winter jacket, especially in leather ~ and in the 19c, these short fitted 'spencers' in wool were worn considerably outdoors, along with long-hooded cloaks, exotic Turkish wraps, mantles, flowing capes, and overcoats called pelisses, which were sometimes sleeveless and very long, reaching down as far as the ankles.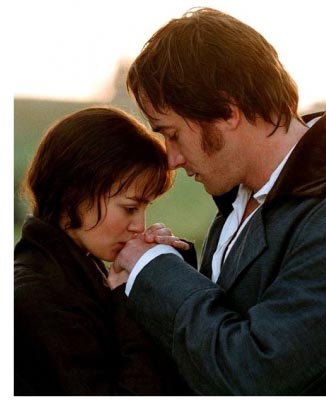 ~ Jane Austen writing to her sister Cassandra
Today as in the past, from the fashions of Elizabeth Bennet's regency wardrobe to the modern day woman, the best winter jackets combine timeless design and quality materials to create looks that will last for centuries. So many designs which we see today have filtered down through history, and although adapted throughout the years with each passing generation, many garments of today still have their origins in a past era or historical context.
If you're looking for the best winter jackets to add to your winter wardrobe, riding jackets, and the longer riding coats, offer the best choice, being, warm chic and incredibly elegant. Made in wool, and today often with a mix of cashmere, the riding jacket or coat creates a fitted and stunning silhouette and often has generous cascading skirts, or a bustle style back, and are tailored to fit into the waist, or belted to accentuate the waistline.
The riding jacket dates back to as early as 1625 ~ and the fashion for riding habits has evolved throughout history creating an iconic look that is still seen in women's fashion today. In the very gender delineated society which has existed throughout history, women often used riding clothes to challenge formal social mores and gender roles, reworking masculine riding attire to make a statement not only about fashion, but also about their own ability to be physical beings, active and proficient.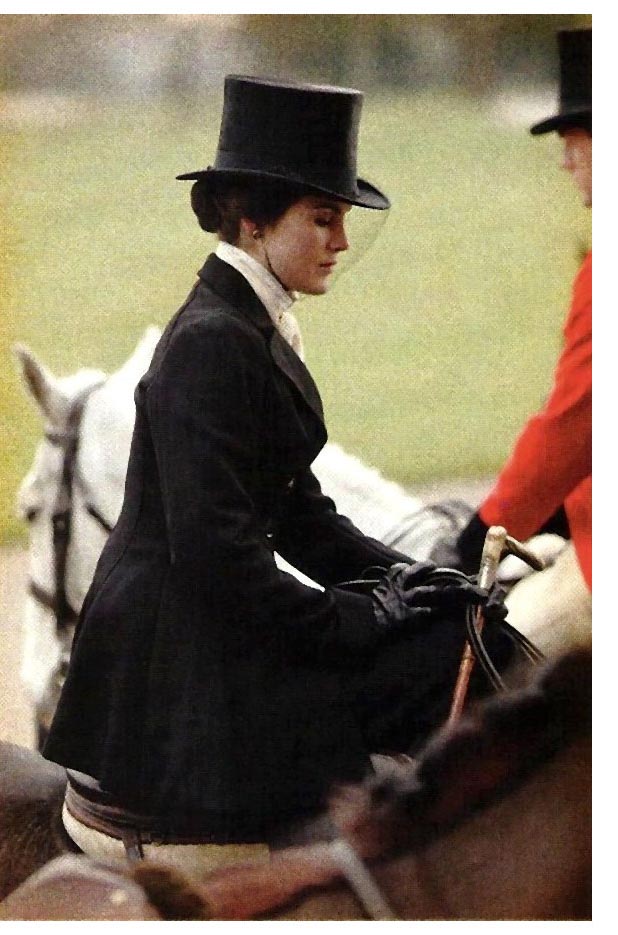 By the 1750s, the skirt of riding outerwear was often shortened dramatically and flared, with special emphasis at the back to drape over the saddle, and this style evolved into the look we love and recognise today as the classic riding jacket. Riding coats and jackets were worn historically as specifically functional equestrian dress, but in the second half of the 18th century, they became fashionable attire as well ~ and in addition to riding they were worn for traveling, walking and visiting. Author Fanny Burney noted that riding habits were being worn to a ball at Bath in 1782. The promenade coat ~ so named as it was used for walking and 'promenading' ~ has evolved from the riding coat, and is very similar in style and fabric, and another very popular choice as one of the best winter jackets or coats to choose for special occasions especially.
The fabric used for making women's habits could be very expensive and because of the amount of cloth needed, it often cost substantially more than an evening gown. The materials worn for riding from the mid-seventeenth to the early twentieth centuries were easily distinguished from the silks, muslins, and velvets of fashionable evening wear. Equestrian activities, especially in the autumn and winter months, required very durable and robust fabrics such as wool, camlet (a silk and wool mix), felted smooth melton wool, or gabardine ~ and linen or cotton twill for summer. In the eighteenth and early nineteenth centuries, habits were frequently subtly embellished with gold, silver, or later, with woollen braiding, often imitating the frogging on military uniforms. During the Victorian period, women's riding habits were made by tailors rather than dressmakers and were cut and fashioned with the same techniques from the same selection of fabrics as men's attire, so as men's dress became more somber through this period, so did women's riding habits.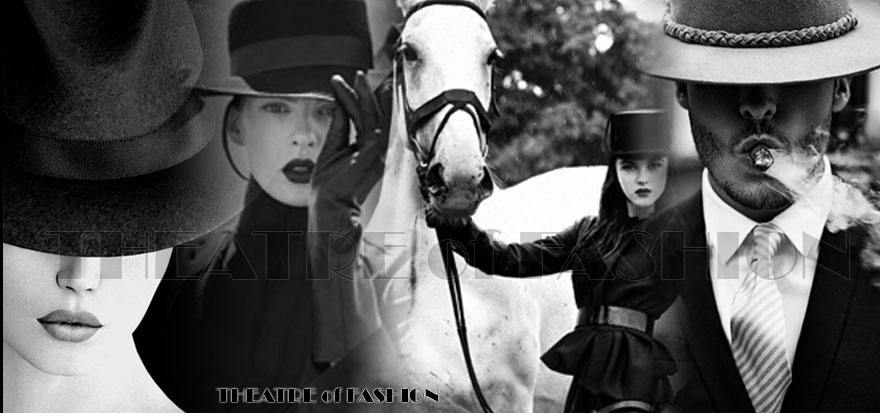 Riding attire throughout the ages has always symbolised grace and leisured elegance. It implied that its wearer belonged, or aspired to belong, to the elite horse-owning classes ~ historically hierarchical and elitist though this is, the equestrian look, even today, has always emulated that country estate style refinement. The colours are kept to the palette of classic blacks, greys and dark blues ~ with the occasional addition of the subtle elegance of racing green, and sometimes the heritage influenced tweeds. In the Victorian period, any woman who wore gaudy or overly ornate habits, and thereby making a seemingly 'vulgar' spectacle of herself, was in danger of being labeled a shameless 'fast woman' rather than a 'fair equestrienne'. Such was the power of colour and embellishment in fashion.
"Equestrian clothes are perfect; streamlined, functional and elegant…."
~ Frida Giannini, Gucci's creative director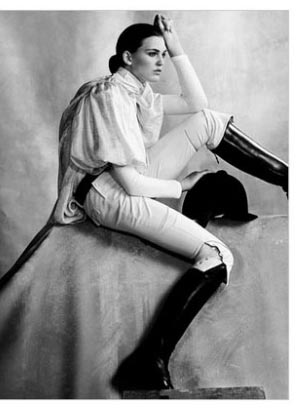 Contemporary fashion designers continue to rework traditional equestrian motifs and fabrics in haute couture and prêt-à-porter collections. In this context, contemporary riding style costume and fashion is most often used to connote country elegance and traditional elite English style. These early riding styles have had an enduring influence on modern fashion and top designers such as Michael Kors and Ralph Lauren, among others, have continuously modeled their couture winter wear collections after them. "There is an attitude and allure that goes beyond fashion," the designer Ralph Lauren muses about the equestrian aesthetic, "Its history and elegance are very much in keeping with the things that I've always loved. There is the style of the cowboy, and there is the style of the English rider. The cowboy is a hardworking horseman, whereas English riding has an aristocratic sensibility, yet they are both part of my world."
The pieces we love, both vintage and contemporary are body-conscious and flattering with defined silhouettes, beautiful tailoring, with the flared or bustle style hem for jackets and the huge sweep skirts for coats ~ and the intricate, often velvet detailing, to cuffs and collars differentiates riding style wear from other winter looks which are often rather plain, and too often bulky and shapeless. One of the reasons that the riding style jacket is considered one of the best winter jackets is because of the beautiful shape which has proved the test of time ~ as lovely today as it was in past eras. No wonder brands from Ralph Lauren's Polo to Hermès constantly reference this world. The couture designer Stella McCartney argues that the appeal of horses is universal and eternal and says that there is "…Something very sensual about riding…" So if you're looking for one of the best winter jackets this season, then vintage or contemporary style riding jackets are a fabulous way to look stylish, powerful, sexy and chic, while still staying warm. London Fashion Week this season again proved the lasting power of the riding style as new designs replicated old world fashion. Winter wardrobes looked like they could have been spotted on Miss Bennet herself as she walked with Mr. Darcy in Pemberley.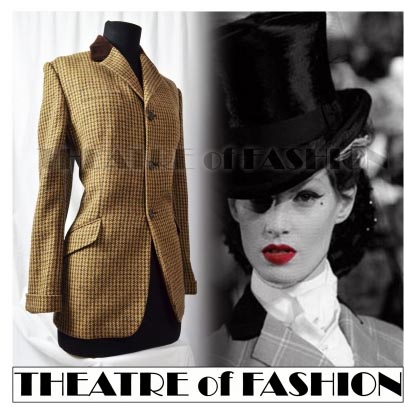 The tweed jacket is another of the best winter jackets available. The textured wool, imitating stately style from the early twentieth century, often appears in blazer designs, and is also seen extensively in riding style jackets, both vintage and contemporary. "After we were married, Ricky and I were shopping in one of those authentic riding stores, and I bought her a boy's tweed hacking jacket," recalls Ralph Lauren. "Whenever she'd wear it, other women would say, 'Oh, I love that jacket.' That's when I decided to do women's clothes. I started with tweed hacking jackets. I've always thought they had real style." Tweed jackets will pair brilliantly and easily with many pieces in your current wardrobe, making them the perfect addition to many outfits needing an autumnal or winter touch and certainly one of the best winter jackets to choose this season.
Riding jackets, riding coats and tweed jackets will quickly become staples in your winter wardrobe. Their ability to reappear decade after decade, without much real reinvention to their design, speaks volumes about their intrinsic appeal throughout the ages, and to women today looking for fabulous winter wear. The equestrian style is a look steeped in history and rich with elegant aristocratic associations, and with more than a touch of independent spirit ~ and qualities such as timeless style and sophistication set these jackets and coats apart from other styles, making them the best winter jackets available.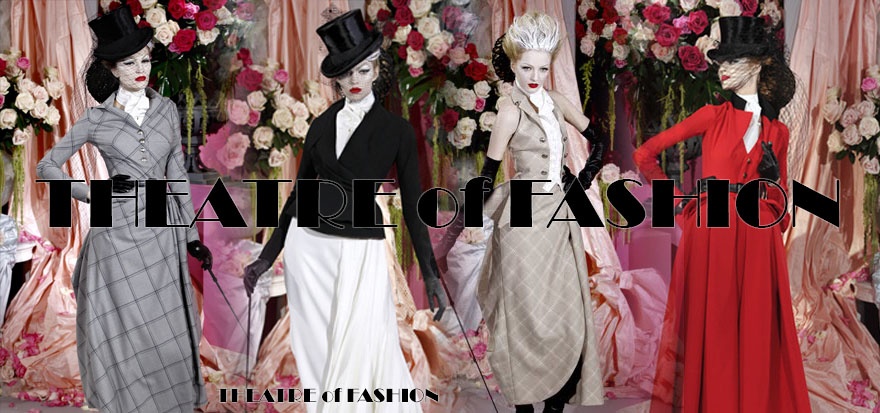 Links
An article on the best winter coats
Click for a beautiful range of vintage and vintage inspired jackets
Best winter jackets on Pinterest