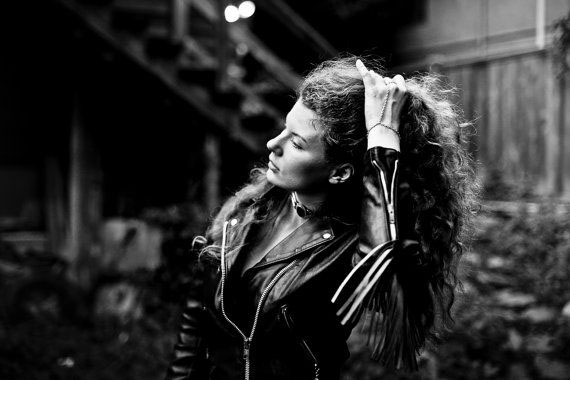 Vintage Leather Jacket
The perfect vintage leather jacket will change the way you view your wardrobe. Suddenly plain dresses are transformed into chic ensembles. Jeans become dressy with a vintage leather jacket, creating an effortlessly laid back style that is ideal for any daytime look. Even formal wear can be made more sophisticated with a vintage leather jacket to pair with evening dresses, or elegant trousers. Once you've found the vintage leather jacket of your dreams, the pairing possibilities are endless, making it a must-have for your current wardrobe.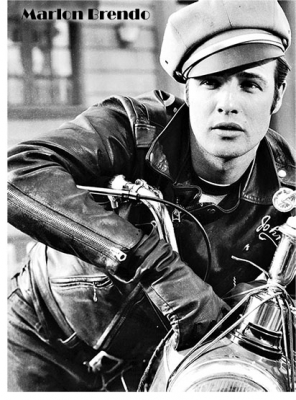 Over the years, there have been three prominent styles in leather wear: motorbike style leather jackets, colorful statement leather jackets, and sleek and sophisticated leather jackets. These three categories have yielded brilliant pieces over the years and vintage examples are still sought after today. The lasting quality of leather allows brilliant designs to last for decades, providing modern fashionistas with the opportunity to wear fabulous designs from the past. A vintage leather jacket has an element of nostalgia which cannot be found in modern looks, making them extremely desirable. They are the heart and soul of edgy style and rugged sophistication. The unique style of a vintage leather jacket paired with a contemporary outfit creates a perfect ensemble. The wide array of vintage designs makes a vintage leather jacket intriguing and unique. Shawl collars, square collars, the use of knit, studding, lacing, or suede, and variations in sleeve designs, are just a few distinguishing differences to be found in a vintage leather jacket, providing the modern wearer with countless options to explore.
Vintage Leather Motorbike Jackets: Motorcycle styles are iconic, appearing in movies and on celebrated celebrities as signature looks. Just think of Marlon Brando or James Dean…and many films and rock stars over the years have inspired female versions of the leather biker look: strong, independent and empowered.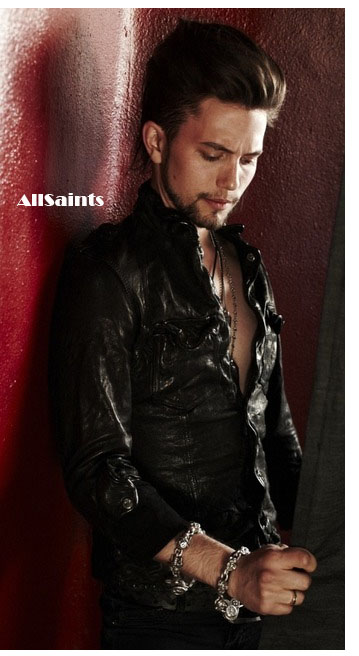 All Saint's contemporary yet vintage inspired leather jackets are similar to nostalgic vintage designs, featuring motorcycle style with an added element of sophistication. Buckles, studs and metal detailing make an All Saint's vintage leather jacket stand out from other designers' pieces, looking fierce and fabulous ~ and always tailored to perfection. All Saint's vintage biker jackets are known for their edgy vibe, making them some of the world's most loved designs.
Vintage motorcycle jackets were inspired by military and aviator styles from as far back as the 1920s and 1930s ~ and these designs often imitated A-1 jackets used by the Army Air Corp, before the second world war. Carefully chosen leather was used to create supple pieces with lasting quality, allowing the jackets to be worn for years. These A-1 jacket designs influenced vintage biker wear, as designers incorporated zipper fronts and pockets which created the iconic biker style which reached such popularity in the early 1950s.
A motorcycle style vintage leather jacket is the perfect piece to bring an added element of edginess to your wardrobe. The iconically famous 'biker' style with the 'zipper' detailing, and the very flattering 'biker' fit, which works for all body shapes, creates a unique look which has influenced 'street style' throughout the world.
Colorful Vintage Leather Jackets: Another well-know vintage leather jacket style is the colorful statement jacket, which has, over the years, often been worn by rock stars, bands and celebrities.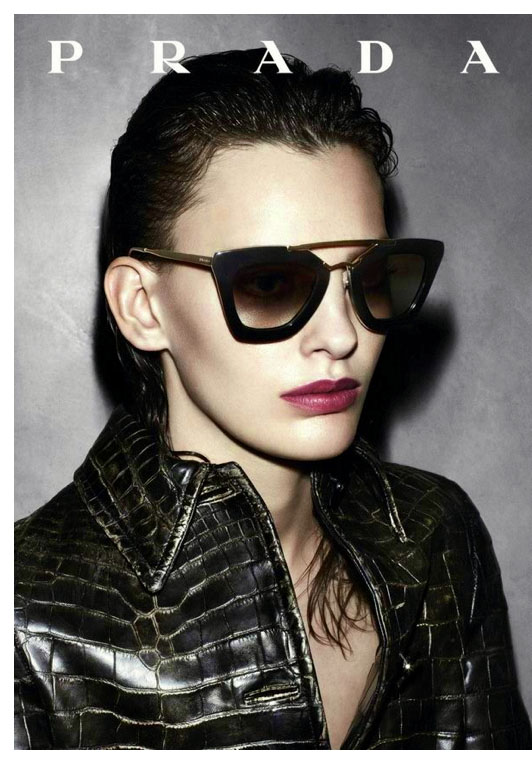 Gucci has created some fabulous statement leather jackets over the years featuring bold and beautiful colours, such as pink and turquoise. Gucci's first colorful leather jackets appeared in classic designs, mimicking biker styles from the 1950s. The difference was in the vibrant hues that Gucci incorporated ~ mustard yellow, bright reds, bright blues, among others, were often seen in vintage Gucci styles. When their colorful biker leather looks were a huge success, Gucci began experimenting with leather trench coat styles in bold colours also. Colourful leather in a vintage leather jacket still makes a bold, statement piece today ~ and as these jackets become rarer to find they become more and more sought after by those who adore vintage pieces.
Sophisticated Vintage Leather Jackets: A sharp and tailored silhouette is the standout element of a sophisticated and sleek vintage leather jacket.
Designers such as Michael Kors focus on creating this classic piece of leather clothing, resulting in a sleek style that is undeniably chic. Celebrities such as Jessica Alba, Carrie Underwood, and Jennifer Lopez are often spotted in sophisticated vintage leather jackets, pairing them with almost everything in their wardrobe. Sleek leather jackets which feature pretty and unusual details are also very popular. Ruffled sleeves, innovative collars and pleats are all additions which top designers may include to add interest to their leather pieces.
The best part about a sophisticated vintage leather jacket ~ and vintage biker jackets also ~ is its element of timelessness, knowing that it will never go out of style. The original sophisticated leather jackets were often inspired by military jackets ~ often double breasted designs, and in chic black leather. This look was innovative in the fashion industry, taking it by force. Designers throughout the years have borrowed from military looks and paired and updated this style with iconic leather details and clever tailoring to create jackets which are chic and contemporary.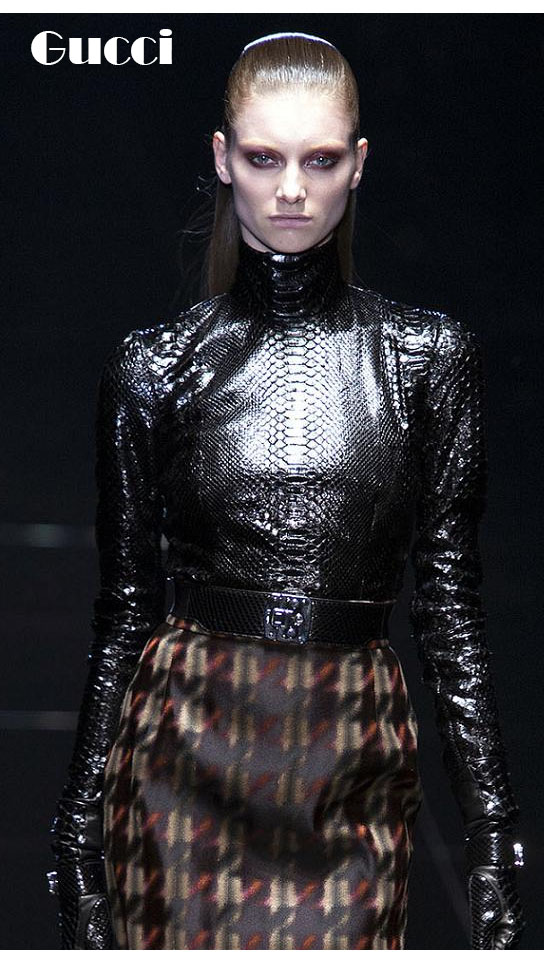 These three popular leather jacket designs make great staple pieces in your wardrobe, but a standout vintage leather jacket often takes leather to the next level, incorporating outlandish and unique elements of design such as coat tails, amazing collars and flared sleeves for example. Top designers, including Gucci, Prada, All Saint's, and Burberry have all created iconic leather jackets throughout the years, offering the modern woman a chance to wear outlandish a vintage leather jacket with a contemporary edge and look absolutely fabulous.
Burberry is known for taking their leather to the next level, and they have become know for incorporating extensive studding into their motorcycle style jackets. Their designers were inspired by the edgy vibe and iconic appeal of the motorcycle jacket, and sought to extend the style by focusing on the detailing and embellishment of the leather. Sleeves and collars, and sometimes the body of the jacket itself, were covered in silver studs, creating a glamorous, edgy, very rock star look, which really catches the eye. Although the fit of the jacket remained the same, the detailing transformed the look of leather jackets, and is still a very popular trend today. Zip up sleeves and extensive quilted leather are another standout element of Burberry's vintage leather jackets, marking them unique among their contemporaries.
Gucci's colorful leather jackets not only incorporate stunning hues, but also complex patterning which marks Gucci's vintage leather as unique. Stripes and other geometric patterns are pieced together from bright leather, creating mesmerizing designs which are unrivaled in intricacy. One of Gucci's iconic pieces features two yellow stripes that contrast with a pink background ~ very striking. Coloured leather jackets also utilize quilting to add another dimension to the vintage leather jacket, and metallic material is often used also, giving a futuristic vibe to these vintage pieces.

Prada's sophisticated leather jackets embody beautiful design, while often including fresh details such as tails and flared sleeves. These aspects were unheard of in the leather design world, until Prada included them in their designs, when people began to take notice. Prada incorporates inspiration from many sources, including the more flamboyant elements of the Victorian and Edwardian eras, and from the even earlier military brocade styles, creating perfect and stunning leather pieces to mix and match with more conservative pieces.
These top designers have revolutionized the world of leather jackets, creating vintage leather pieces that are still sought after today.

Links
Best Winter Jackets - Riding jackets
Vintage leather jackets on Pinterest