Trophy Jacket
Examples of Trophy Jackets sold on Theatre of Fashion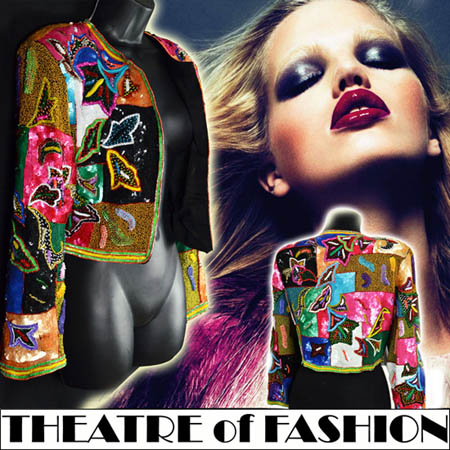 The Trophy Jacket
Wearable Art
Vintage ~ 80s ~ Festival ~ Glam Rock ~ Madonna ~ Gwen Stefani ~ David Bowie ~ Boy George ~ 70s ~ Boho ~ Supermodel ~ Vogue ~ Nova ~ 30s ~ 20s ~ Art Deco ~ Flapper ~ Glamour ~ Fashionista ~ Catwalk ~ 60s ~ Hippie-Luxe ~ Gypsy ~ Beauty
Vintage 70s/80s pure silk, heavily embellished trophy style jacket, with gorgeous & unusual styling and beading, sequins and embroidery covering the entire jacket ~ Wearable Art and Out of this World!!!
The most amazing patchwork effect embellishments all over the jacket in an abstract mixture of colours, shapes & embellishments including sequins, beading & embroidery, creating a gorgeous weight to the garment & a beautifully multi textured look, with very art deco inspired designs.
The beautiful, quite short, boxy, easy to wear style creates an incredibly sexy look & flattering fit & the amazing embellishments, with the beading, sequins & embroidery in such vivid colours just adds that extra touch of WOW!!! ~ So incredibly intricate & ornate & just oozes glamour....It's breathtaking!!!
Ideal for a dressed up evening out, stunning over a little black dress ~ equally lovely casually with jeans and a vest top, or over a playsuit, or with denim shorts for a festival, or ideal over a beautiful evening dress for a wedding or garden party... so beautiful, so incredibly versatile & just so striking!!! A joy to wear!!!
We often sell beautiful and exquisite trophy jackets ~ if you wish to see what treasures we have in stock, please keep looking as we have new delights to offer all the time. Please click the link below.
{loadposition ARI content}