Best winter coats
BEST WINTER COATS Click here - to see our selection of beautiful winter coats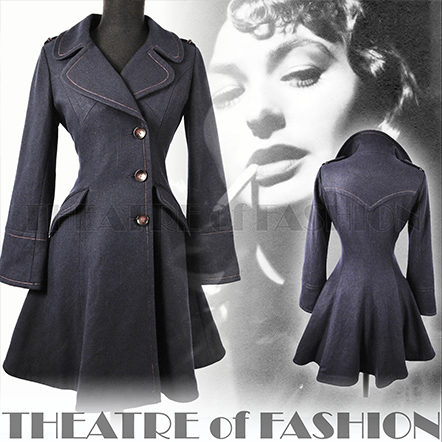 As the seasons change and the nights grow chillier, we can start to look forward to the best winter coats to warm us until spring. Though the weather may be rather dismally predictable this time of year, fashion, particularly outerwear, always leave us in excited anticipation. However, unlike the impossible task of 'what to get that one person who has everything' on your present list, making that one necessary 'just-for-me' purchase this winter should be simple ~ and it has to be the essential winter coat.
However, with so many vintage and vintage inspired styles to choose from, it is hard to know what the best winter coats are this season. In our opinion, the best winter coats to turn heads in this year are the classic, traditional riding style coat; the elegant 1930s evening coat; and those coats from, or inspired by, the 1940s. All styles which we've been seeing on the couture runways.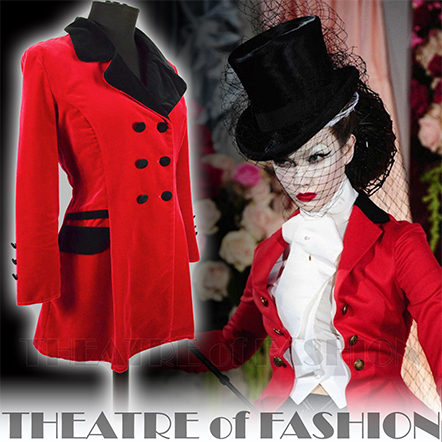 Best Winter Coats : Riding & Equestrian Style
The distinctive and very elegantly sexy riding look has become something of a winter classic, and with its timeless elegance always will. Riding coats have long been a favourite with designers from Moschino, who famously produced a striking red riding inspired coat collection, to Ralph Lauren who has long been an ambassador of the traditional equestrian trend, believing that "equestrian is always in'. Perhaps the popularity of the 'equestrian style' is forged from its versatility ~ it can be worn with as much flair as fits your personality and always instils a sense of timeless class and subtle undercurrent dark and beautiful, and slightly austere, sexiness as inherited by the Victorians who were able to achieve both rather admirably. Think of the rather iconic image of Victorian horsewoman ~ she represented the epitome of cultivated elegance and cut a fine figure in her tailored habit and silk top hat.
'At no time are the beauties of the female form divine displayed with such witching grace, the faultless flowing lines so attractively posed, the tout ensemble so thoroughly patrician.'
~ E. Kerr, Riding for Ladies, 1895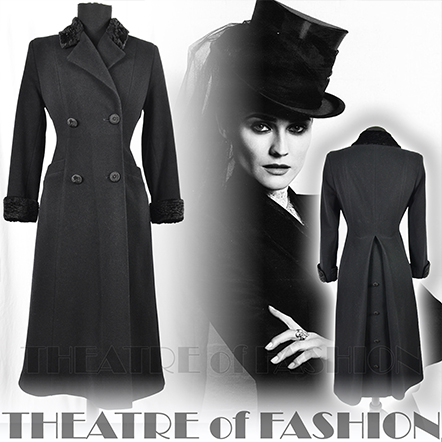 Dressed in her dark, unadorned, and almost severe looking attire, the horsewoman became a centre of visual attention in Victorian England. The riding habit's combination of style and practicality launched the fashion for more gender-neutral, utilitarian garments and heralded the advent of the twentieth-century working woman's uniform: the tailored suit. Contemporary fashion designers continue to reinterpret traditional equestrian motifs and fabrics in haute couture and prêt-à-porter collections. In this context riding costume is most often used to connote a gothic elegance, traditional elite English style, and the subtle mysterious sexual appeal of the dark mistress vamp.
So don some leather riding boots and delight in the gorgeous hour glass silhouette intrinsic of either the shorter riding jacket, with velvet collar and fitted shape, or just as striking, the long black riding coat, with fitted waist and skirts made with swathes of fabric ~ both styles harking back to the Victorian and Edwardian era...a fabulous look throughout the season.
Best Winter Coats : 1930s and 30s Style ~ Understated Elegance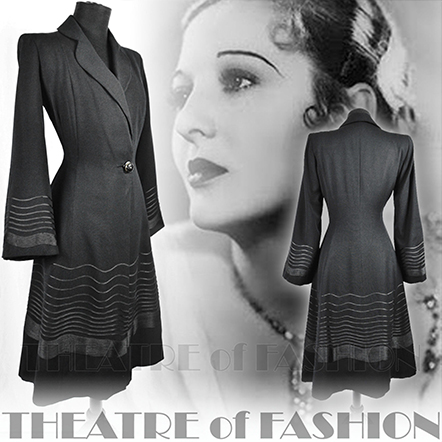 Though the riding coat is just so alluringly beautiful and incredibly versatile, there is nothing more glamorous than a 1930s coat. It is by far one of the best winter coats to look amazing in at any special occasion; whether it be weddings, evening soirees or Christmas and New Year's parties.
With the looming financial depression of the 30s affecting so many millions of people's lives, the silver screen goddesses influencing the fashion of Hollywood's Golden Age provided the perfect escape for women worldwide, prompting a fashion era remembered for its opulence and glamour which evoked, and anticipated, more prosperous times.
The combination of the Great Depression and the rise of Hollywood cultivated a unique fashion style, which was both more conservative and more exuberant than the fashions of the1920s. For example, after the much higher hemlines and low drop waist of the 20s 'flapper girl's' skirts and dresses, the 30s hemlines were dropped again and the more fitted natural waist-line returned allowing for a sophisticated, chic, longer length silhouette ~ and very sleek with sensual clean smooth lines. More muted colours were popular, as were deep colours. Plain fabrics were very popular at this time ~ think of the 1930s Harlow-esque, white and cream silk, Art Deco and very unadorned evening gowns and wedding dresses ~ however although beautiful plain materials were adored at this time, fabrics with prints in abstract or geometric patterns were also widely used and loved. The silver screen icons, including Greta Garbo and Jean Harlow, brought to the attention of an eager audience, the fashion concept of clothing, including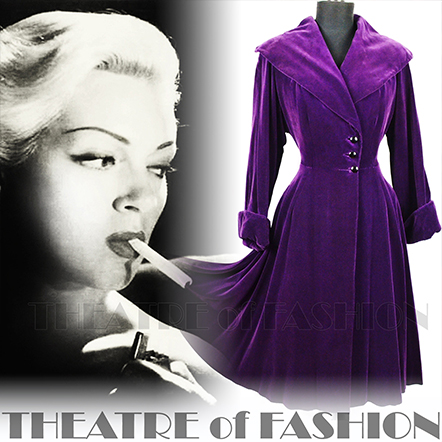 coats, designed with added faux fur and feather trims, 'soutache' ribboning and all manner of embellishments. Thus a style sensation was born, one of understated elegance, luxurious opulence and of course glamour ~ The perfect evening coat…
Best Winter Coats : 1940s
If you want a coat to take you effortlessly from day to night one of the best winter coats has to be a true vintage 1940s coat or one in a 1940s style ~ whether it be the draped cocoon look, the tailored jacket, the swing coat, or the beautifully fitted hour-glass shape, the coats of the 40s will always remain one of the best winter coats season after season. Due to war time rationing, 1940s dresses and suits became slimmer with just enough fabric to be able to sit or walk. Skirts, dresses and coats were knee-length and many coats had a sharp, almost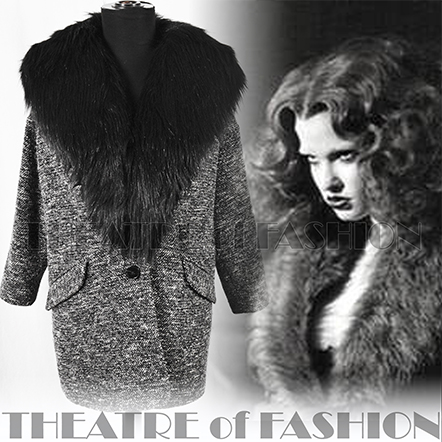 military-like look. Classic cuts with no fabric excess were key, often with these military influences ~ and wide lapels or double breasted buttoning & shoulder pads became popular styles. Many dresses and coats hugged the waist, buttoned down the front, and were belted at the waist to beautifully define the shape.Hour-glass, suit-like coats with padded shoulders were very common.
Women's fashion in the 1940s combined style and practicality to achieve a lasting elegance. With jackets shorter thanks to rationing, the peplum became hugely popular, helping to narrow the hips while showing off a trim waist. As women often lived by the 'make-do-and-mend" mantra during the war years, it was also common for women to re-use their coats from the 1930s, altering them slightly by cutting off the bottom of the coat and hemming it to knee length. Using men's coats became a popular choice for reworking and tailoring into new styles ~ and the oversized, draped cocoon and swing styles became very fashionable during this time, and are still as adored now as they were then. With such beautiful styles to choose from which of these winter coats will you choose? The elegant equestrian, the glamorous 1930s femme fatale, or the subtly sexy 1940s…
Click here - to see our selection of beautiful winter coats
The official video for "Winter Coat", the third single from "Drumrolls For Somersaults" released 3rd May 2010.