The Theatre of Fashion Blog
Fashion Blog, Ideas, thoughts, histories, filmstars, styles, and some of our most beautiful items.
Assuit Shawls ~ History in the Making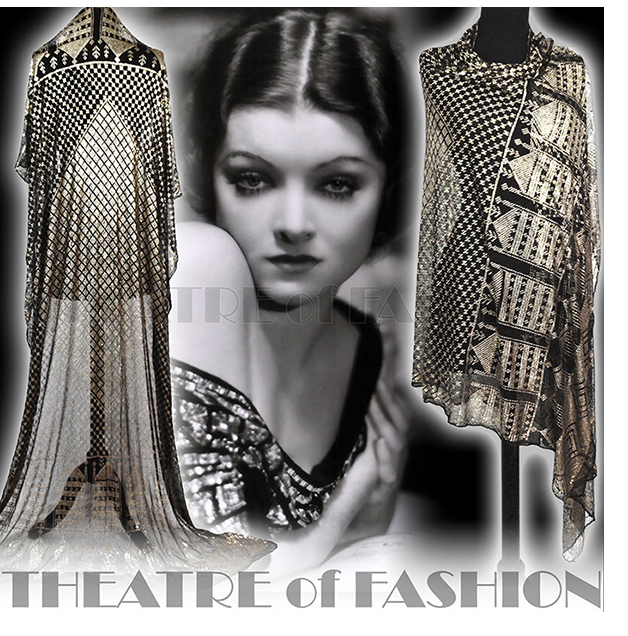 'Assuit' is an Egyptian netting fabric embroidered with real metal and named after its city of origin, Asyut ~ a region of Upper Egypt at the heart of the textile industry during the 19th century. Known as 'tulle bi telli' or 'al tally' throughout Egypt (Arabic for 'net with metal'), its alternative spellings (due to its transliteration from Arabic to English) are many.
This truly stunning, exotic and exceptional material is created by threading wide needles with flat strips of metal (such as nickel, silver, copper or brass) through cotton or linen netting, then flattening and rolling, or hammering, the metal to achieve the most exquisite and distinctive effect through impeccable craftsmanship and expertise. Patterns formed by this unique embroidery include geometric figures as well as plants, birds, people and camels ~ symbols heavily depicted in Egyptian iconography. It is generally black, white or ecru and used mostly as shawls, but is also seen in small squares, large pieces (used as bed canopies) and in traditional Egyptian dress. Vintage Assuit shawls are primarily made from the highly superior long-staple Egyptian cotton grown in the Asyut region with a quality so fine that antique dealers sometimes mistake the cloth for linen, or even silk.
The concept of metal embroidery dates back to ancient Egypt (as well as other areas of the Middle East, Asia, India and Europe) ~ a very sheer fabric is shown in Ancient Egyptian tomb paintings and the metallic embroidery is referenced in Exodus 29: "...And they did beat the gold into thin plates and cut it into wires, to work it in the blue, and in the purple, and in the scarlet, and in the very fine linen, with cunning work." However, the bobbinet machine (invented in 1807 and introduced to the Asyut region during the French Protectorate) led to machine-made netting and the subsequent production of Assuit here from the late 19th century.
Shawls began appearing in the last quarter of the 1800s and were first made as tourist art for European and American travellers, with the fabric later described in Edwardian era travel literature as 'spangled mosquito netting' (to be worn over hats as protection). Their popularity soared in the 1920s at the height of the rush to uncover the ruins of ancient Egypt ~ culminating in the discovery of Tutankhamun's tomb in 1922 ~ incorporating the requisite motifs and symbols representative of hieroglyphics, Egyptian iconography and ancient art. Shawls then began to be made into garments, a fashion that neatly juxtaposed the geometric designs and motifs, influenced by the ancient world, with the modern Art Deco sensibilities of the time. Suddenly, everything Egyptian was desirable and its influence permeated dance, fashion and film.

Assuit had first been imported to America for the 1893 Chicago Exposition and with the ensuing revival of interest in the 1920s, Hollywood played its own significant part by falling in love with this gorgeous cloth and duly dressing the icons of the silver screen in its inimitable and enticing creations, providing a connective link to the 20s and the zenith of Assuit's popularity. Off screen, this fabulous fabric appeared in publicity stills and was worked into revealing costumes for exotically themed parties, worn draped over the head or as divinely decorated wraps, and transformed into the most stunning and seductive of wedding gowns. Throughout the early days of film, when the cloth represented the luxury of travel and a mythologised East, it became symbolic of an educated, well travelled bohemian lifestyle and encouraged starlets off screen to collect shawls to wear as elegant accessories or even as garments (Clara Bow ~ Hollywood's 'It' girl ~ famously wore an Assuit shawl as a gloriously glamorous dress).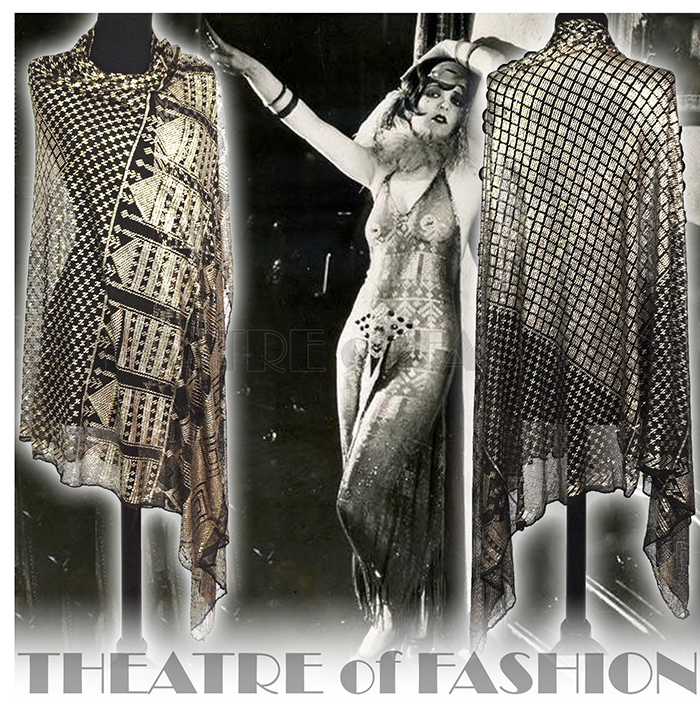 One of the first epics to feature Assuit was the 1916 D W Griffith masterpiece, Intolerance...by using modern fabrics sourced from Egypt, the film and the costumes evoked the exoticism of a fantastical and timeless place. Travis Banton ~ considered one of the most important costumiers in Hollywood in the 1930s ~ used Assuit in Cecil B DeMille's classic Cleopatra (1934); June Havoc's Assuit dress lent her statuesque frame a cool, metallic quality in Intrigue (1947); and it was draped to dramatic effect in Samson and Delilah (1949) in an Edith Head designed, stunning two-piece ensemble cut on the bias to emphasise the contours and curves of the inimitable Hedy Lamarr.
Elizabeth Taylor was pictured maintaining a stylishly subtle connection to Egypt (and her hallmark roll of Cleopatra) in a beautiful Assuit robe in 2007 and lately, period movies have used Assuit to reference and echo the last century ~ prompting designers to incorporate this fine vintage cloth to appropriately evoke its popularity with the beautiful and the bohemian during the 1900s and the 1920s. It was used in the film Water for Elephants, to reinforce the subtle connection between the fabric and dance and more recently, Tom Cruise wore a vintage Assuit scarf to channel his 80s 'metal guru' in Rock of Ages.
In terms of modern designers, Galliano used Assuit in his 1997 Autumn collection for Christian Dior ~ a major style statement that went on to grace every fashion magazine that season, and justifiably so.
This is a fabric so utterly fabulous, so luxurious, sensual and illuminating ~ interwoven with history, mystery, allure and adventure while creating the most unusual and exceptionally beautiful items that have the ability to seduce and captivate. Evocative of an Egypt ancient and timeless, redolent of the Golden Age of Hollywood and even the Golden Phase of Klimt with its impressionism, symbolism and art of illuminating imagery spun with shimmering gold ~ this is a fabric to be draped in and to dream in: delicate, delightful, desirable and just divine!

LINKS
1920 Dresses ~ Assuit on Ebay ~ Assuit on pinterest