The Theatre of Fashion Blog
Fashion Blog, Ideas, thoughts, histories, filmstars, styles, and some of our most beautiful items.
Droopy & Browns ~ Quintessential English Elegance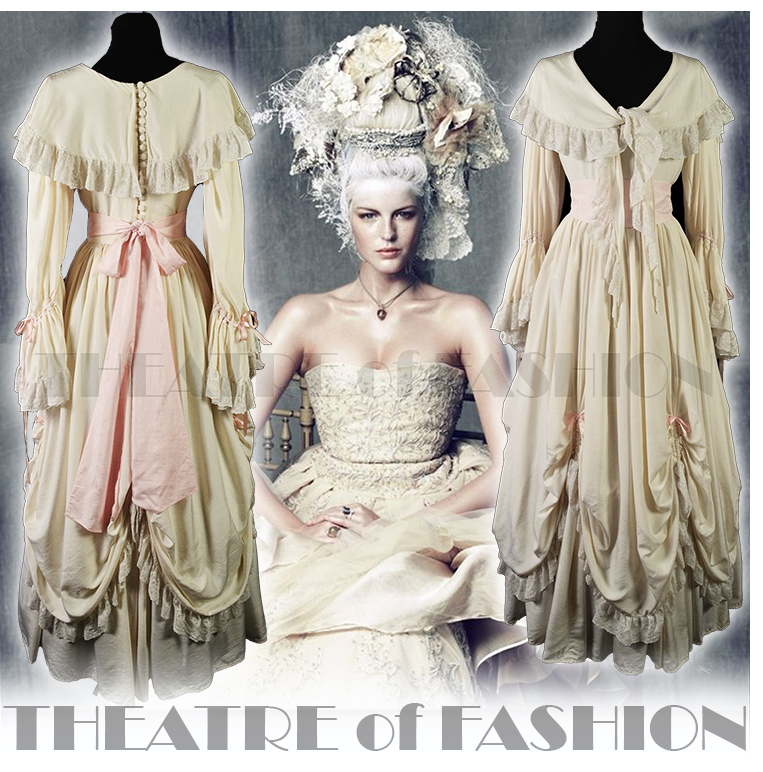 Droopy & Browns is a byword for quintessential English elegance in vintage fashion. Ball gowns, wedding dresses, long skirts, wide-legged trousers, fitted jackets with a theatrical flourish are all what the company is best known, and adored, for... but it wasn't always so...
The label, which at the height of its success had eight stores across the country, had the humblest of beginnings on York's Newgate Market before opening seven stores across the UK. It was the brainchild of Angela Holmes, her brother Jonathan and Angela's partner Keith Wilkinson.
As a little girl, Angela had watched her mother buying couturier gowns in that very Newgate Market shop. Years later, and inspired by those memories, she started designing even more extravagant clothes.
Apart from financial hurdles, the trio struggled on the brand's name. It was Angela's longing for bygones past which eventually inspired not only the creative direction for the brand, but also the name, as Jonathan More reflects:"When it came to picking the name, I went through a list of the usual type of boutique names and Angela just curled her lip. She said: 'I want it to be Edwardian: all droopy and brown."
As such, the designs owe much more to styles from the Edwardian era at the turn of the last century and Hollywood starlets, than the fickle world of fashion today. Their clothing is flamboyant and nostalgic, yet contemporary, and with a historical influence, reflecting Angela's love of fantasy. Instead of following the ever-changing rules of the catwalk, which insist on a new look every six months or so, Droopy & Browns built its reputation on creating classic clothes which are refreshed regularly. A best-selling skirt one spring may reappear in the autumn in a different fabric and colour. The cut will be the same because it is the design which the customer loves; and this emphasis on giving the customer what she wants created a loyal following.
Ahead of her time in the ethical fashion stakes, Angela deliberately avoided the predictable mainstream, rejecting the exploitative and unsustainable nature of 'fast fashion' which was already beginning to rear its ugly mass produced head. Instead, she stayed true to her principles and lovingly produced exquisite, individually crafted pieces to her own exacting specifications. Her designs undoubtedly had, and still have, that essential 'wow' factor, deriving inspiration from bygone eras and celebrating nostalgia and romance, often with a theatrical twist. Droopy & Browns ceased trading a number of years ago and their sublimely beautiful vintage pieces have now become some of the most sought after in vintage fashion. To wear them and to love them is to know why!

LINKS