The Theatre of Fashion Blog
Fashion Blog, Ideas, thoughts, histories, filmstars, styles, and some of our most beautiful items.
Fashion History ~ Yves Saint Laurent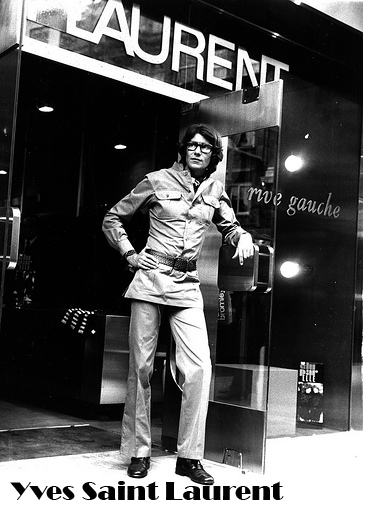 The most consistently celebrated and influential designer of the past twenty-five years
Regarded as one of the greatest names in fashion history (a member of French Fashion's 'holy trinity', alongside Dior and Chanel), the designer Yves Saint Laurent's venture into the industry started auspiciously with his introduction to the great Christian Dior. Under his tutelage, Saint Laurent's talent would become recognised and his iconic style would be cultivated. Having then found himself, at the age of 21, as head designer at the House of Dior, Saint Laurent's spring collection of 1958 catapulted him to international stardom by launching what would be the first of many of his inspired, iconic and timeless designs: the sleek, straight silhouettes which would become the Trapeze line. He went on to create five more collections for Dior, culminating in the veritable chic of the 60s Beatnik look of turtlenecks and black leather jackets.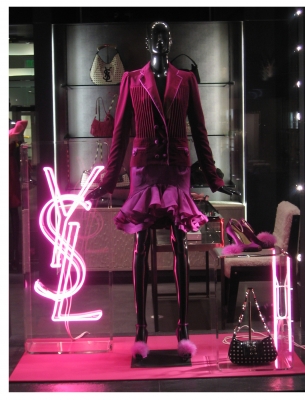 Having set up his own fashion house in 1962, St Laurent began to further develop his signature style and popularised trends such as the unisex safari jackets, tight trousers and, in 1966, the celebrated tuxedo suit for women, 'Le Smoking' ~ an achingly chic androgynous look which was received rapturously at the time and remains classic and timeless...(a designer ahead of his time, he was convinced ".. women want to wear trousers"). His Mondrian dress (inspired by the Dutch artist), a wool shift printed with primary block colours, became one of the dresses epitomising 60s style and generated an array of copies. Indeed, it looks as modern now as it did in 1965.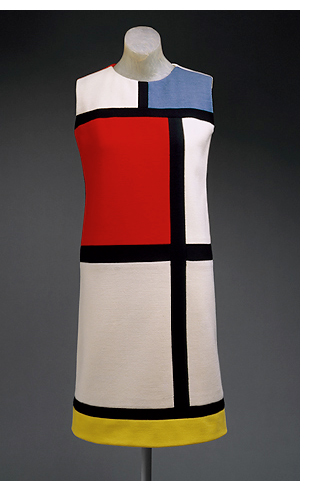 St Laurent was also responsible for mainstreaming the idea of wearing the shapes and silhouettes from the 1920s, 30s and 40s and is credited with beginning to democratise the fashion world by shifting focus from the rarefied and generally unattainable world of haute couture to the relatively more accessible prêt-à-porter (ready-to-wear) line. The first of the company's Rive Gauche stores, which sold the popular line, opened in Paris in 1966 and its first customer was the film star Catherine Deneuve, a favourite among his female clientele who typified the kind of seductive, wealthy, intelligent French woman his styles epitomised. Indeed, his muses over the years were many and included the actress
Talitha Pol-Getty and models Iman, Nicole Dorier, Katoucha Niane, Rebecca Ayoko and Laetitia Casta... (St Laurent was one of the first designers to use models of colour and was known for his frequent references to art and other aspects of modern and non-European culture).
In 1983, Saint Laurent became the first living fashion designer to be honoured by the Metropolitan Museum of Art with a solo exhibition. In 2001, he was awarded the rank of Commander of the Légion and in 2007, the rank of Grand Officier de la Légion d'honneur. This recognition of his remarkable influence on fashion which changed the way women dressed in the post-war era and beyond, marks him out as a true pioneer whose contributions to 60s style remains legendary.
His shamelessly chic and sexy clothes dovetailed perfectly with feminism's inception, as did his advent of trousers for a woman's daily wardrobe, and his nipped-in suits, slinky tuxedos and straight line dresses still look as modern and as desirable today as they did in their debuts.

To quote Caroline Rennolds Milbank : "The most consistently celebrated and influential designer of the past twenty-five years, Yves Saint Laurent can be credited with both spurring the couture's rise from its sixties ashes and with finally rendering ready-to wear reputable." No mean feat for any designer ~ but it was the genius, versatility and longevity of the eponymous and exceptional Saint Laurent that broke the mould and transformed women's fashion forever.

LINKS
Yves Saint Laurent on Pinterest ~ Yves Saint Laurent Exhibition ~ Yves Saint Laurent- Official Trailer- HD ~ Yves Saint Laurent ~ beautiful videos