Crochet dresses
Crochet dresses. Crochet ~ the new lace ~ Click to see our beautiful range of crochet dresses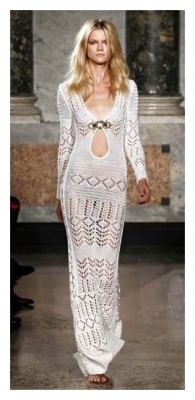 After hundreds of years, and very humble beginnings, crochet has become designer. Forgotten over the years for the fabulous fabric is it, crochet has now begun appearing in the world's most avant-garde fashion houses and is being created by a number of renowned designers into the most desirable items of clothing adored by celebrities and fashion editors alike.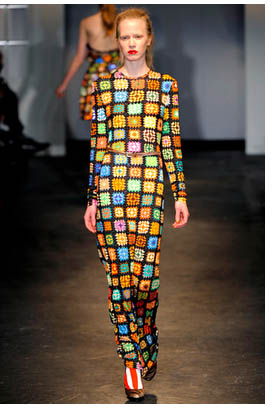 One of crochet's most basic and well known patterns, the 'Granny Square', is being found in some unexpected places, and on so many designer catwalks. From its modest beginnings, the granny square is regularly being showcased in all corners of the fashion world. The versatile pattern is found in everything from rainbow hued scarves to goddess-styled mini dresses. Singer, Nicola Roberts of world famous British band Girls Aloud, was recently spotted wearing a colorful, long-sleeved, granny square maxi gown created by Henry Holland's designer brand House of Holland, as she stepped out for a night on the town.
House of Holland has created an entire granny square-inspired collection with crochet jackets over lace-topped granny square camis, as well as skirts and dresses of every imaginable hem line, midi, maxi and minis. Designer Henry Holland, in a no-doubt, moment of genius, has updated the traditional repetitious pattern of this crochet staple, and has given it a new, beautifully simple and thoroughly modern edge. This new approach to granny square design provides a fresh, unexpected and fabulous appeal to the look and style of the garments. This is definitely not your great grandmother's crochet. This is new and exciting ~ crochet taken to new places ~ using the traditional as a foundation and then creating it into stunningly modern day and evening wear.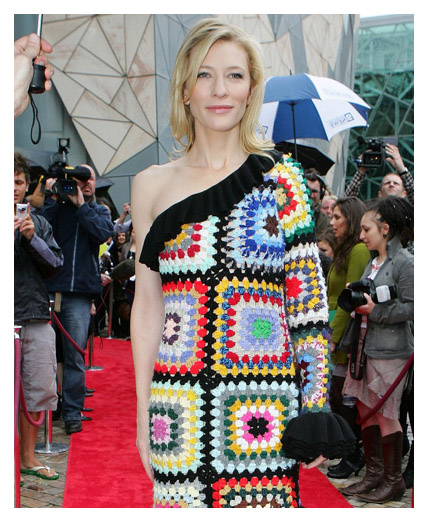 Oscar winning, and internationally recognised, actress Cate Blanchett has also been seen wearing a wonderful colorful crochet dress ~ the creation of Australian design label Romance Was Born. Blanchett, who has been known as a fearless leader in the fashion world herself, is a fan of the risk-taking and eclectic designer. Blanchett looked terrific in the knee-length, one-shoulder design, which certainly turned heads and made news, which is after all, what unique fashion is intended to do. Being a relative newcomer to the fashion industry, Romance was Born makes a loud and clear statement with its dramatic and colorful collection and their designs are exceptionally exciting to see.
It seems that the fashion public has progressed from a mere crochet crush to an all out love affair with this enduring knitted fabric, and neither consumers nor designers can seem to get enough of this wearable art form. Designers, as well as high-end boutiques worldwide, have helped to turn our affection for crochet into a passion. The plethora of available colours and designs makes for a supply of fresh new looks limited only by our imaginations. What started as a dab of crochet on the cuffs or collars of a simple dress or a jacket, has now become a fabric from which designers are creating full length dresses, ballgowns, evening coats and anything else you can imagine. The list of what and how much to crochet has expanded to cover things we once never thought possible. Fashionable designers are at last thinking outside the box when it comes to the beauty and functionality of crochet ~ and crochet is now seen regularly at red carpet events… Sarah Jessica Parker, to name one celebrity, was recently seen on the red carpet, wearing a very elegant crochet gown by designer Antonio Berardi.
The Italian fashion house of the late Vittori Missoni is perhaps best known for its non-traditional combination of knitwear and crochet offering unique and exceptionally beautiful items. Their high-end crochet and knitwear collections carry everything from retro swing dresses to woven wool tops accented with crochet yoke and sleeves. Missoni delivers a look of simple glamour, especially with its use of more muted and elegant colours ~ and their crocheted web-like, delicate lattice, lace work is adored by their followers. Missoni makes crochet the new lace as they pair sumptuous feeling yarns with other styles of knit. They have captured a new look for crochet which can go the distance from daytime to evening and can be worn for all manner of occasions ~ and they have influenced many designers with their crochet creations.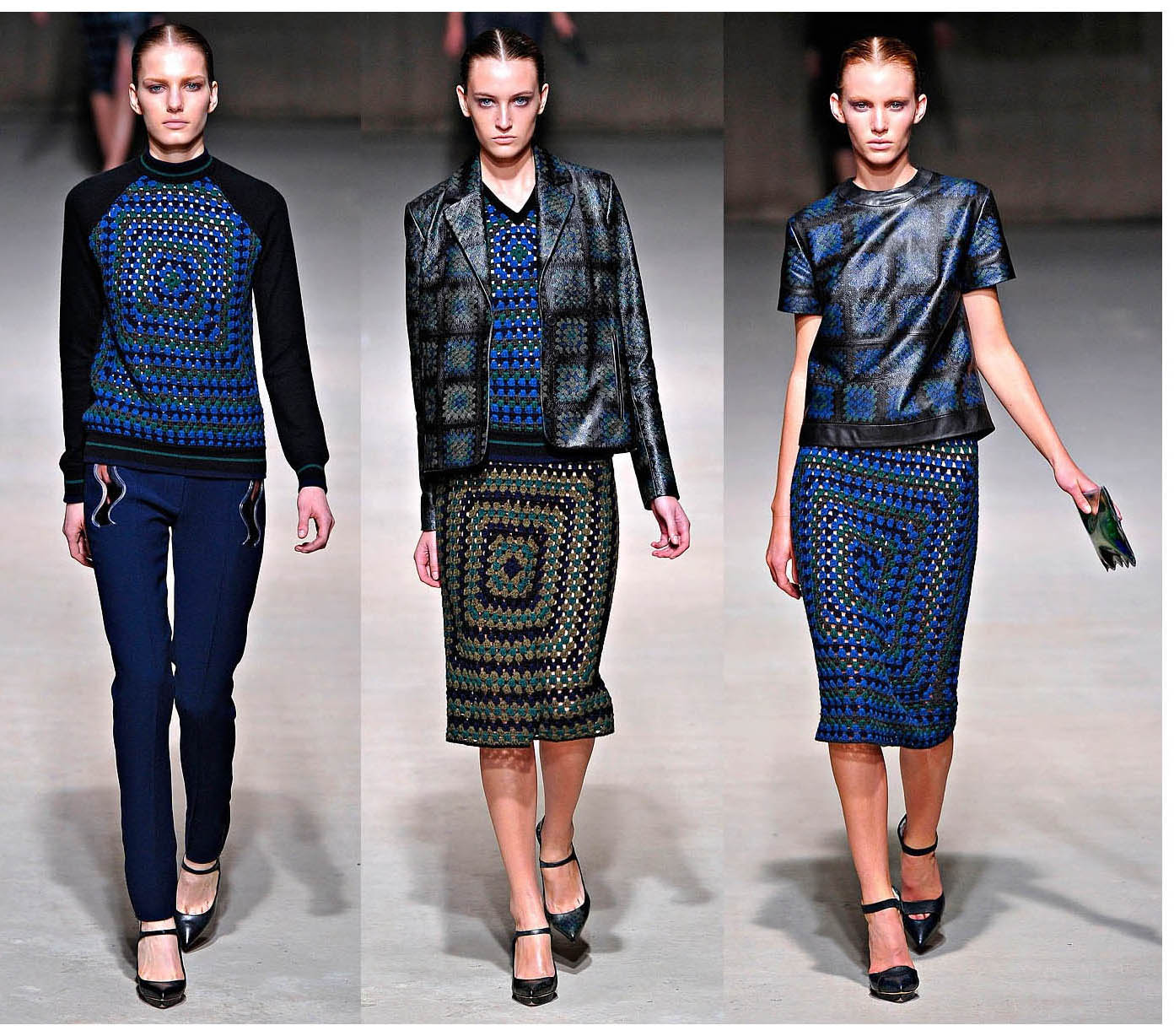 "I have wanted to do crochet for a while now. Again, it's something that I grew up with around me. My Gran used to crochet teapot covers, kettle mats, and blankets, so, it just felt right. The big difference between that type of crochet and my new pieces is that they are made using the softest Scottish Cashmere. It takes crochet into another world."
~ Crochet dresses Christopher Kane
Christopher Kane, who is considered THE experimental fashion leader of London, has also reworked crochet, taking some of the most well known crochet patterns and prints and merged them in ways we have never before seen. He combines materials such as leather, lace or plastic and mixed them with his crochet designs. With Kane's designs, you notice the style, the colours, or even the interesting combination of materials, and then you realise …its crochet!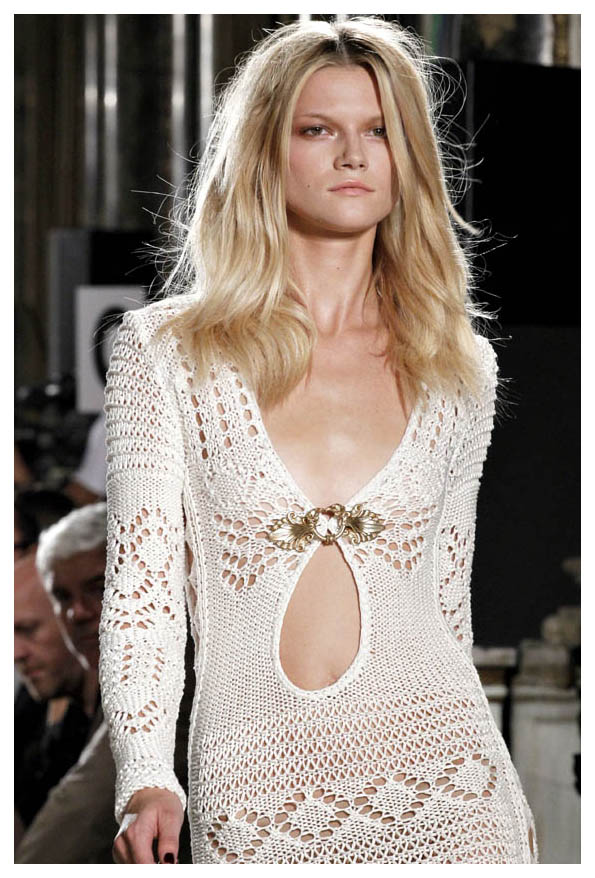 One futuristic example of his flair for the unusual, pairs large geometric prints with liquid filled plastic pockets. It is eye-catching and unexpected. It's a gorgeous cocktail of vintage-yesterday with just a splash of a futuristic-tomorrow ~ and of course with Kane's impeccable commitment to producing high quality items, the eclectic look really is just the icing on the cake. The striking patterns combined with the bold liquid neon in his collection was just stunning and took the 'craft' of crochet to a whole new level. Again like Missoni, Kane's use of the more muted earth tones keeps his designs looking beautifully sophisticated.
While crochet possibilities are endless, perhaps the most sought after crochet item are the classy and chic black and white dresses which numerous designers are creating. Nearly every design house working with crochet fabric in their collections, has at least one crochet item available in classic black and white. The look is sophisticated and elegant with a subtle sexy edge. Emilio Pucci has an empire waisted dress, in a black and white crochet maxi dress. The look is long and lean and fits the female silhouette like a finely crocheted glove. You could easily take this look from day to night, from casual to formal wear ~ and many wear the white version as a rather stunning wedding dress. Its versatility is exceeded only by its divine style. Dolce and Gabbana also has a choice of black and white in their Crochet dresses, mini dress, which is absolutely lovely and timeless in design. Anglo-Italian designer Antonio Berardi created Sarah Jessica Parker's red carpet maxi dress, and has also designed a shorter, knee length version, again, in black or white.
The age-old art of crochet is reclaiming a new place in design history. Having had the most humble beginnings, crochet has began to emerge as fashion de'arte ~ and if fashion predictions come true, it appears that the beauty and elegance of this evolving fabric, once considered a poor substitute to lace, will continue to take it's unique and rightful place as one of the most sought after, versatile and adored fabrics for all manner of clothing.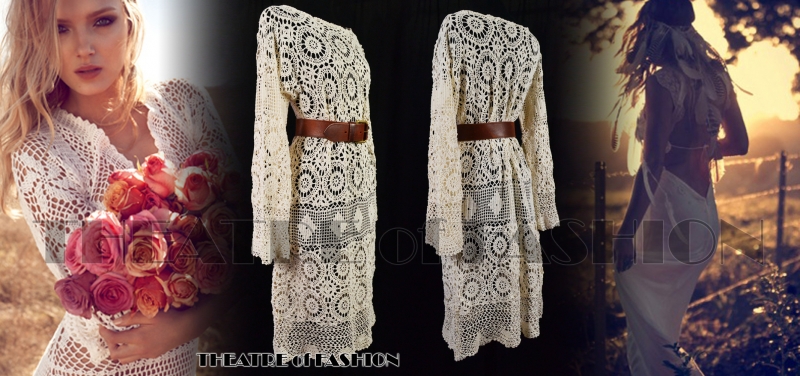 Click to see our beautiful range of crochet dresses